While I could not be in New York, Samsung Philippines invited some bloggers to watch the livestream at Dusit Manila. I took notes while watching the livestream and since have updated this entry.
7:00 AM- Bloggers now here waiting for Samsung Unpacked livestream which is showing at Radio City in New York. You can also watch it http://youtube.com/SamsungMobile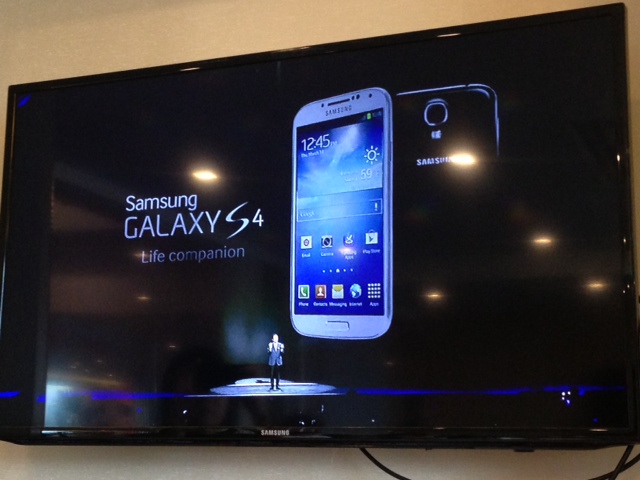 7: 14 AM- JK Shin , President and Head of IT talks of the features of the new Galaxy: "dual camera", record sound and shot while taking photos, Samsung smart scroll and smart scroll, Air View, Group play.
The Samsung Galaxy S4 has a "5-inch, full HD Super AMOLED display with the most minimal of bezels on the left and right side of the screen. The phone weighs 4.5 ounces, just a little bit lighter than the Galaxy SIII, and is 7.9mm thick — a few hairs thinner than the SIII's 8.6mm.
It's running Jelly Bean 4.2.2 (which includes Google Now, the search giant's version of Siri).

Its processor is Qualcomm's new Snapdragon S4 Pro, 1.9 Ghz processor. In other words, it's speedy. The phone is built with 2 gigabytes of RAM and will come with 16GB, 32GB or 64GB of storage, along with a microSD card slot for additional storage capacity.

And the Galaxy S4 has a 2600mAh battery, compared with the Galaxy SIII's 2100mAh and the iPhone 5's 1440mAh battery — though, with a bigger screen and new features, real-world battery life remains to be seen. "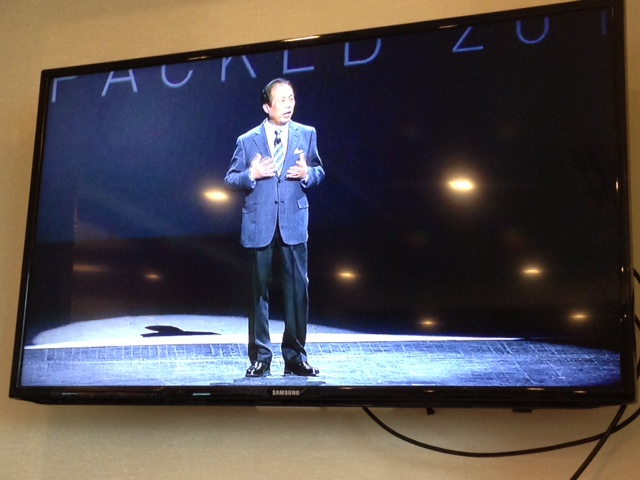 7:19 – JK Shin presents the Samsung Galaxy S4 , inspired by the people of the world. It is slimmer, lighter and more solid. It is simply amazing. Available in 3G and LTE version.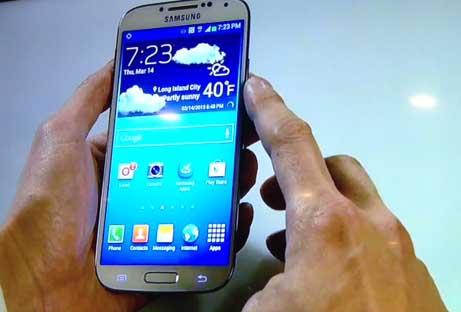 7:23- The "elaborator" talks of the Full HD amoled 441 DPI. The camera has 13 megapixels at the back and 2 megapixels in the front
7: 30 – you can record dual mode. So the one recording can also be in the video. It also has an S pause. When a video is playing, the video will automatically pause if the person glances away and it will resume when the eyes refocus on the screen.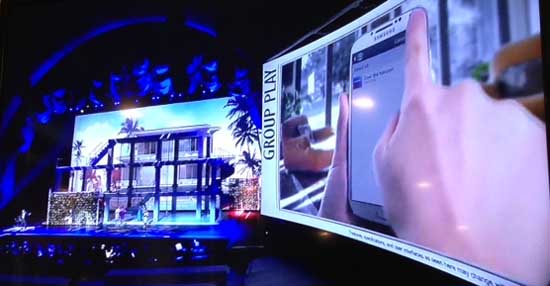 You can even erase people in the background of the pictures takes. That means no more photobombs in the photos. #SamsungGalaxyS4 Unpacked in New York http://techiegadgets.com/e-mail/samsung-unpacked-at-times-square-new-york/ will update more
7:37- The Samsung Galaxy S4 has a translator that understands 10 languages like Chinese, French, German, Spanish, Japanese. It ranslates 10 languages from text to speech and speech to text.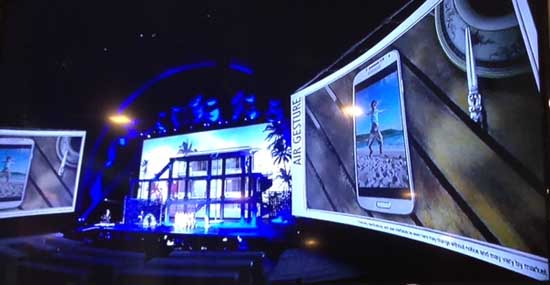 Samsung Galaxy S4 can be connected to a "Home Sync" device to connect phone, tablet, PC to TV just like a family cloud, a hub for your memories. Samsung Galaxy S4 absorbs data from any phone using the Smart Switch program. The S Voice Drive makes calls and SMS while driving.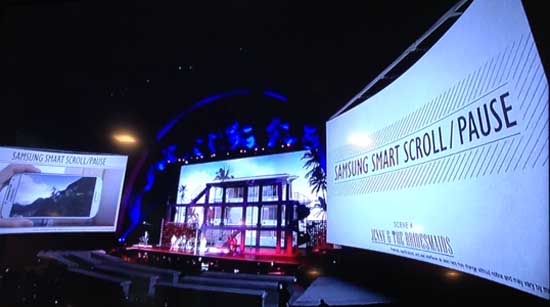 It is the first device using the Samsung Knox, locking your device down to keep it safe from malicious apps. The Knox is built on top of Android. It separates work and personal space on phone. Security for work space and privacy for personal.
The Dual Video Call, Chat On revolutionize calls. You can share screens, write notes on the screen while on video chat.
S Health is not a replacement for a doctor but this features comes with an upcoming line of fitness bands, scales and heart monitoring devices that will be compatible with the S-Health app .
Here is a sample of the dual shot. In here, Cara, Jane's daughter takes our shot.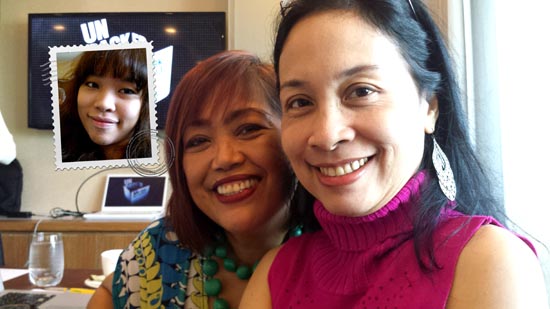 To be updated.