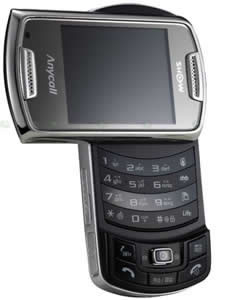 The lines between toys and tools are getting blurrier each days as consumer electronics manufacturers continue to come up with dazzling new gadgets that serve multiple functions. Twenty years ago, cellphones were big and bulky things that required huge battery packs that needed to be housed in luggages. Today, anyone can slip a candy-bar sized device into their pockets, and use them not just to make calls but also to surf the Internet, take and send photos and videos, play games, listen to mp3s, and watch TV. And with the new Samsung i7410 Pico Projector phone, you can now make presentations wherever you are!
The Samsung i7410 made its debut at CES 2009, and while it's not the first projector phone, it certainly is the best. With dimensions of 2 x 56 x 18mm, it's fairly easy to carry around. It has 150MB internal memory that can be increased up to 16GB through the microSDHC slot, a 3.2 screen featuring OLED technology, Bluetooth, GPRS, EDGE, and UMTS (allowing you to pick up TV signals). The little projector on the phone is powered by Texas Instruments' Digital Light Processing technology, allowing it to project an image measuring between 5 and 50 inches onto walls. The software can support PowerPoint files, images, videos, and e-mail attachments. Other noteworthy features on the phone is a 5-megapixel camera with autofocus, Smile-Shot, face recognition, and shake reduction, an mp3 player, and built-in speakers.
Check out Crunch Gear's video of the Pico Projector Phone from CES 2009:
It should be out in Korea by now, but there's still no news as to when the rest of the world can get their hands on this incredibly useful gadget.