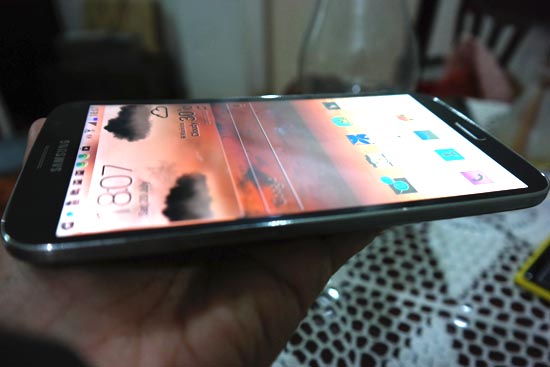 The first thing I noticed as I held the ultra-thin Samsung Galaxy mega is its large screen and light weight. Samsung sent over a review unit (to be returned in a few weeks) for me to dabble with. I wondered how I could use this nifty phone, er phablet. Since my ipad is now with my husband , I don't have a portable tablet when I need to read ebooks. The galaxy mega fits easily in my purse and lately, use it to read blog posts, articles or ebooks during lull moments at the gym or during traffic.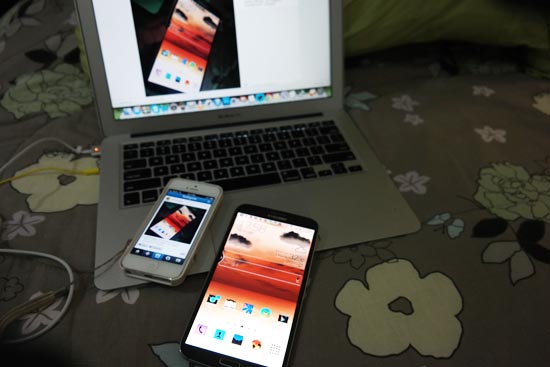 I can see the rationale for this 6.3-inch HD screen, yet ultra-thin and portable smartphone. The Galaxy Mega enables an exceptional widescreen view for various applications including web browsing, video, and SNS. Lately I have been using the Kindle app for an ebook I just bought in Amazon.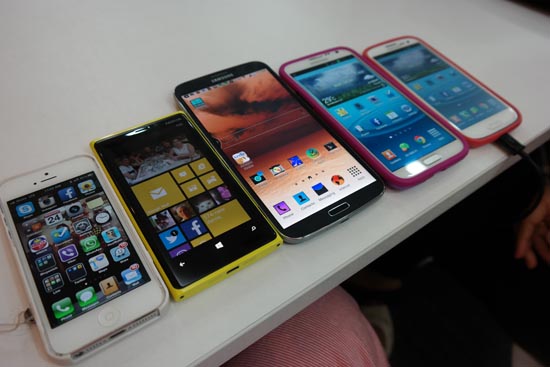 Comparing it with my Nokia Lumia 920 and iPhone 5, you can see the huge difference in size. I also compared it with Jane's Samsung Note 2 and Galaxy S3.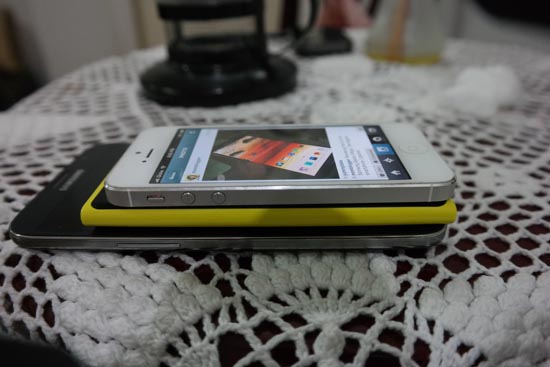 I consider the Galaxy Mega 6.3 as a phablet because of its portability yet easy and convenient mobile phone feature.( A phablet is a 'hybrid' category of smartphones that offer the supersized screen of a tablet.) The Galaxy Mega 6.3" is the largest LTE-capable smartphone in the market today which gives the maximized viewing experience of a phablet.
Here is how one can get connected with features :
1. 'Group Play': Enables easy content sharing for up to 8 devices on the same Wi-Fi network.
2. 'Samsung WatchON': Transforms into an IR remote controller for a richer TV experience. Connect the device to your home entertainment system, and it will provide program recommendations, schedules, and even remotely control your TV.
3. 'Samsung Link': Easily streams photos, videos, notes, or music to your television, tablet or computer.
4. 'S Translator': Say or text what you need translated into the GALAXY Mega, and it will provide instant translation, using text or voice translation on applications including email, and ChatON.
5. 'ChatON': Share what's on your screen with friends to stay more connected.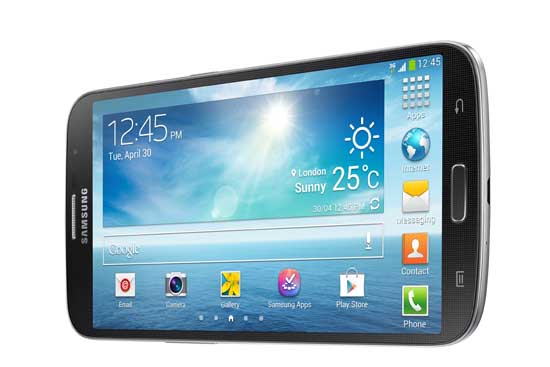 The GALAXY Mega is also equipped with an enhanced 8 megapixel rear-facing camera with a 1.9 megapixel front-facing camera, along with a variety of camera modes including 'Drama Shot' (merging continuous shots of a moving object), 'Sound & Shot' (captures 9 seconds of sound and voice together as the picture is taken to capture moments), 'Rich tone,' 'Sports' and more. The device also packs various newly-introduced features for endless entertainment, including:
1. 'S Travel': Provides trip information, local guides and resources and more
2. 'Story Album': Allows customers to create albums of daily events, keep special moments in one place using a timeline, geo-tag information and publish digital albums in hard copy
To those that don't need a large phone, there is also a GALAXY Mega 5.8, the compact version which features a 5.8-inch screen.
Both GALAXY Mega 6.3 and 5.8 run on the latest Android 4.2 Jelly Bean experience, and feature Dual Core Processor, spacious internal storage along with up to 64GB of expandable memory to store favorite apps, music, videos, photos and more.
You can get a Samsung Galaxy Mega at Smart All-In Plan 1200*, and free at Unli Data Plan 2000**.
—-
* With a monthly installment of PhP 500 for 24 months for the handset.
** Smart's unlimited LTE is available until August 31, 2013.