Don't you just hate it when you miss your favorite show because you are caught in traffic or you are at an important meeting?
Well, good news for Cignal Digital TV post paid subscribers . They won't have to miss their favorite TV shows. Cignal will change the television viewing experience as it now introduces an innovative way to watch your favorite shows while on the move.
Cignal TV-To-Go is a service that allows viewers to watch real-time broadcast feeds of Cignal Channels on their broadband connected Smartphones or Tablets.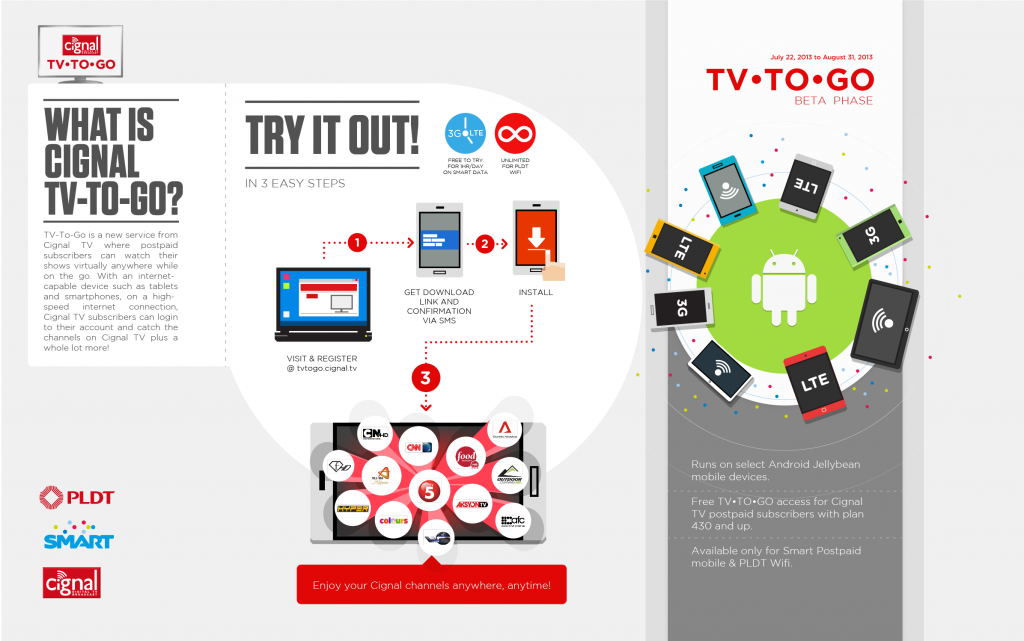 Several experts on the field of communications from the Broadcast 2013 Conference in Singapore pegged the Over The Top (OTT) Service as the future worldwide trend un multimedia viewing .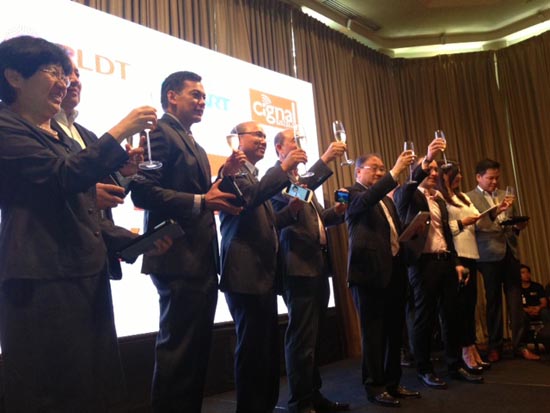 The Cignal TV-To-Go launch is still in its beta phase from July 22 to August 31, 2013 and will be initially available on mobile devices that run on the Android Jelly Bean operating system. In the coming months, it will be open to more Android devices and even iOS devices. Cignal will also increase the number of channels too.
The OTT service brings 13 premium channels to smartphones and tablets with the help of PLDT's connectivity. The beta phase is offered free of charge to all Cignal Postpaid subscribers who have Android devices on the Smart or PLDT broadband networks. To register, you must be an existing Cignal TV subscriber. On your mobile device, open your browser and go to http://tvtogo.cignal.tv. The Cignal TV-To-Go welcome screen will load.
A Smart Postpaid mobile number is required to register to the service so we can send you your username, password and download link for the application. Internet service is required to be able to access Cignal TV-To-Go on your registered devices. This is available for free if you are in an area with PLDT WiFi. Shoud you use Smart's 3G or LTE network, you may avail of one (1) hour of free access per day by simply sending the appropriate keyword to the corresponding access code in the table below (free of charge). If you wish to enjoy Cignal TV-To-Go beyond this duration, regular data charges on your Smart subscription will apply.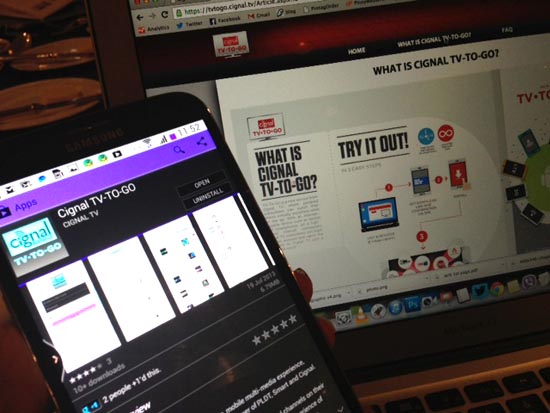 The minimum broadband speed needed to properly run Cignal TV-To-Go should be at least a consistent 5384 Kbps speed. Video and audio quality may vary significantly depending on fluctuating speed or signal strength from your broadband provider.
Check out their latest TVC.