Disclosure: I have not reviewed the Samsung Galaxy S5 or the Samsung Gear Fit. I only got to see a preview at a media launch.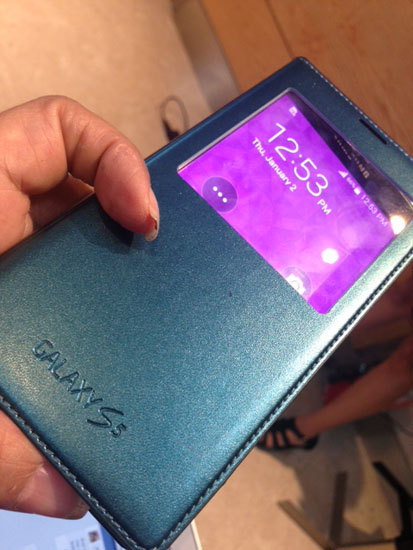 Tonight, April 3 is the media launch of the Samsung Galaxy 5 but I got a preview earlier at the Samsung Experience Center at the SM Aura. The S5 SRP is 34,990 pesos. If you pre-order before April 12, you will get freebies: a 3,100 MAH power bank, S View cover and a car dock. There is zero interest for credit card users. If you bundle it with a Samsung Gear 2 (13,490 pesos) and a Samsung Gear Fit or Samsung Gear 2 Neo (8,990), you get 2,000 pesos off.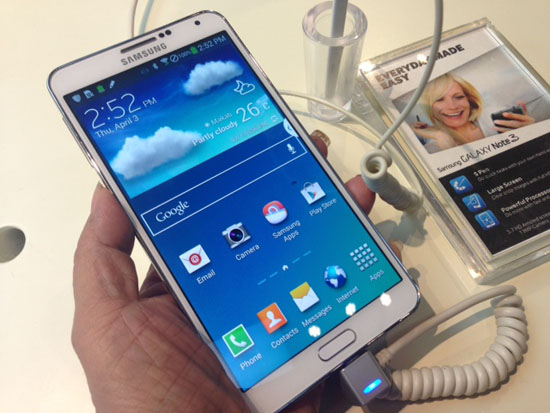 So I asked "what will get me excited with this latest Samsung Galaxy S 5." The design is not much different from the previous galaxy phones except for the back leatherette design. The surprise may not be in the design but in the "insides" of the phone. There are a whole lot of features that sets it apart from the previous models.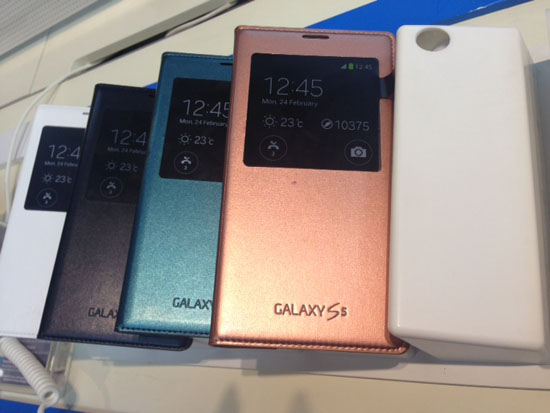 Here are my initial impressions since I have not reviewed the S5 yet:
1. Register your fingerprint at the Finger print scanner as a security feature .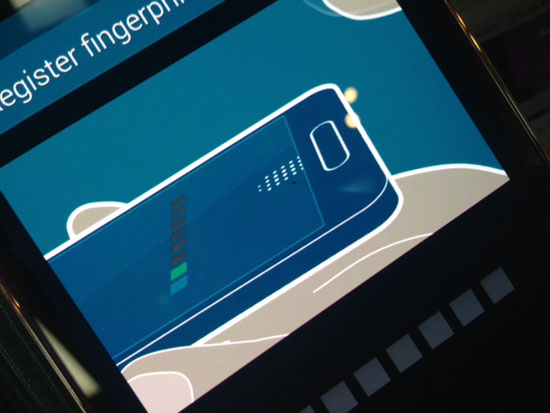 Samsung's Galaxy S5 includes a fingerprint scanner embedded in the home button and if you have failed attempts, it will require you to input the password. Impressive.
3. Download booster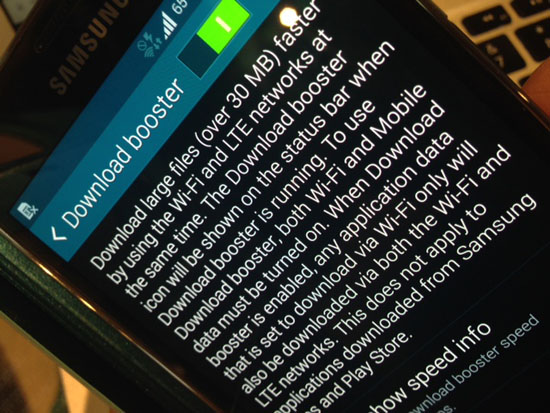 This means when you are at home on an uber fast connection but have a 4G connection you can get an immense boost to files over 30MB in size, and downloads on your device in seconds.
3. Fitness app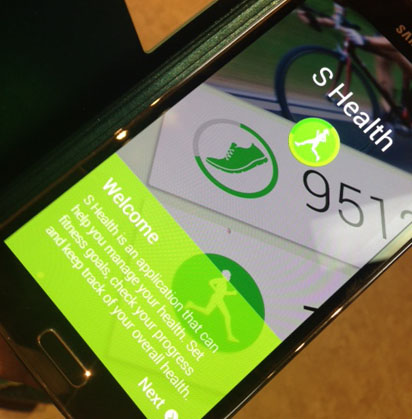 The Samsung Galaxy S5 has a heart rate sensor. Place your finger under the flash of the camera hold your finger down on it for a few seconds to get your pulse rate. You will need to compare it with a manual reading for accuracy though.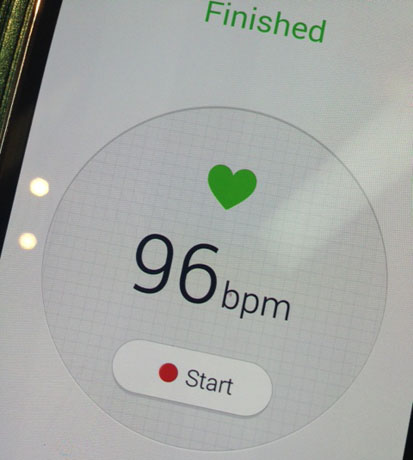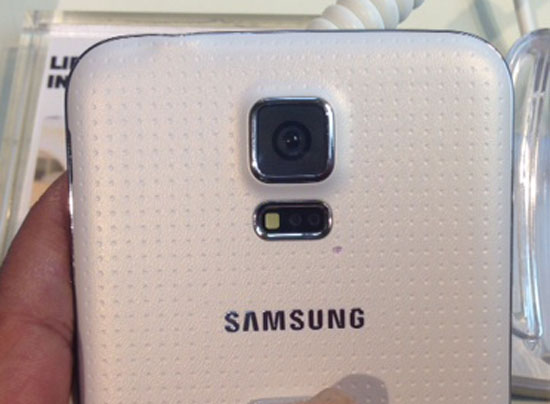 The S health has the ability to track your calories but works well if you are very devoted. It provides a comprehensive personal fitness tracker to help users monitor and manage their wellness, along with additional tools including a pedometer, diet and exercise records, and a new built-in heart rate monitor. Galaxy S5 users can further customize their experience with an enriched third party app ecosystem and the ability to pair with the next generation Gear products for real-time fitness coaching.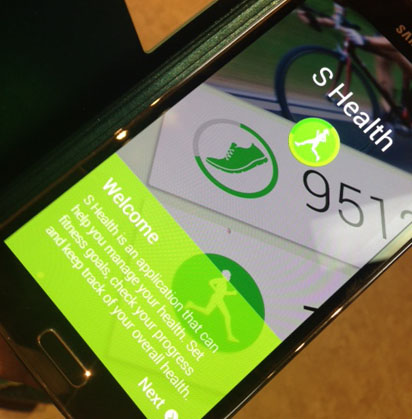 4. Private Mode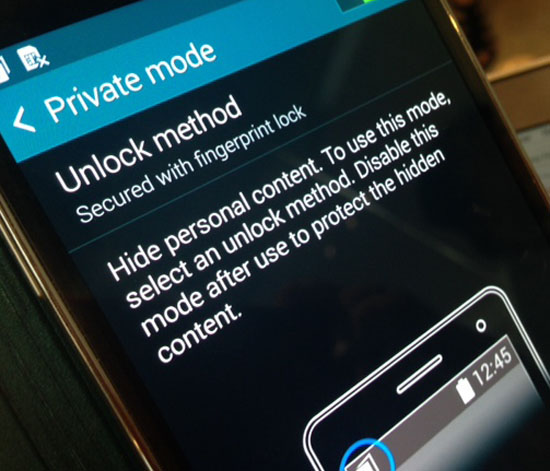 The S 5 "private mode" is really neat feature. It allows you to lock your photos and data with your fingerprint. There is a "kid mode" designed for parents whose children use their devices and limits what the access of these kids.
5. Ultra power saving mode.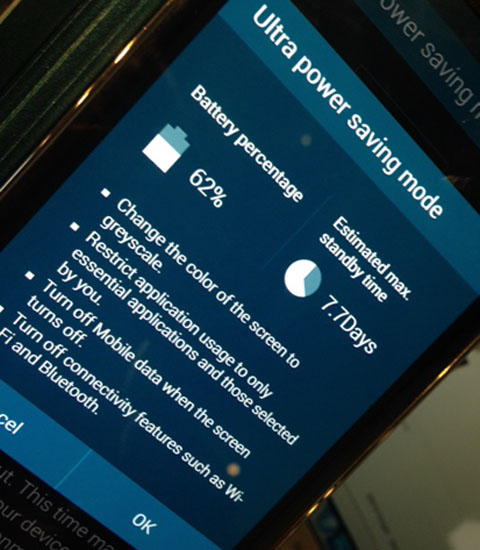 In standard mode, Samsung says the battery pack will supply an estimated 10 hours of web browsing or 11 hours of video playback per charge. Smart phone's batteries easily drain so the ultra power saving mode is quite helpful. If battery life is your priority, then this is the phone for you.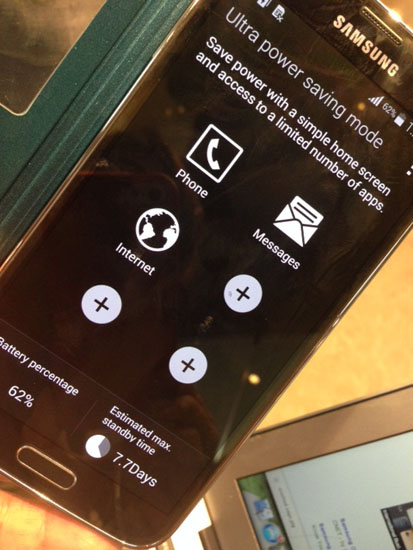 This feature extends battery life when users are on the go and there is no place to charge your phone. When this feature enabled, colors on the display are restricted to just black and white, limits background processes, and restricts available apps. Samsung says ultra power saving mode will allow a Galaxy S5 with a remaining 10% of its charge to last up to 24 hours. Now that is a cool feature to have in a smart phone. Imagine, 24 hours battery life on a 10% charge.
This latest Samsung Galaxy S5 has better features that are useful for heavy smart phone users.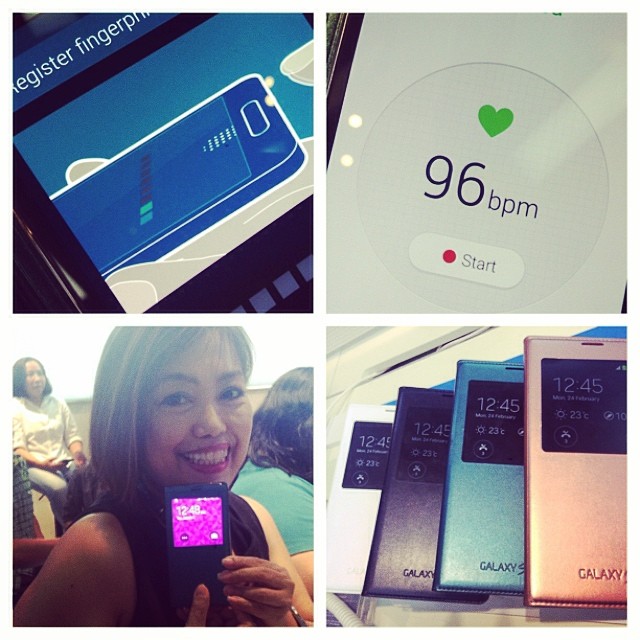 6. It's dust and water resistant (of up to 1 meter for 30 minutes).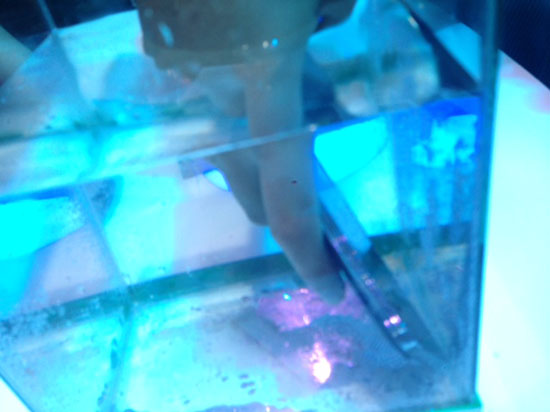 This is quite innovative since a lot of accidents happen when the phone drops in a pool or the toilet. The S5 was submerged in water at the launch. One cannot use the phone when submerged.
7. Fast autofocus speed of only 0.3 seconds
Not only is the S5 equipped with fast autofocus speed of only 0.3 seconds but it has an advanced High Dynamic Range (HDR), feature that reproduces natural light and color similar to how the human eye captures images. Also, the new Selective Focus feature allows users to focus on a specific area of an object while simultaneously blurring out the background and vice versa. With this capability, consumers no longer need a special lens kit to create a shallow depth of field (DOF) effect.
The Samsung Gear Fit is what I really like to own.