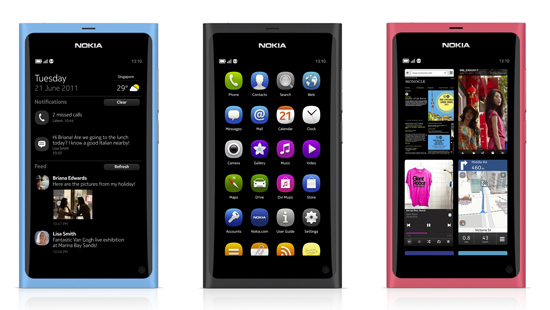 Nokia's highly anticipated MeeGo smartphone has finally been announced, and it sure is a thing of beauty. It's called the Nokia N9, a touchscreen device with a gorgeous, highly-responsive 3.9″ AMOLED screen that takes you to the home view with a single swipe. Nokia's innovative new navigation allows you fast access to the most important thing you do on a smartphone – using applications, accessing social networks, and multitasking. When using an app, all you have to do is swipe at the edge of the display, and you're back in the home screen.
The Nokia N9 also has the latest in camera, navigation, and audio technology. Its equipped with an 8-megapixel Carl Zeiss wide-angle lens with autofocus sensor, allowing you to capture HD-quality videos and sharp pictures in low-light conditions, making the N9 one of the best camera phones in existence. Motorists will be delighted to know that the N9 also has turn-by-turn drive and walk navigation in the new dedicated Drive App. While waiting, you can watch videos in true 16:9 widescreen format, and enjoy superior sound without earphones, thanks to its Dolby® Digital Plus decoding and Dolby Headphone post-processing technology. Sharing images and videos is also made easier because of its Near Field Communication, a technology that allows users to share media between devices simply by touching them together.
The Nokia N9 comes in black, magenta, and cyan, and 16GB and 64GB storage options. Expect it to hit stores later this year! Meanwhile, you can learn more about this sleek device at swipe.nokia.com.