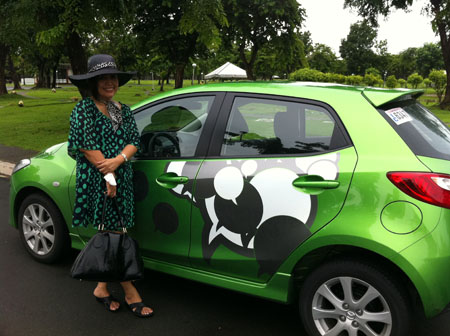 The thought of test driving cars excited me. Frankly, I am tired of testing gadgets especially if they are already reviewed by tech bloggers and I am left reviewing old stock. Never mind. Watch out for car reviews in this blog for the next few weeks.
I knew that the Mazda 2 1.5 L hatchback was colored green. What shocked me it was neon green with conversation bubble decals. Driving a funky neon green car seemed out of my age range. I was kinda hesitant to step in. What will people think? Although the car is stylish, it looked tiny. I usually drive a SUV and the smallest car I have ever driven is our Toyota Vios. When I slid unto the driver's seat, my initial impression proved me wrong. I felt roomy inside. The Mazda 2 looks tiny because it's back compartment is not large. Don't expect to load lots of groceries in the trunk.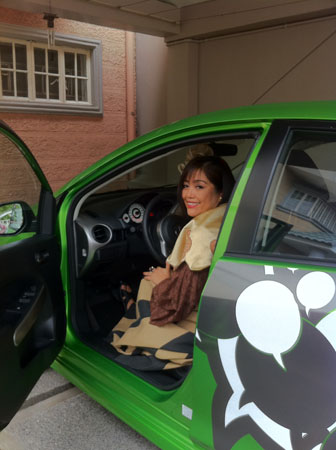 It's a head-turner for sure. In neon green and with snazzy graphics, it can't help but be noticed. Even the tricycle drivers in our subdivision would snap their heads when I passed by driving the bright little subcompact hatchback with my period Maria Clara costume on June 19. (I managed to drive with my bulky period costume. It just shows you how roomy the car interior is.) People would stare at me then back to my funky car. I didn't feel offended as I thought I would and in fact felt tickled at their puzzlement.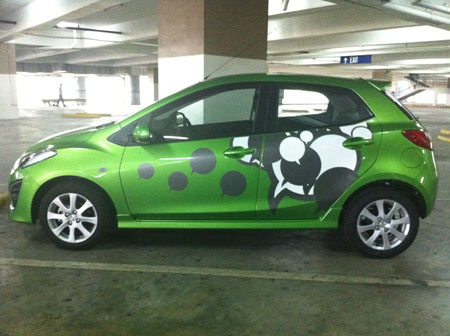 I soon got into the groove with this Mazda 2 and drove it around the city and eventually went to the nearest mall to go shopping. Never will I get "Lost in Parking space" with such an attractive color. My perennial problem of locating my car in the parking space is totally gone with this Mazda 2.
Enough of the initial impressions. So how did it go? Well, it was my first time ever to drive a Mazda and it was quite a thrilling experience. I love our Toyota Vios dearly, but I couldn't help except to compare the styling and performance of the Mazda 2 with our trusty old sedan. And the Mazda 2 won hands down.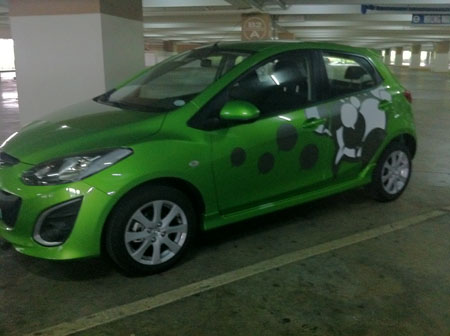 For one thing, it's fast. With a 1.5 engine displacement (the same as our Vios) and 4-speed automatic transmission, I noticed the difference in acceleration right away. The pick up is responsive. My hubby thinks it is faster because Mazda 2 is lighter than its competitors, giving it a favorable weight to engine ratio. It is true as their brochure said , "a unique experience that only comes from Mazda – a Zoom-Zoom experience." I could really feel the power of this Mazda 2 as I sped along the highway.
In the looks department, it has the upper hand although the color (Spirited Green) and the funky graphics make it, according to my daughter, too "conspicuous". Not what you'd drive if you want to keep a low profile. In any case, it's aimed at a young market segment, new grads and yuppies looking for their first brand-new car. They're brash and confident, just like the car itself.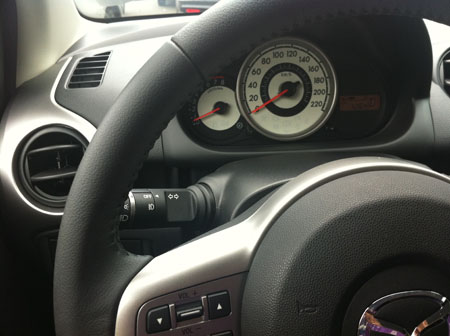 The front dashboard, which abounds in spherical shapes, was probably intended to give the feel of a plane cockpit. Even the adjustable air-con vents are circular. This is probably what they mean by "sporty".
The interior itself is comfortable and functional though not what you would consider plush. The panel lights are orange-red. I noticed there was no USB outlet for my iPhone though an auxiliary outlet on floor console . The steering wheel audio controls is something new to me and I love the ease in shifting radio stations when I didn't like a particular music.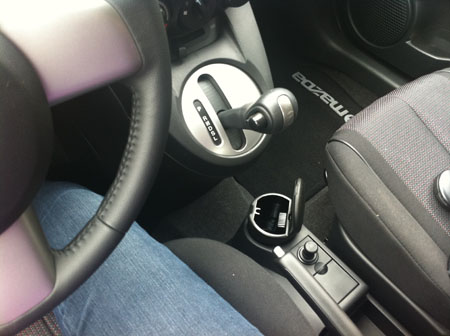 It was also reassuring to know that it had dual front SRS airbags and a four- wheel anti-lock braking system.
As for fuel economy, it had a full tank on the Friday before the weekend and still had about a third left by the time we gave it back on Wednesday. And it had been driven all around Metro Manila, including long trips from one end of the metro to the other.
In my opinion, the Mazda 2 delivers on all fronts: styling, performance and safety. The next time our family is on the lookout for a new set of wheels, our family will certainly drop by the nearest Mazda dealer.
The Mazda 2 model I was driving cost Php 799,000 and comes in four colors: spirited green, aurora blue, true red, black, and cool white.
For more information on the pricing, just take a look at the Mazda 2 price information and their specification.
Download brochure of the Mazda 2
Mazda 2 Specification