The Nokia Lumia smartphones allows one to discover , create, and share amazing experiences with family and friends in the fastest and most convenient way. What better way to demonstrate these amazing features by actually experiencing an adventure in the "Ticket to Amazing Nokia Lumia" event. It was a treat …a relaxation or adventure of our choice – Aqua, Appetizing and Aero. I chose the Appetizing adventure- "Whip up something amazing with Chef Sau del Rosario" with a cooking class and a degustation lunch . I didn't want to stress myself out over an adventure and at the same time playing with a new phone.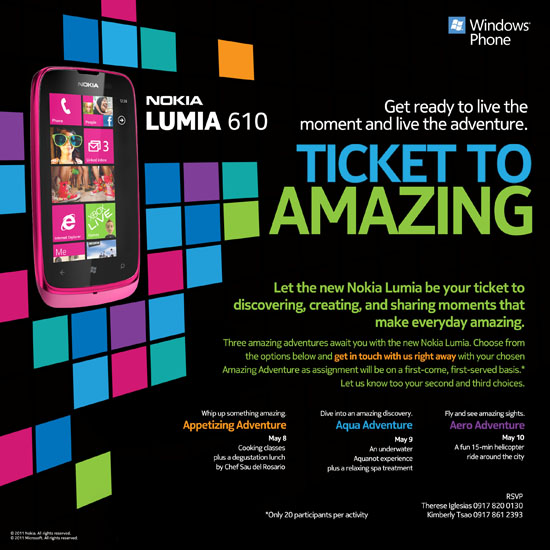 Before the cooking class, each of us were given a Nokia Lumia 610 to play around with. I got a metallic blue Nokia Lumia 610 which was not difficult to navigate. It helped that I was guided to the amazing features I might have not discovered on my own. I tend not to read the manuals so I do miss out on features.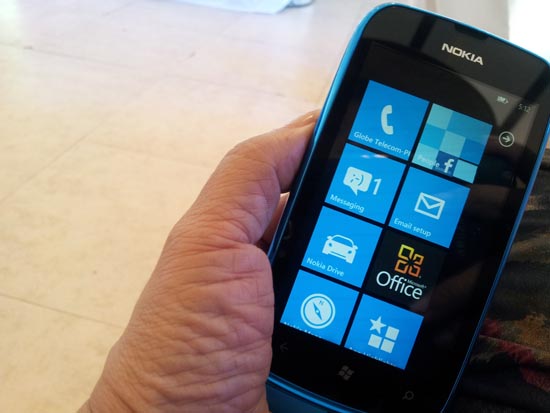 It is a beautiful phone and not at all surprising to know that it was awarded the Best Windows Phone at the Mobile World Congress 2012. Aside from its award winning sleek design, the Nokia Lumia smartphones boasts of a fast Internet explorer 9 browser, Nokia Maps and the Nokia Drive which gives a turn-by-turn navigation.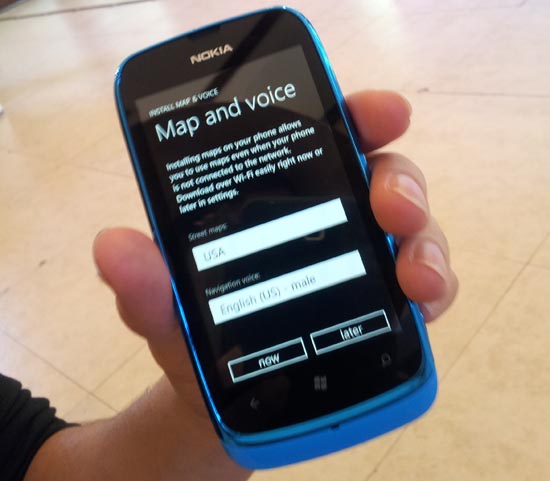 It functions almost like that expensive GPS that my sister had in her car.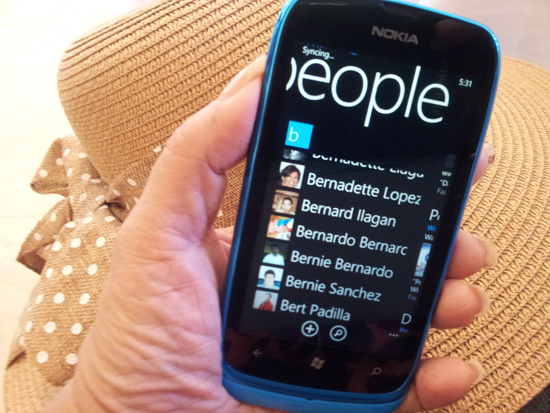 I can also see at a glance at what my friends are doing in real-time, and "what's new" from updates in live integrated social feeds including Facebook, LinkedIn and Twitter. Of course there are the texts and chats from Facebook (IM) – all in one view. One can still be productive with the help of Microsoft office and saving files on Sky Drive.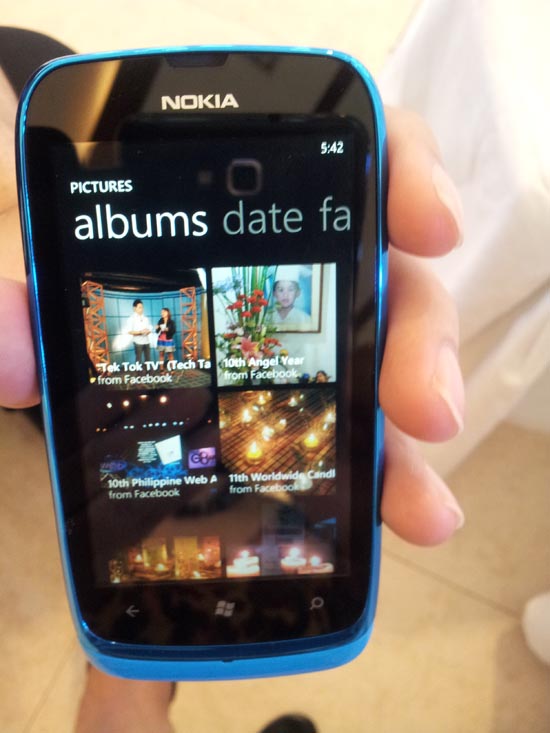 Sharing to all social networks and groups completed in 20 seconds.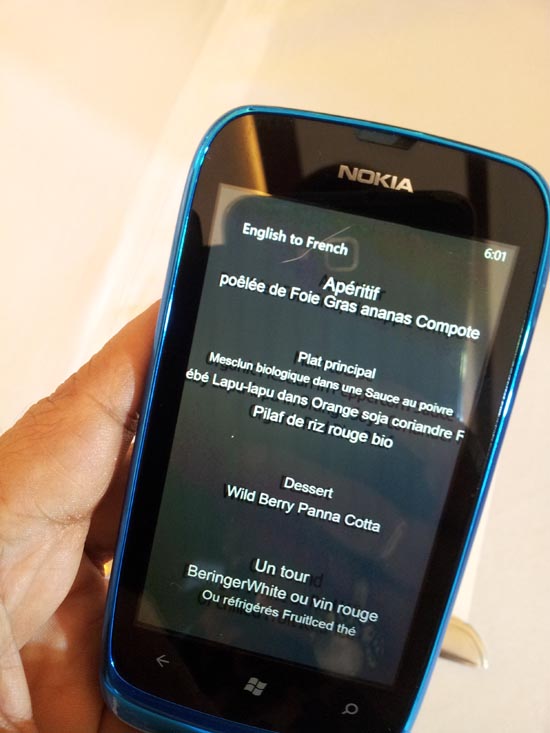 A neat feature is translate text by taking a photo of text and having it converted to text for translation. I tested this with the menu and had it translated to French.
A bit of specs and the Price
Watch the Nokia Lumia video
The little Nokia 610 is a desirable phone with its classy design and solid feature list, especially for its low price.
Expect a 3.7-inch touchscreen, 5-megapixel camera with 720p video recording, 8GB of internal memory and an 800Mhz processor. Another amazing thing is that the Lumia 610 runs a modified version of Windows Phone 7.5, which has been developed to deal with just 256MB of memory and a processor with a lower clock speed than other Windows Phones, enabling Nokia to break into the all-important entry-level smartphone market to take on Android.
And now the price?
The SRP for the Nokia Limia 610 is onlyPHP 10,980 and Php 23, 500 for the Nokia Lumia 800. The Lumia 800 is also available to Globe subscribers free at Unli Surf Plan 1799.
The Nokia Lumia 710 is exclusively available with Smart postpaid data plan 1000.
The Nokia Lumia 900 which won the best smartphone award at the Consumer Electronics show 2012 in Las Vegas will arrive in the Philippines this month .
And what did we have in cooking Class?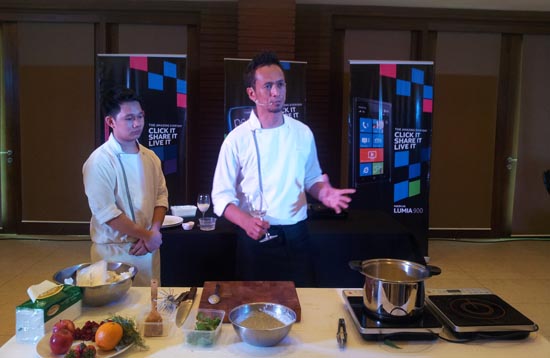 Chef Sau del Rosario demonstrated three recipes that were quite easy to follow yet pleasing to the eyes and palate: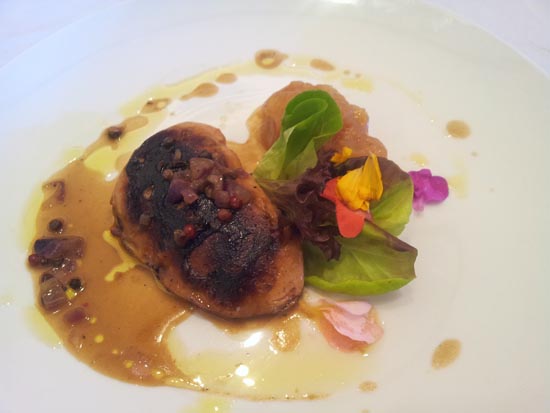 Pan fried foie gras, Pineapple Compote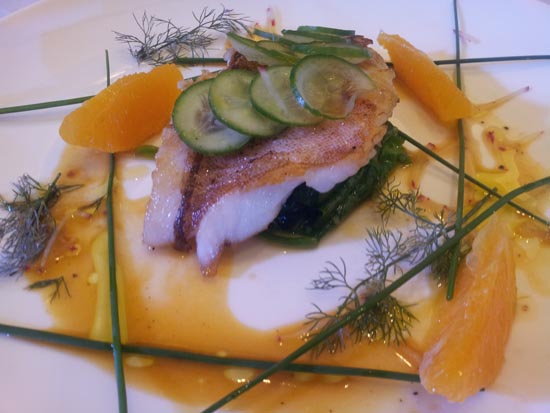 Fillet of Lapu Lapu in orange soya coriander reduction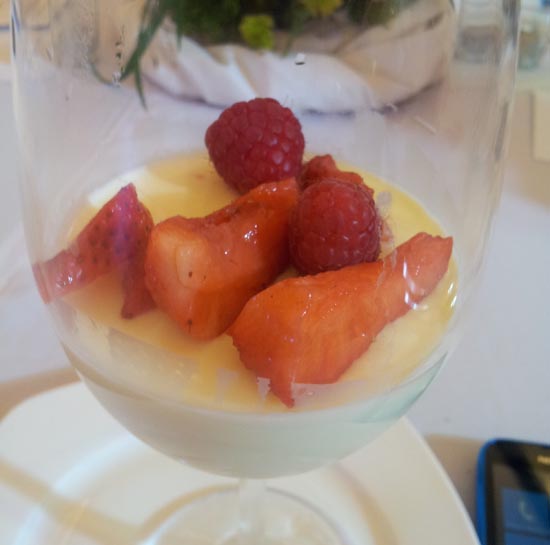 Wild berry Panna Cotta
And as all of these were being demonstrated, I shared the photos in my facebook. Quite fast I must say. Look, I even took a video of the first demo and shared it in my facebook: