I am a Globe postpaid subscriber since 1998 and at the same time hold a Banco de Oro Emerald rewards card that is like an SM Advantage card (SMAC). There is good news for those who are both Globe subscribers and SM Advantage card holder.
Ask yourself : Are you a Globe subscriber who regularly earns points from loading prepaid credits on your mobile phone? Do you also happen to be an SM Advantage Card holder who receives points from your purchases in SM Malls and its affiliate stores?
If your answers are yes, then you're in for a rewarding shopping experience made possible by Globe Telecom and SM.
With the customer loyalty programs My Rewards, My Globe, TM Astig Rewards and SM Advantage, Globe and TM subscribers can now instantly convert their Globe and TM rewards points to SM Advantage points, making SM Department Stores, Supermarkets and other affiliated retail establishments their expanded rewards catalog.
The points can then be used to redeem practically anything sold at any SM Department Store, SM Supermarket, SM Hypermarket, Save More and other SM retail establishments like Ace Hardware, Baby Company, Forever 21, Kultura, Our Home, Toy Kingdom, Watsons, among many others.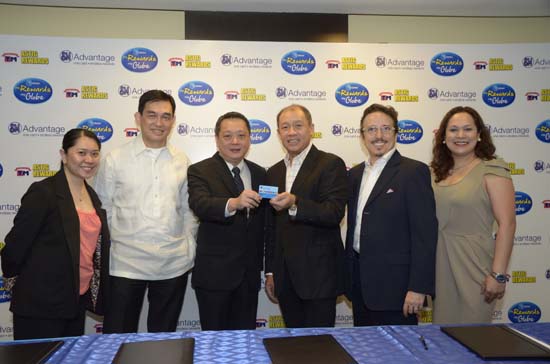 The offer is available to Globe and TM subscribers who are also members of SM's loyalty program SM Advantage. SM Advantage points are earned by spending at SM Department Store, SM Supermarket, SM Hypermarket and other partner establishments. Aside from rewards points, SM Advantage also offers numerous members-only privileges such as exclusive sales, discounts and freebies inside and outside SM Malls.
"At Globe, we continually try to find ways to delight our customers and our partnership with SM Advantage gives our subscribers more ways to use their hard-earned points and claim rewards via shopping treats," said Jay Beltran, Head of Customer Lifecycle Management at Globe. "Globe and SM teamed up for this project to give our subscribers the most value for their money. While shoppers get SM Advantage points from their purchase, Globe offers relevant rewards they could avail at minimal points needed."
To convert Globe or TM rewards points to SM Advantage points, simply text REDEEMITEM CODESM Advantage Card Number and send to 4438. Be careful typing in the syntax.
To get the list of SMAC item codes, text ITEMS to 4438.
Know more about this latest load and shop deal by visiting www.rewards.globe.com.ph.