In the Philippines, it's quite common for people to have two (sometimes three) numbers, one for each major telecom network. I myself have two numbers, and I admit that it's a bit of a hassle having to check two phones for any messages or missed calls. If you use both your numbers actively and can't be bothered lugging around two devices at once, dual-SIM phone (a phone that can carry two different SIM cards) might be a practical investment. You might want to pop inside a Nokia store near you, because the company just launched two affordable dual-SIM units designed to provide users with a convenient and engaging mobile phone experience. These two phones are the Nokia X1-01 and the Nokia C2-00. The two devices are said to have better battery life and more memory than any other dual-SIM device out there. Both phones also remember details of up to five different SIM cards, and allow you to customize each card with a dedicated name, SMS, and call settings.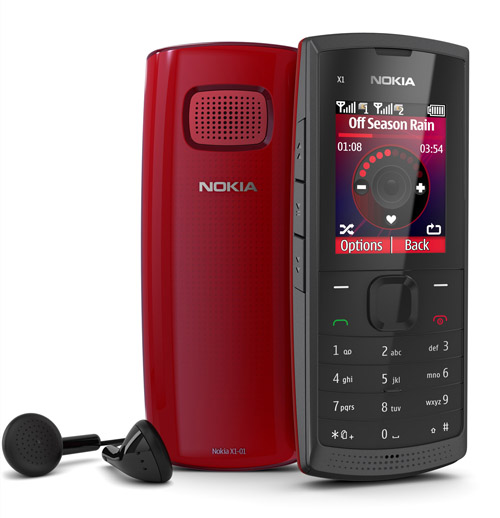 The Nokia X1-01 eliminates the confusion of using two SIM cards by allowing you to give each card its own ringtone, music signature, and logo. It's also one of the few dual SIM phones that provide you with a unique musical experience. The device can support up to 16GB of music, giving you thousands of mp3s to listen to. You can also create playlists and play your favorite tunes on a loud and clear speaker. The X-01 boasts of dedicated keys for switching tracks and a battery that lasts for up to 36 hours of continuous music playback. Get the X-01 in Dark Grey, Red, Ocean Blue, and Orange.
Have three or more SIM cards on you? The Nokia C2-00 is the first dual SIM device that allows you to change SIM cards without turning off your phone or removing the battery. Simply open the SIM door at the side of the device and swap your SIM cards. That's it! The Nokia C2-00 also allows you to browse the Internet, check your email, and enjoy instant messaging features with the other SIM card. And with 32 GB of on-board memory, the C2-00 allows you to store thousands of music files, videos, and photos. The Nokia C2-00 is available in colors Dynamic Grey, Jet Black, Magenta, and Snow White.
The Nokia X1-01 will be sold at an SRP of P1,990 while the Nokia C2-00 has an SRP of P2,990. Watch out for these phones at your nearest Nokia store.