A brand new HONOR smartphone with 100MP Ultra-Clear Camera is set to arrive on March 14, 2023 with a DSLR-like camera and a stunning edgeless display.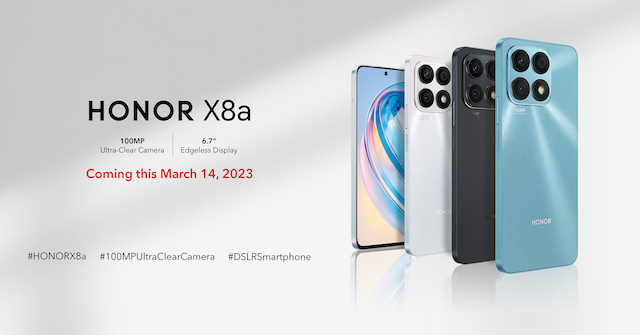 HONOR's new X Series device, the HONOR X8a, is an all-round device that will be unveiled on March 14, 2023, at an affordable price. With its extra design, display, and photography features, this smartphone is sure to meet the demands of its users. HONOR fans can count on us to continue providing the smartest and most affordable solutions to their problems. According to HONOR Philippines Vice President for Marketing, Stephen Cheng, users will be able to take high-quality photos with the 100MP Ultra-Clear Camera on the new HONOR X8a and enjoy a premium edgeless display.
This HONOR X8a is available in three stunning colors; Midnight Black, Titanium Silver, and Cyan Lake. The HONOR X8a boasts a rear 100MP triple camera system, the highest megapixel count ever on the X Series, to deliver an exceptional photography experience. As a result of Super Resolution AI technology, the HONOR X8a also makes it easier than ever for users to take stunning, high-definition photos. In order to create a stylish look and feel, the HONOR X8a features smooth rounded corners and a flat edge design. In addition to adding a sense of attitude, the sharp, clean lines make the device comfortable and secure to hold, demonstrating a subtle balance between form and function.
HONOR X8a will officially launch on March 14, 2023 and will be streamed live on Facebook: https://fb.me/e/unwZiJ2N. You can find more information and announcements on the website www.hihonor.com, or on social media platforms such as Facebook (Facebook.com/HonorPhilippines/), Instagram (Instagram.com/honorphilippines/) and TikTok (Tiktok.com/@HonorPhilippines).