Nine out of 10 consumers in the Asia-Pacific (APAC) have shopped online or in-app more than twice last year. A new study from checkout.com, a cloud-based global payments solutions provider, surveyed more than 12,000 consumers across APAC about views on digital payments and e-commerce. Majority spend more online since the pandemic and an increase of over four-fifths is expected. After reading a checkout.com report on payments optimization in APAC, I could not find the statistics on online buying and financial technology (fintech) adoption in the Philippines. However, my account on online shopping behavior reminds me of my experience.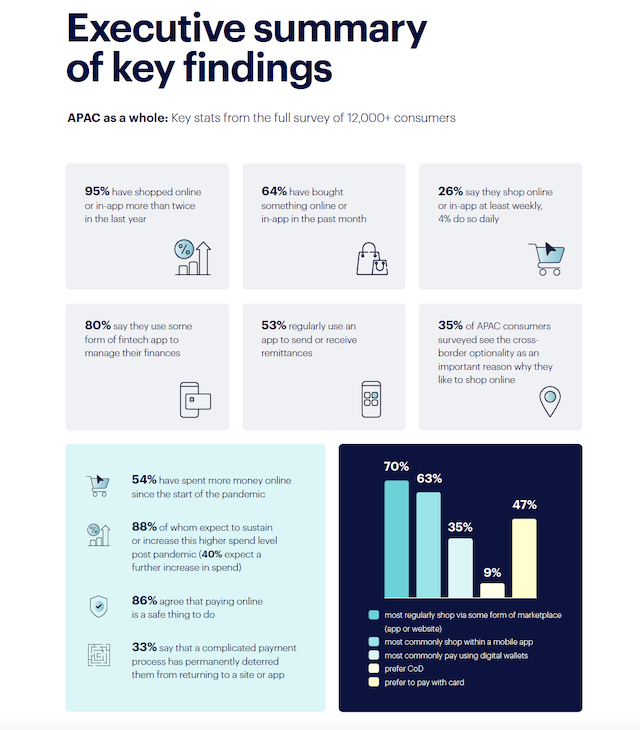 Findings show 95 percent of consumers in APAC shop online, with 80 percent using some form of fintech app to manage finances. I am part of the 56 percent purchasing electronically. In a post-pandemic scenario, 88 percent of respondents are expected to sustain high-level spending. Around 48 percent buy more frequently, and 40 percent increase online hauls this year and beyond. Fifty-three percent utilize an app to send or receive remittances. Ease of using fintech apps is an advantage. Complicated payment process has daunted 33 percent from returning to a site or app. Removing friction from the payment process must be considered by traders.
More women than men list digital wallets as the most frequently used payment method. In all countries surveyed, sans Japan and Australia, women were found to be primary holders of digital purse strings. Shopping is more likely to happen on a weekly or daily basis. In Hong Kong, Indonesia and Thailand, women are likely to use fintech apps for financial matters. Approximately 21 percent of women in China, Thailand and Indonesia use fintech apps to grow their wealth through investment platforms. These findings affirm my experience. I cannot bother my husband to use fintech apps for shopping or investment. I think it stems from the fear of making an error in fund transfers.
Apps such as Coins.ph, ING Digital bank, GCash and PayMaya are the ones I utilize either for investment or online buying. Each app has its features. For instance, I use Coins.ph to invest in Bitcoin or Ethereum digital currency. I love the mobile check deposit feature of the ING. No need to line up and get inside an actual bank. I simply take a photo of a cheque for deposit. For online shopping, I prefer to use GCash or PayMaya since I find it easy to pay for items and send money via text message. Aside from its mobile wallet features, GCash also provides users access to savings, credit, insurance and investments.
GCash's latest innovation is GLife, where users will be able to access shopping, food, home improvement and other services. Over 30 brands are listed on GLife with more possible partnerships on the horizon as brands need access to its 38 million users. Over 1 million sellers in Viber, Facebook, Instagram and other networks use GCash as mode of payment.
Sending and receiving money via Smart Padala thru PayMaya is convenient, with over 27,000 outlets all over the country. Service fee is also reasonable. Filipinos can now pay at over 550 billers using PayMaya having the most number and widest range of payees offered by a Philippine e-wallet to date.
"Despite the isolation brought about by lockdowns and the economic hardships arising from job losses, social insecurity and human ingenuity cannot be stifled by a virus," the report added. For sure, the innovation in digital commerce and payments will continue in response to the needs of sellers and buyers. Hopefully, we will see more market vendors, farmers and fisherfolk using fintech apps in the soonest possible future.
First published at Sunday Business & IT, May 16, 2021.