Google has broadened its tree canopy feature within the Environmental Insights Explorer (EIE) to encompass nearly 350 cities worldwide, including Quezon City. This expansion could potentially aid cities in creating cooler environments for hundreds of millions of individuals. EIE is a free-to-use tool that leverages unique Google data sources and modeling capabilities to generate estimates related to areas, infrastructure, and activities, including greenhouse gas emissions, inventory boundaries, buildings, solar, transportation, and tree canopy.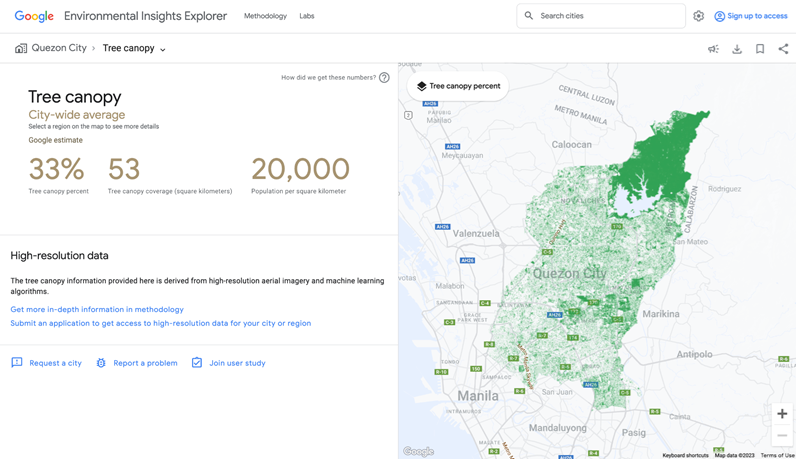 Utilizing aerial imagery and machine learning algorithms, EIE's specialized tree-detection AI scans a city or neighborhood's landscape, identifies the presence of trees, and calculates an estimate of the area's tree canopy. Trees offer numerous benefits to urban areas, such as managing stormwater runoff, increasing resilience against extreme heat, and reducing cooling costs through shade. Urban trees also encourage walking, biking, and other outdoor activities.
EIE now grants access to Quezon City's tree canopy data, a densely populated and highly urbanized city in the country. Leaders and decision-makers can leverage this crucial information for planning resources related to tree planting and maintenance, which is essential in intensifying efforts to combat climate change.
Mervin Wenke, Head of Communications and Public Affairs at Google Philippines, expressed the company's pride in bringing the EIE tree canopy feature to the Philippines. He emphasized that accessible and actionable data is vital for facilitating the world's transition to a carbon-free future and promoting greener cities. To explore Quezon City's tree canopy data, visit the Environmental Insights Explorer now