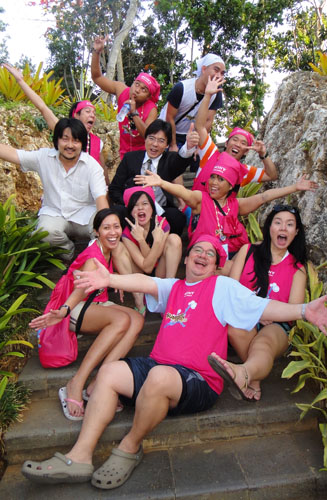 What a fun way to be introduced to Sony's latest digital imaging products at a beach resort? Not just your ordinary beach resort. Media and bloggers got to actually use cameras, and handy cams at Boracay.
My first digital cameras were a 2 mega-pixel Sony Cyber-shot DSC-P31 Digital Camera in 2002 then later on a cool blue 3 mega-pixel Sony Cybershot DSC-P8 Digital Camera in 2003. It never died on me and still continues to work to this day but technology keeps changing that I replaced them through the years especially when mega-pixels started to increase.
.
It amazes me how Sony developed a lot of new cameras 8 years later. I got the chance to try them out at a Sony's Summer launch and witnessed the various capabilities of their digital imaging products,
I was assigned to the HOT PINK team where we huffed and puffed away to win the grand prize of the "Amazing Race" type of contest.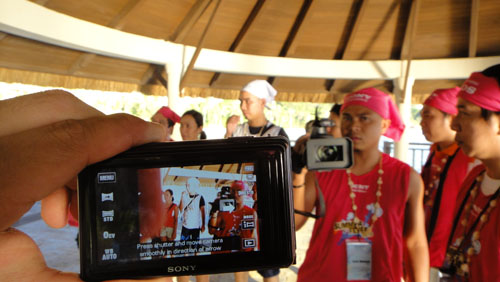 In the amazing race contest, they made us try out these gagdets. Here is a rundown of these cool gadgets:

1. Cyber-shot TX5 – Sony's slimmest waterproof, shockproof, dustproof and temperature-proof camera
Splashing around the waves and viewing the underwater world will never be the same again with the new stylish Cyber-shot TX5, which measures only a slim 16.7mm, making it the slimmest water-proof camera today with Exmor R CMOS Sensor. With its futuristic mirror finish and elegant design, you are sure to become an attention-getter on summer fashion. The intuitive touch screen feature, a mainstay for the Cyber-shot T series, can also be used underwater. Plus, you can get to choose among the four fun colors of pink, red, black and silver to suit any personality.
Perfect for the beach and travelling during the summer vacation, this sleek and compact camera is protected from water, dust, shock, and temperature. Its built-in water resistance allows the camera to record everything up to 3m deep. The shockproof design protects the Cyber-shot TX5 even when dropped from a height of 1.5m. Temperature-proof, you may even use this camera even in temperatures up to 10?C below freezing point.
With its high-sensitivity Exmor R CMOS sensor and Handheld Twilight mode, taking vivid and beautiful mementos of your romantic moonlit walks and of your bonding moments at the campfire will surely be possible. Additionally, the DSC-TX5 features the Intelligent Sweep Panorama function, an upgrade of the popular Sweep Panorama in previous Cyber-shot models. With a simple sweep of the camera either horizontally or vertically, the TX5 is able to provide seamless and effortless panoramic shots, great for scenic landscape images. Plus, with its face & motion detection, you can now take natural panoramic shots of moving subjects without the blur. The new Cyber-shot TX5 has also been incorporated with SD Card slots, for worry-free use.
2. Handycam® SD HDD DCR-SR68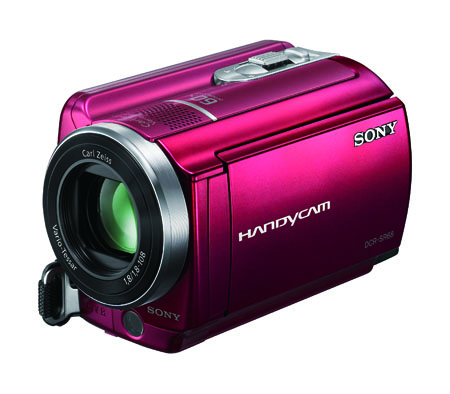 Beach activities are a must this summer. Go parasailing, jetskiing or banana boating and have it captured in video. With the DCR-SR68's Carl Zeiss Vario Tessar 60x optical zoom lens, your fun and exciting activities will surely be recorded by anyone from the shore. No worries about the memory with the new Handycam models' 80GB HDD and Memory Stick/ SD Card Option. Special night moments can also be captured with the DCR-SR68's built-in LED video light to improve recording quality in low-light settings.
Handycam® SD Memory Stick DCR-SX43
Chronicle every moment of your touring and backpacking adventures with the new Handycam SX43. Easy-to-use and convenient, this Handycam is the perfect companion whether you go to new exotic places or simply your serene vacation place. The SX43 integrates a high quality Carl Zeiss Vario Tessar lens with up to 60x optical zoom, and Face Detection function as well, making your photos beautiful and sharp when you pose against the gorgeous background.
Cyber-shot DSC-W380 & DSC-W350: The 14.1-megapixel and wide angle powerhouse
The new Cyber-shot W380 is equipped with a high performance of up to 5x optical zoom "G lens". In addition to the wide minimum focal length, the fast f/2.4 lens allows clearer photos to be recorded even in low light environments. Indoors or outdoors, travelers who would like to keep every detail in memory will surely be delighted with this camera. May it be inside a museum or while trekking up the mountains, the new W series will surely be a hit. With just one sweep, the whole landscape can be immediately imprinted in your memories. More than that, the new W-series Cyber-shot cameras are perfect when you want to treasure special and fun moments in 720p HD movie. Sony understands that you would like to capture every moment that is why these new Cyber-shot cameras have also been incorporated with SD Card slots, for worry-free use of memory.
Cyber-shot H55: A perfect camera for travelers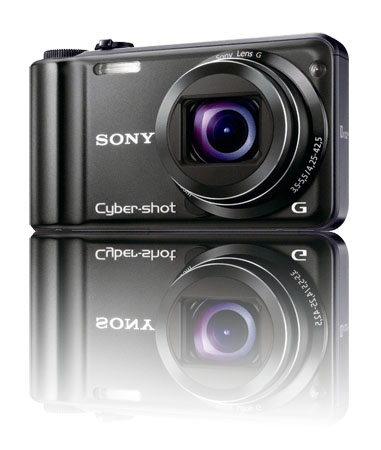 The Cyber-shot H55 is considered to be one of Sony's most rock-steady cameras, making it perfect for those who would like to go outdoors this coming summer. Hike up trails, rough it up in the woods and capture the best of Mother nature. Sony equipped this new camera with their 10x optical zoom "G Lens", for a wide angle of 25mm, allowing you to shoot a vast variety of scenes wherever you go. Get to capture the beautiful and mesmerizing landscape with the new Cyber-shot H55's Sweep Panorama function. What's more, you can even shoot 720p HD videos of your summer experience with this camera. Recording your trip will also be much easier with the new Active Optical Steadyshot, guaranteeing smoother movie shots even while walking. Sony also designed H55 to be compatible with Sony's Memory StickTM as well as SD/SDHC memory cards, offering users more storage options.
1. Cyber-shot DSC-TX7: Stylish slim shooter with Full HD AVCHD movie recording
Summer Fashion will never be the same again with the slim, fashionable and chic Cyber-shot TX7. Strut while you glide along fashionable and iconic travel places during summer. The Cyber-shot TX7 is the Sony's slimmest camera with Full HD (1920 x 1080, 60i) AVCHD video recording. Together with a wide-angle zoom lens, the TX7 allows you to take dynamic and high-quality full HD videos – a feature that was previously only available on Handycam® camcorders. More than that, its Intelligent Sweep Panorama feature makes it easy for it to recognize faces and moving subjects. Sony has also incorporated the Cyber-shot TX7 with SD Card slot so you wouldn't need to worry about the memory space for your HD videos and wonderful shots. Mix and match your outfits with the camera's 3 vivid colors: dark blue, red and silver.
2. New Handycam CX Series: Handycam® AVCHD Memory Stick series HDR-CX550 and HDR-CX110
Storm into the fashion world with the new chic and attractive Handycam CX series. Visit fashionable places, shop till you drop and boost your fashion spirit during this summer. Go to iconic places and record your fashion trip with the CX series. With its feature-packed Full HD video performance and 64GB internal memory (for CX550), every detail from your trip will be recorded flawlessly. The new "Exmor R" CMOS Sensor and wide-angle Sony G Lens integrated in these Handycam models ensure that the beautiful places that you'll visit this summer will be captured with great detail and rich colors. Match your fabulous summer look with the HDR-CX110's attractive colors: black, red and blue.
1. Handycam® AVCHD HDD series: HDR-XR550, HDR-XR350, and HDR-XR150
For those who look for the best in video recording and image results, the latest Handycam XR series is for you. For the very first time, the "Exmor R" CMOS sensor is integrated in all the HD Handycam models. This results to excellent high-definition videos and images with remarkably reduced noise even in low-light conditions. To add to that, the new XR series is packed with the Optical SteadyShot (Active Mode), which ensures smooth shooting even on the go. Furthermore, the new Handycam models are equipped with Intelligent Auto Mode with up to 90 different scene settings to choose from. Perfect for capturing those special summer moments without worrying about the length of videos, the Handycam XR550's 240GB HDD allows for 101 hours of video recording. The Handycam® XR series also offers a wide variety of manual controls, including new iris and Shutter Speed controls, so advanced users can adjust video recording features accordingly to create desired effects.
Sony Bloggie (MHS-PM5K)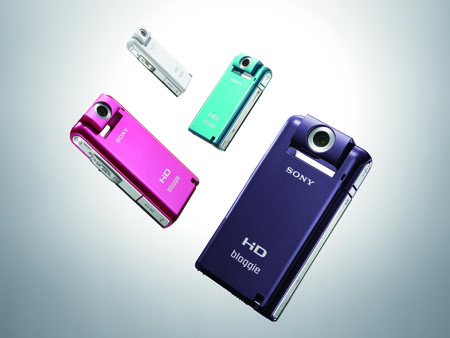 Share your everyday experiences with the new Sony bloggie. Especially made for those who love to capture perfect video effortlessly, this new mobile HD snap camera is extremely compact and can be automatically switched on with just a flip of the 2700 rotating lens. Additionally, the MHS-PM5K comes with Sony's new 3600 video lens which lets you record the surrounding action in entirety. To top it all off, consistent with the model concept, it has a built-in USB arm and software which allow you to instantly share and upload videos, ideal for internet-savvy customers. Have fun in everyday moments during summer with the new bloggie. Choose which suits you best among the four vibrant colors: blue, pink, white and violet.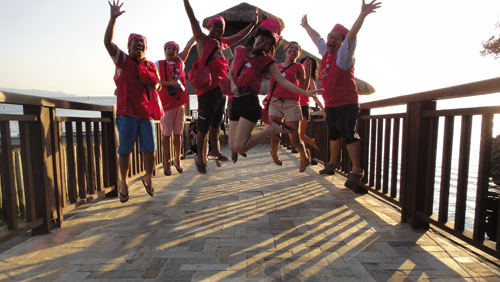 Our team didn't win the coveted bloggie but the fun sure made up for it.