• ING brings its over 20 years of global branchless banking expertise to the Philippines
• High interest rate savings account to encourage customers to save more
• ING will offer 2.5% p.a.* starting 1 June 2019
I attended a media briefing following a panel discussion on 21 May 2019 about ING  launch of an all-digital retail platform. I am like, another digital platform. I have so many digital banking apps and mobile wallets. But I was curious, so I downloaded the app and it impressed me. I experienced how opening an account was so seamless and convenient.
ING's country manager in the Philippines Hans B. Sicat described how this is an opportune moment for ING to expand its presence in the country with a retail banking service that is fully anchored on a digital platform. ING has a universal bank license in the Philippines and has been active in the country since 1990.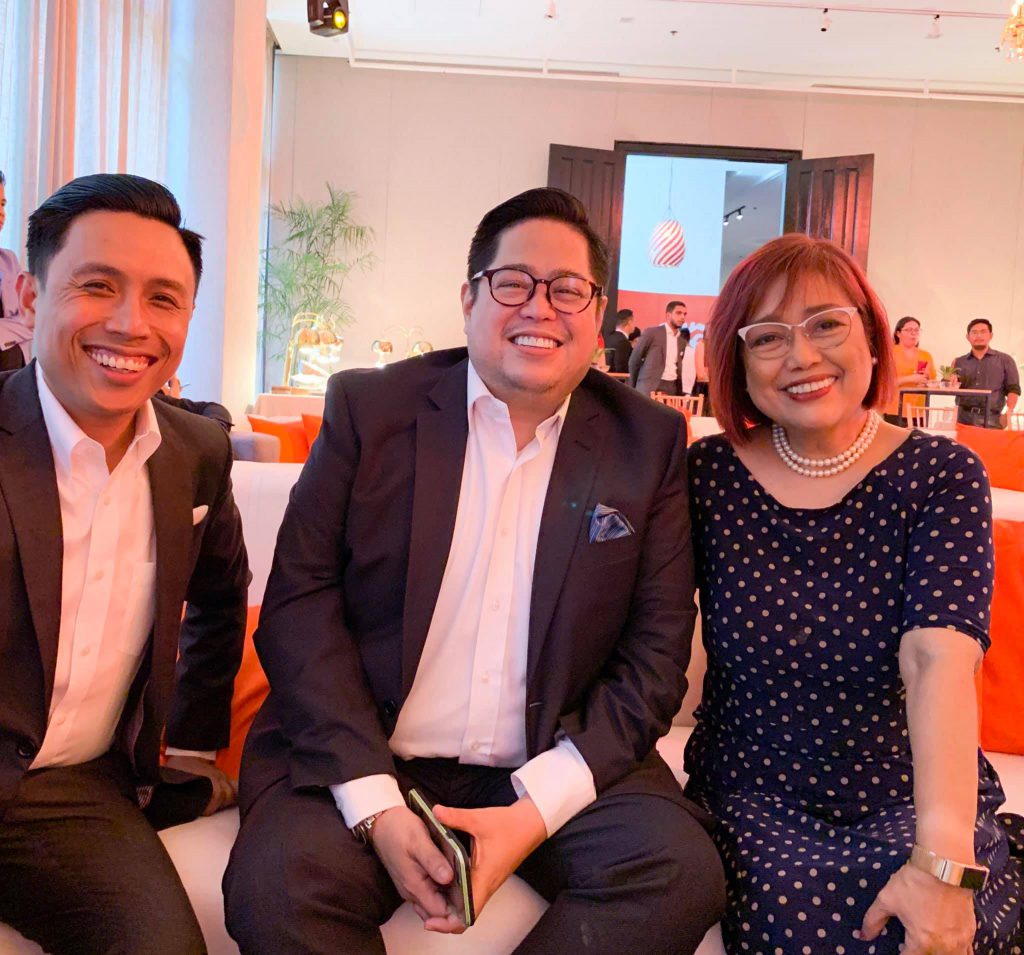 "The Philippines is on the road to become an upper middle income economy and Filipinos have more disposable income. ING wants to encourage more Filipinos to save by giving an attractive interest rate of 2.5%* per annum with no minimum amount and no lock-in period. We want to help promote a healthy savings mindset and with our high interest rate, to help Filipinos achieve their savings goals faster," said Hans.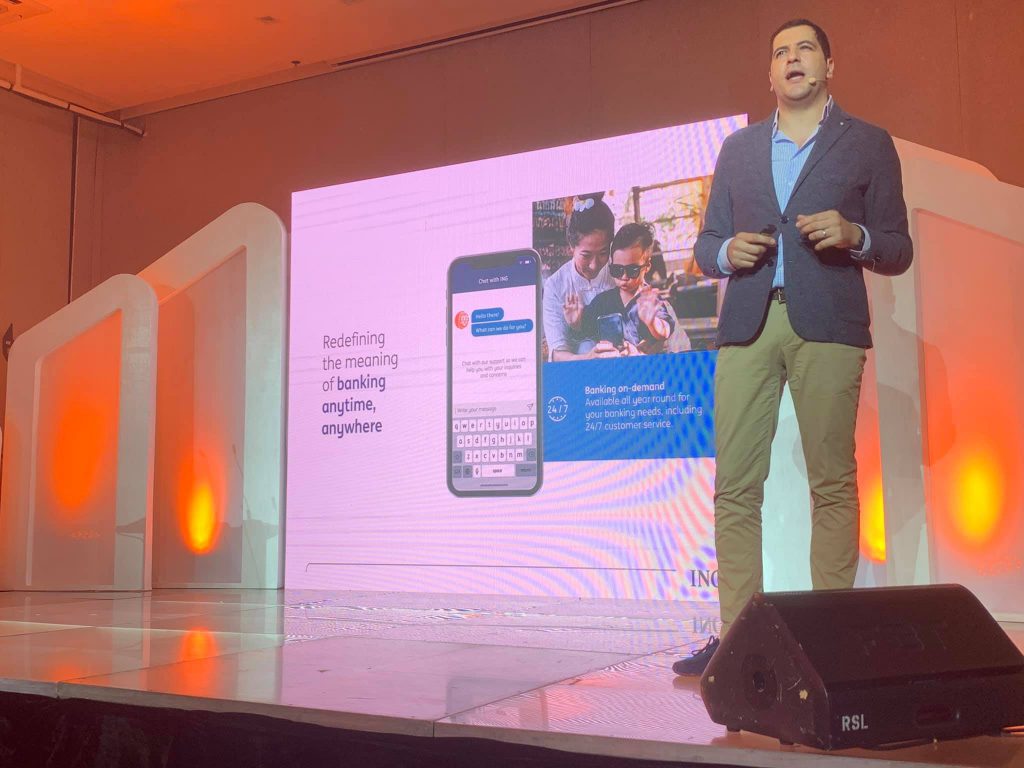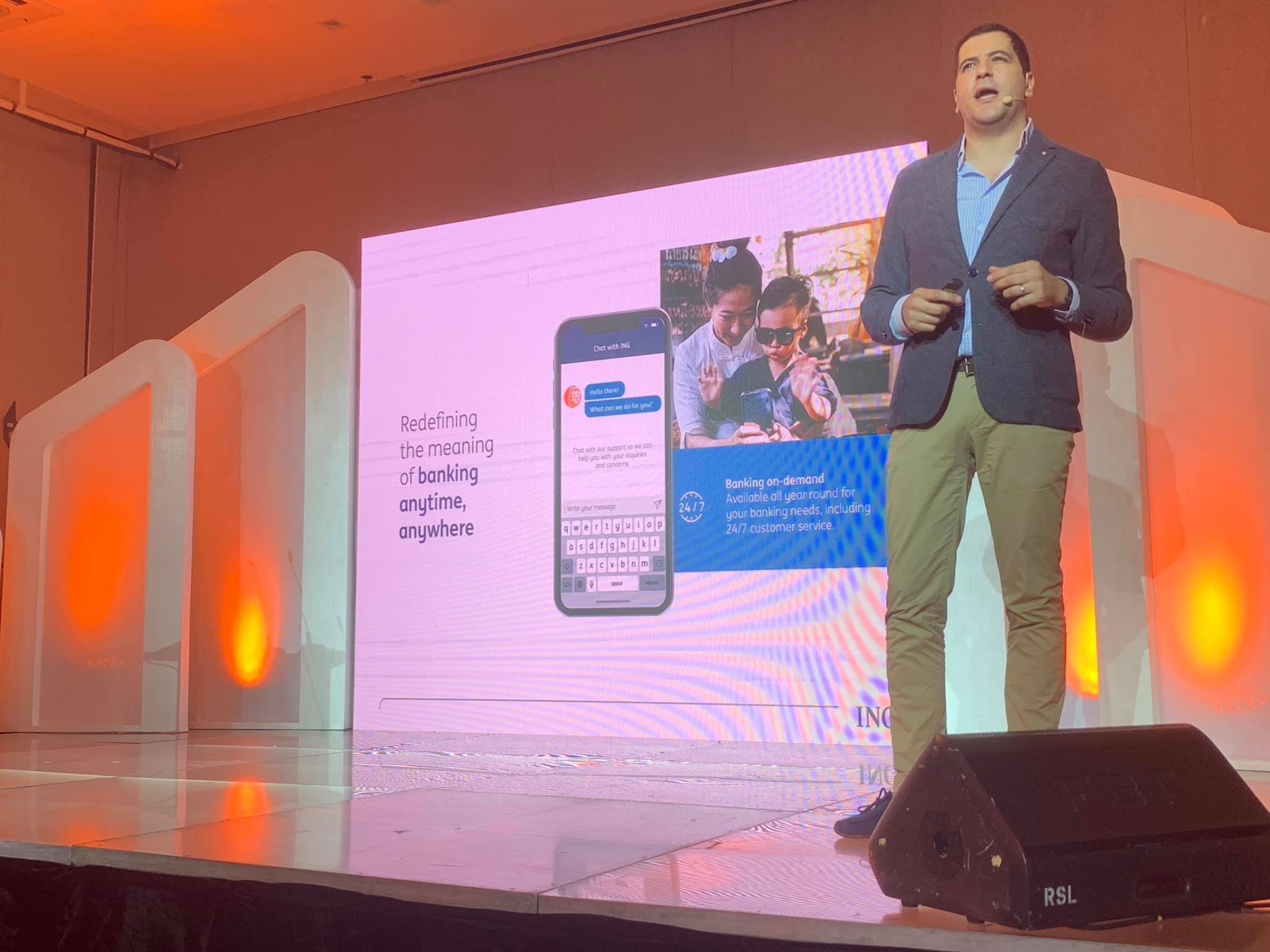 Mohamed Keraine, Head of Retail at ING Philippines, shared that the ING savings account boasts of many firsts in the market. It is the first bank savings product where all the transactions of the customers will be conducted only through the ING mobile app. It is the first bank to be authorized by the Bangko Sentral ng Pilipinas (BSP) to allow end-to-end electronic onboarding of the customers via the mobile phone by using the latest in facial recognition technology. Deposits can be done via fund transfers from other banks that are on the PESONet or Instapay platforms.
I deposited a check using the app using the app.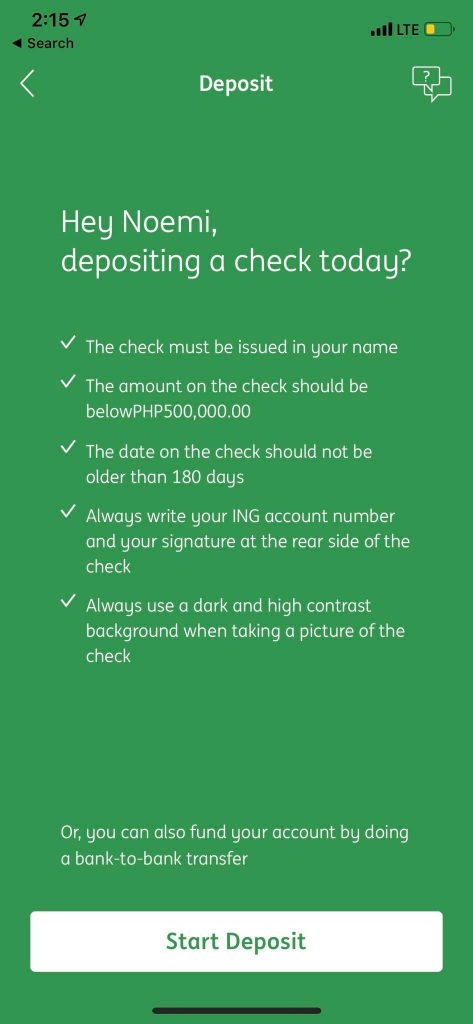 After scanning, I filled in the blanks for the check number, account name and other details.
"We are pushing the boundaries of how customers can deposit anytime, anywhere. With the ING mobile app, a customer can deposit to his account by taking a picture of any check issued by any bank based in the Philippines. The check image goes to the same interbank check clearing system. This game-changing feature is the first ever approved by the Philippine Clearing House Corporation. Customers can transfer funds free of charge to any bank in the Philippines in just a few clicks via the ING app."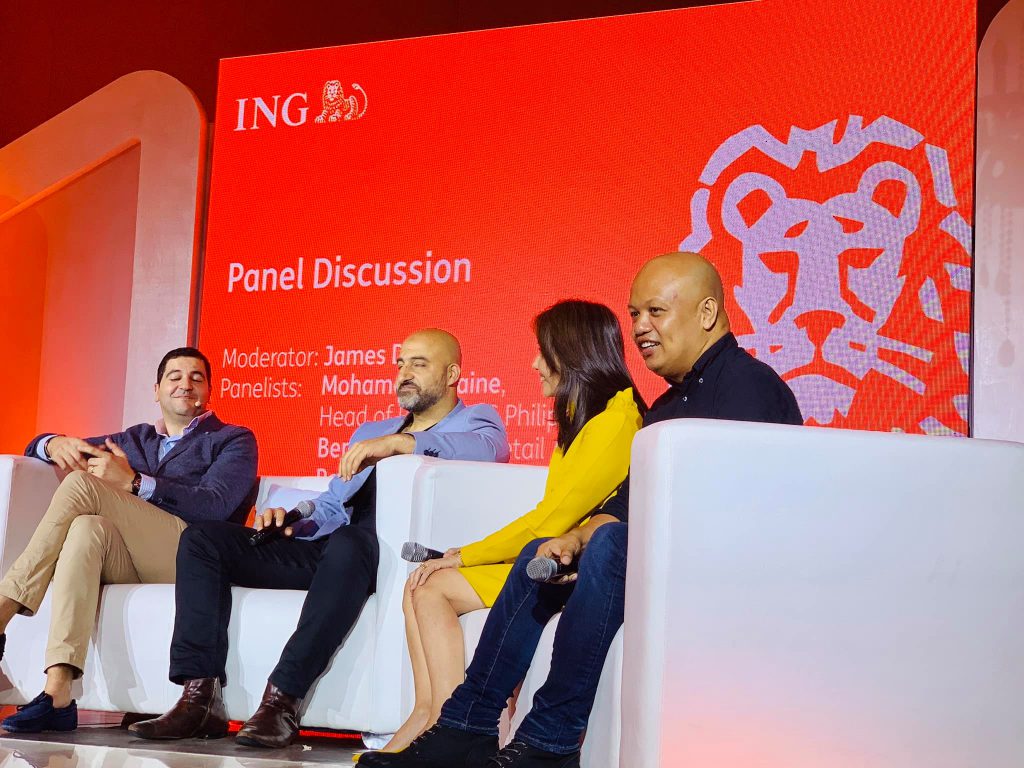 As a financial institution, ING believes that the essence of the banking business today is to provide a differentiating customer experience without compromising security and reliability. ING's mobile app is not only compliant with ING's global standards, but also with BSP's standards.
Ben Issa, ING's chief information officer for retail banking in Asia, said: "Our mobile-only business model in the Philippines was built from the ground up so we were not weighed down by any existing aging technology that we had to navigate. And as a global bank with more than 20 years expertise in branchless banking, we are able to use the latest security features in accordance with ING's global standards. This allowed the team to focus on making the local digital platform resilient, secure and reliable without compromising the customer experience.
"When we went to the BSP last year with our proposal, we had numerous discussions about our system, processes and security measures. Discussions like that are not one-offs and will continue as we develop and roll out more products," he further elaborated.
Abe Olandres, tech blogger and founder of Yugatech, added that "Consumers are becoming more digital but at the same time they want to be more informed and experience the security of the apps or platforms that they are using. For banks and brands, it's about balancing convenience and security."
Recounting his personal experience so far, Abe said: "I started using the ING savings account and I can see myself using the app quite frequently and I believe people around me would find the process of opening and operating an account quite seamless and convenient."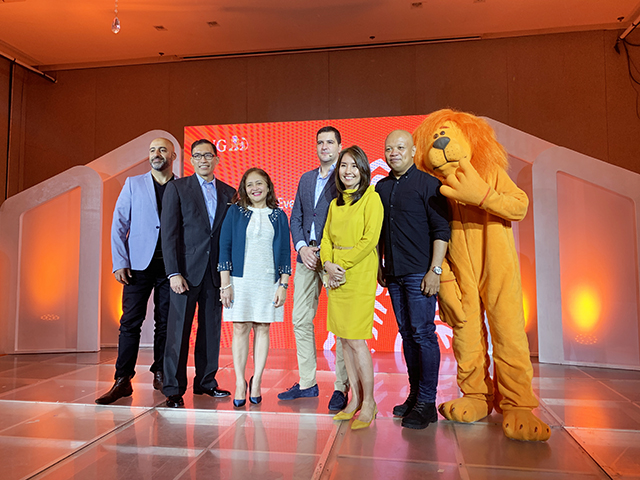 In her keynote speech, Deputy Governor Fonacier of the BSP said: "We welcome ING's full use of its universal banking license with the roll-out of its retail banking service in an all-digital platform. We support ING's use of ground-breaking technology that will enhance customer experience and encourage their shift into more cashless transactions. ING is one of the first few banks to adopt PESONet, and now, they are also connected to the Instapay platform. Both are initiatives by the BSP to promote digital fund transfers. We are happy to work with ING to move a step closer to our goal of increasing cashless transactions in the Philippines."
Mohamed added: "The ING savings account is our first product and we aim to roll out more products in the near future, focusing not just on the features but also how the product will be delivered. Customer centricity is in the DNA of ING globally and we will always aim to provide not just what the customers want but what they truly need. "
Here are some FAQs if you are interested in opening an account.
Opening an account with ING
• What are the requirements to open the ING Savings Account?
You need to:
– be at least 18 years old;
– be a resident of the Philippines;
– have at least one Philippine government-issued number (e.g. TIN, SSS number, or GSIS
number);
– have at least one valid Philippine government-issued ID (e.g. Driver's license, Unified Multipurpose
Identity Card, passport);
– have a Philippine present and/or permanent address;
– have a valid Philippine mobile number; and
– have a valid e-mail address.
• Is there is a minimum balance to maintain the ING Savings account?
There is no minimum balance to maintain the ING Savings account.
• Can I open multiple accounts?
We only accept one account per person at this point. But we are exploring the possibility so stay
connected with us via Facebook and we will keep you updated.
• How can I contact ING?
You can reach out to us by sending a message in the in-app chat function. Our customer care
team is available 24/7 and will reply as soon as possible.
About the ING Savings Account
• What is the interest rate?

Depending on market conditions, we may change the interest rates. But if and when we do so,
existing customers will be notified and this page will be updated with the new rates.
• Is there a minimum amount to earn interest?
There is no minimum amount to earn interest.
• How do I deposit money in the account?
Depositing money into your ING Savings Account can be done through your mobile phone, either
via check deposit or money transfers from other banks' online banking channels. Your bank must
be using PESONet or InstaPay system and have listed "ING" as one of the receiving banks.
• How can I withdraw money?
The ING Savings Account offers high interest rate for no minimum amount so you can maximize
your savings. If you wish to withdraw the money from your ING Savings Account, you can transfer
the money to a bank account where you have an ATM card for withdrawal.
Check Deposit
• How do I deposit a check?
To deposit a check, please click "Deposit" in the account dashboard and the follow the steps to take
a picture of the check and key in details of the check.
• How long does it take to process the check?
For check deposits, we have a daily cut off time of 3:30pm and we follow the regular check clearing
cycle. So you can expect to have cleared funds in your account by 10:00am the following business
day.
• Can I deposit a foreign currency check?
We only accept checks issued by local banks and foreign bank branches in Philippine Peso.
Transfer money
• Is there a daily limit for transferring money?
The table below gives an overview of the different limits depending on transaction type. Daily


• Are there any fees for money transfers?
We do not charge any fees for money transfer from ING to other accounts. However some banks
may charge you fees for transferring money from the bank to ING.
• How long does the money transfer take?
We will process money transfer transactions that happen before the daily cut-off timings within
the same business day. Any transaction after the daily cut-off timings (and on holidays and
weekends) will be processed the next business day.
Cut-off timings:
Transfer from other banks to ING – 4:00pm
Transfer from ING to other banks – 3:30pm
• Can I pay bills through the ING Savings Account?
Bill payment is not part of the ING Savings Account but we are looking into ways to offer this
function as part of our services in the future.
Security
• If I lost my mobile phone, how do I access my account?
We have applied measures to ensure the security of your account. For example we only allow 3
attempts when entering the passcode.
To access your account from a different phone, you will be asked to verify your personal details
like that you used previously during account opening. And you will be asked to go through the
liveness detection again for verification before accessing the your account.
• Is my money safe?
Yes, your money is safe. We are supervised by the Bangko Sentral ng Pilipinas. We are also a
member of PDIC. The Maximum Deposit Insurance for each depositor is Php 500,000.