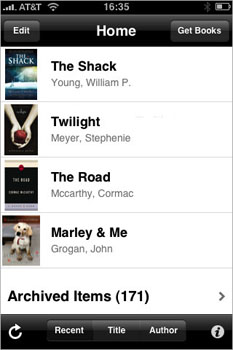 If you're not looking to plonk down over $300 for a gadget solely created for eBook reading but still want to take advantage of Amazon's vast collection of eBooks? If you own an Apple iPhone or an iPod Touch, you're in luck. Amazon just launched a free Kindle application for the two gadgets. The Kindle app pretty much replicates the functionality of the actual device. It allows you to read all Kindle-compatible eBooks from Amazon's catalog, read the first chapter of other eBooks for free, bookmark pages, adjust the text size, and view notations made on the Kindle.
Buying new eBook through the iPhone or the iPod Touch isn't as seamless as on the Kindle, because Amazon won't sell content through the app. To buy a new eBook, you have to log onto Safari and head to the Amazon Kindle store to buy the book. This probably won't take longer than a few minutes though.
Download the Kindle application for the iPhone here!