The Acer  Aspire Swift 7 (S7) is the world's thinnest notebook at a mere 0.39 inches thick.   I am amazed at how powerful, this slim and sexy  black and gold laptop is.
Remember my post on the Acer Aspire Swift 7 (S7) last September? I said to myself "I aspire to own the thinnest laptop in the world at incredibly less than 1 cm thin . I can dream, can I? Well, I want to lead a meaningful life so I vow to change the world through my writings. I aspire to do many great things."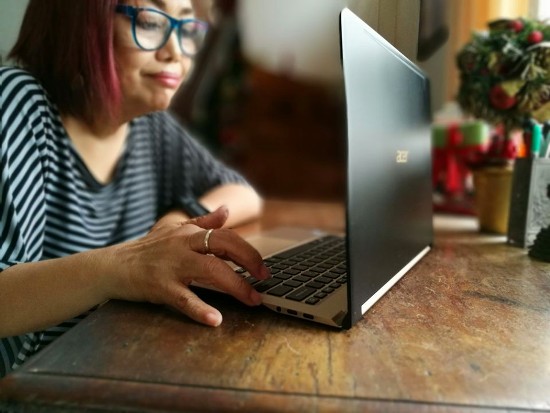 Two months later, I now own an Aspire S7. At a mere 0.39 inches thick, it's one of the thinnest laptops (as of this writing) . The premium black-and-gold design is a beauty to behold. The  1.1kg (2.48 pounds)  Aspire S7 is 12.8 x 9 x 0.39 inches which is so much lighter than my old 2.96 pounds Macbook Air.  The Aspire S7 has an Intel Core i5 processor paired with 8GB of RAM and a 256GB hard drive which is just right for my writing, photo editing, Netflix streaming, and web browsing needs.
The golden Acer logo stands out at the black aluminum lid, with golden hinge trimmed below it.   I love it but before I write a full blown review in another post, allow me to share my delight when I unboxed this pretty little thing.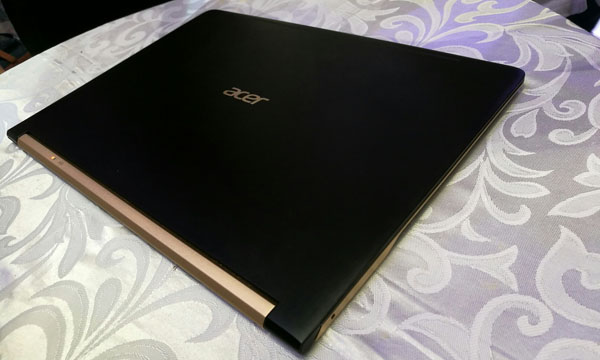 This black box was wrapped in carton, probably for added protection. The back of the box says the details of this premium laptop, Swift SF713-51 Model No. N16Q11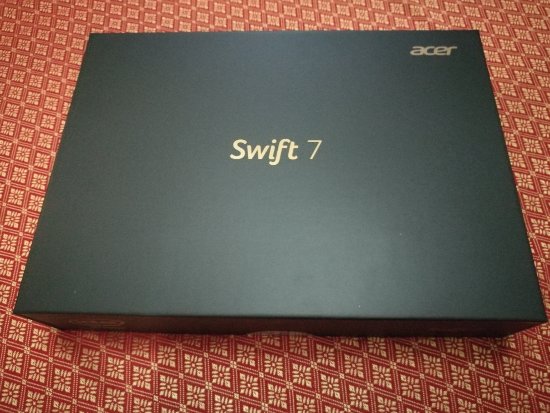 The sense of anticipation …
The Aspire S7 is wrapped in cellphone.
There is a quick installation guide and two tabs on each side of the box.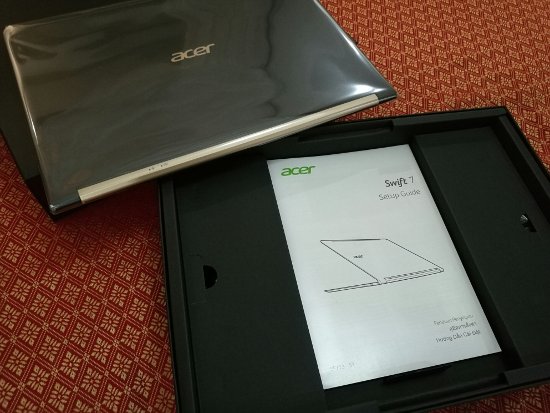 The power supply is on the right side . You will see later on that the  Aspire S7 has two USB-C 3.1 ports .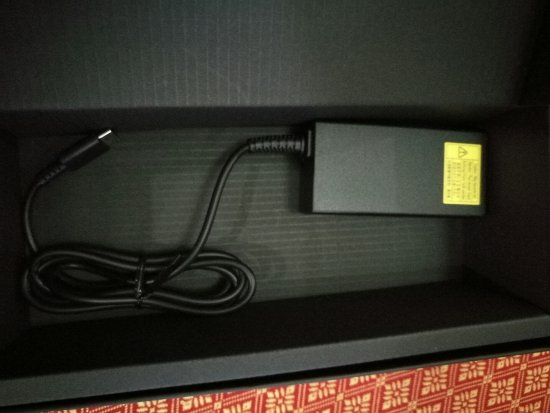 There are two USB C adaptors .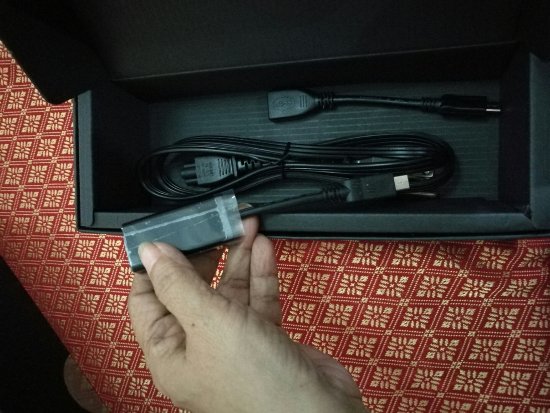 I notice the classy gold keypad but first things first.  The setup guide is easy to follow. When using the notebook for the first time, you have to plug in before turning on the power button.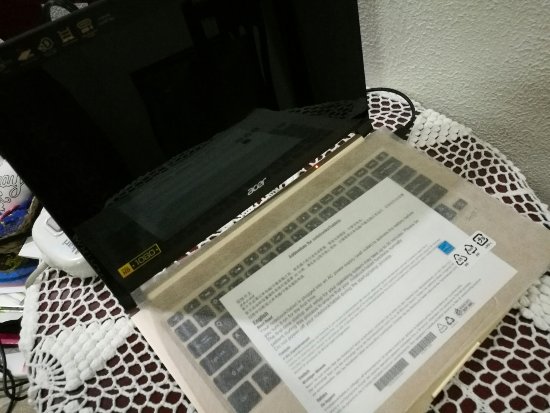 I am greeted with "Hi there..Let's get a few things out of the way" which is pretty much filling in the basic information of the region I live in.
And here's the legal stuff which I will ask my lawyer-husband once I am over the excitement of writing this blog post.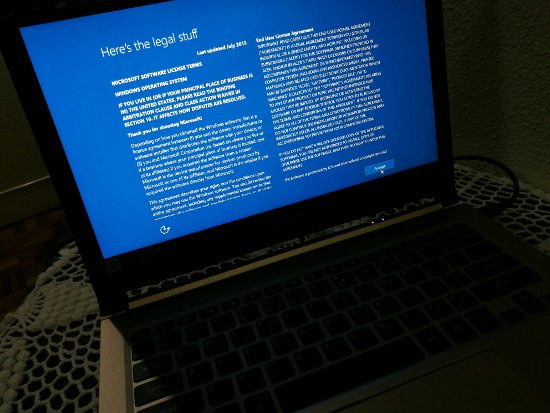 I am not sure if it is Windows 10 or Acer who is happy to see me . The feeling is mutual. Hello!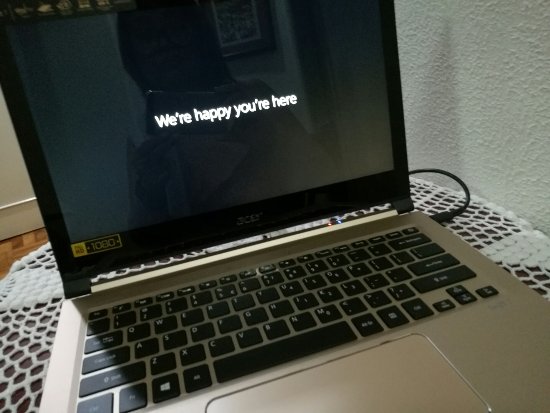 I wait a few minutes while my Aspire S7 is getting critical updates.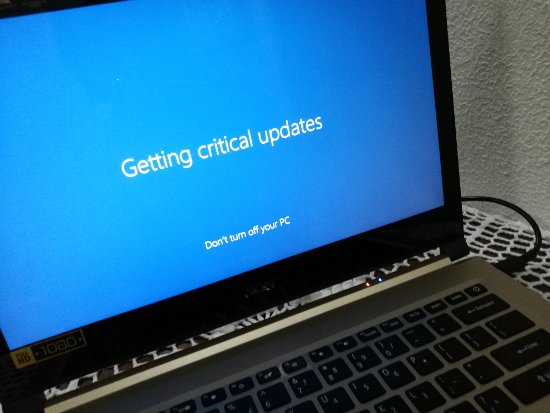 Then it is time to personalize my laptop. Fortunately, I have a Microsoft live.com account so this process was a breeze.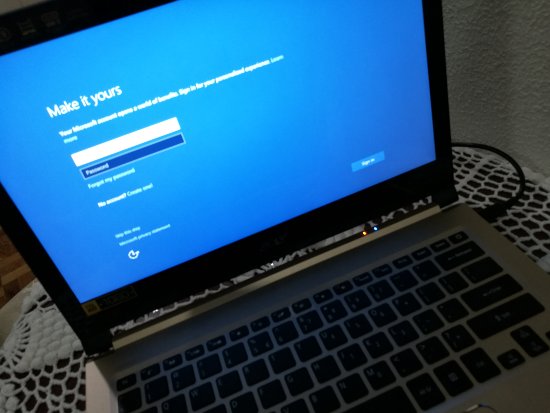 Cortana is supposed to be my sidekick, probably similar to the Siri in my iPhone.  I will configure this later.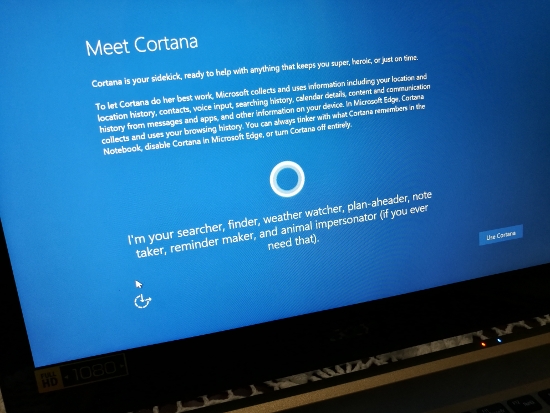 Then I am greeted once again with another "We're happy you're here". The whole unboxing till the "getting started" part took less than 30 minutes. I wasn't really watching the time because each unboxing moment was so much fun. There you have it… a black-and-gold design that contrasts so brilliantly.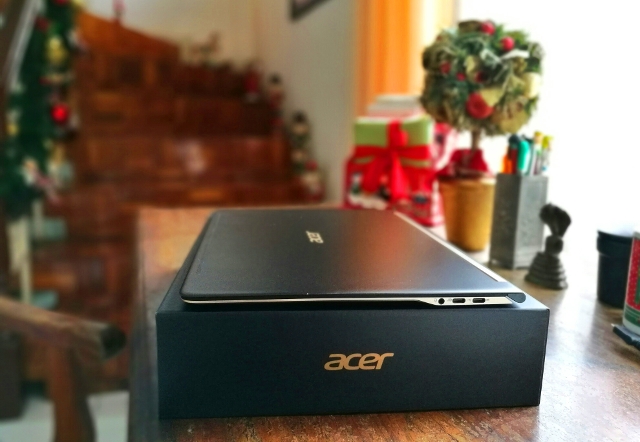 The display up front is a 13.3-inch Full HD IPS panel  with a 1080 x 1920 resolution and the colors are vivid and look accurate. Just perfect for watching full HD videos on Netflix .  The Aspire S7 sports a seventh-generation of Intel Core i5 processor (Kaby Lake) with passive cooling mechanism . Yes , it is fanless.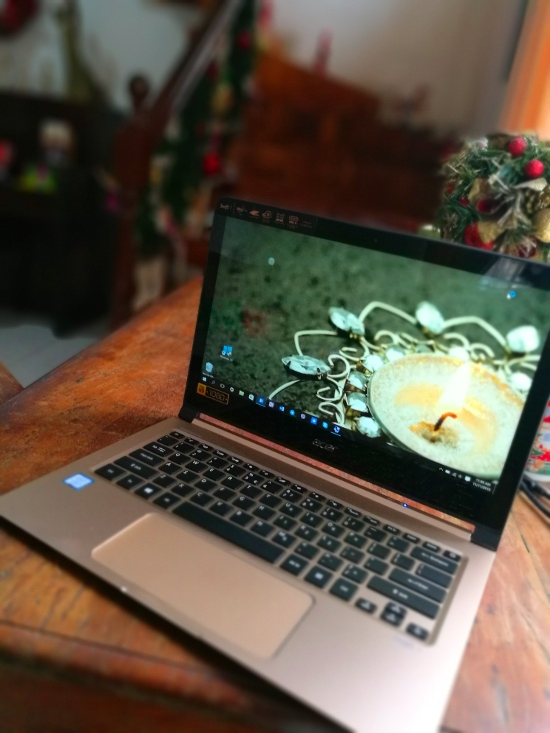 See, how slim the Aspire 7 is compared to my Macbook Air (2013) ?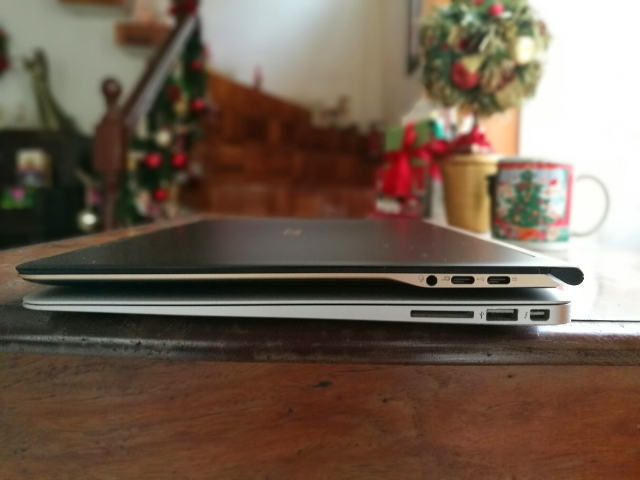 I would need to get used to the USB-C 3.1 port.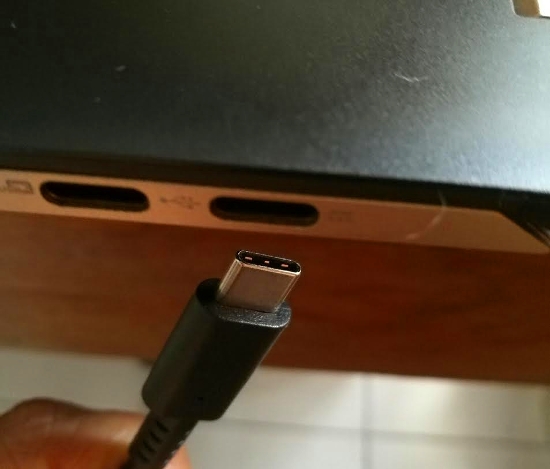 Well, because I will need an adapter when I need to transfer files from a flash drive. Acer included two adapters, a USB-C–to–HDMI and a USB-C–to–USB-Type-A; and a headphone jack. The dual USB 3.1 Type-C ports are included for quick data transfer, connection to an external display, and to charge the laptop.   Acer Aspire S7's USB 3.1 Port™ boasts a 5 Gbps data transit speed that will  help me power up my file transfers. I have to see to believe this, though.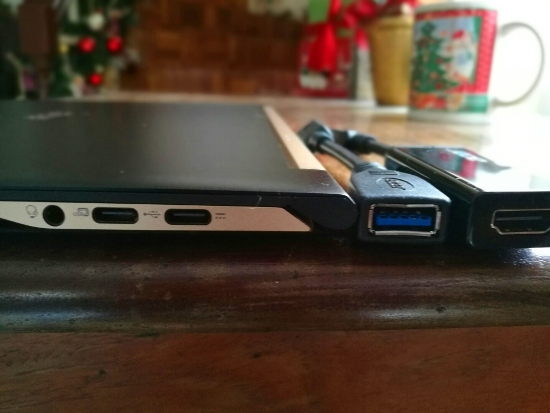 The black exterior  smudges easily but thankfully, it can be easily cleaned using an optical glass cloth.
Battery life is expected to last nine hours but I have seen it last at less than eight hours. Perhaps if the brightness is 0%, the laptop battery can last over eight hours.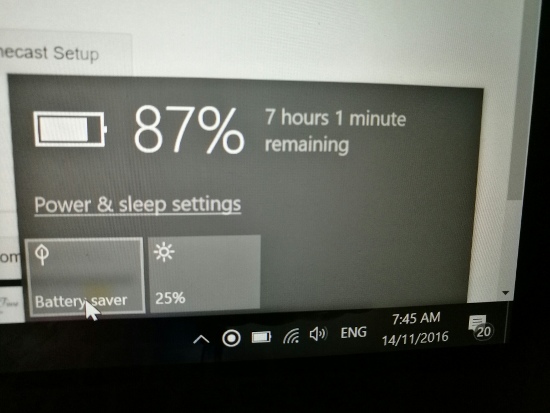 I love the wide and comfortable trackpad but I am disappointed with the non-backlit keyboard when I need when I work in my dimly-lit bedroom. I also notice the gold hue is brightest with artificial lighting.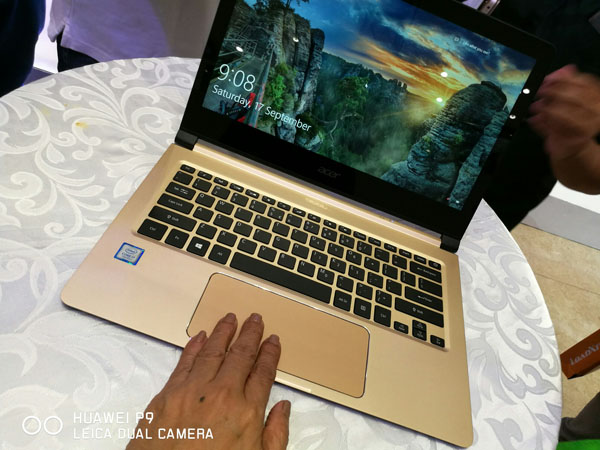 These are my initial impressions . Remember, my laptop is just four days old so I will write more on  this "super-slim, super-lightweight, and super-quiet " Aspire S7 laptop .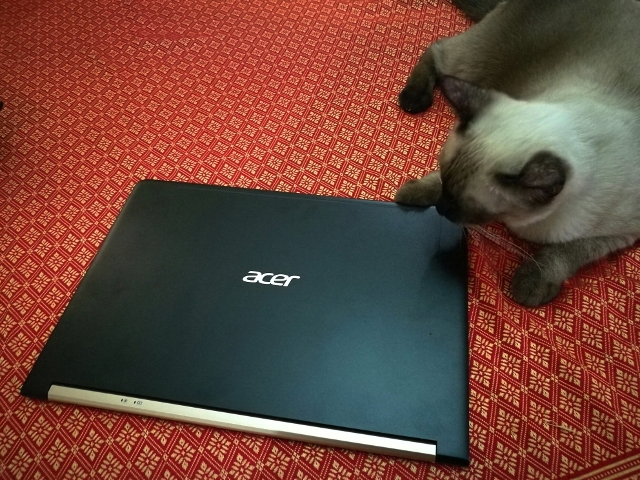 Oh , and this slim and gorgeous Acer Aspire S7 is priced at Php 64,999.