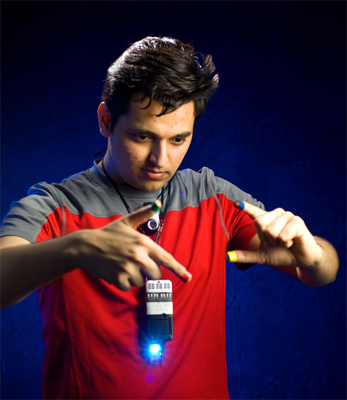 At TEDx Manila, I came across a fascinating gadget prototype (through a video presentation) that has a lot of potential in terms of how we see, experience, record our lives in the digital age. Even though the Internet provides us a lot of information to help us make certain decisions, a lot of the data is intangible and only satisfies the sense of sight and sound. SixthSense is a new technology that aims to bridge this gap and make digital information more tangible and well-integrated with our experiences in the physical world. This prototype is made of three main components – a pocket projector, a camera, and a mirror. The projector and camera are connected to a pocket-sized mobile computing device that the user carries with him so they can record visual information and use the physical objects in the immediate environment as an interface. The camera also records the user's hand gestures and objects, and supports multi-touch and multi-user interactions.
SixthSense comes with a number of useful applications that harness its features. The map application allows the user to navigate a map displayed on a flat surface using hand gestures, much like the ones found in Multi-Touch systems. The drawing application tracks the user's fingertip movements so he or she can draw on any surface, or draw icons in the air.
Check out the video under the jump for more detailed information about SixthSense and what it can do. The prototype costs around $350 to build, and I'm hoping this can be available to consumers by next year.