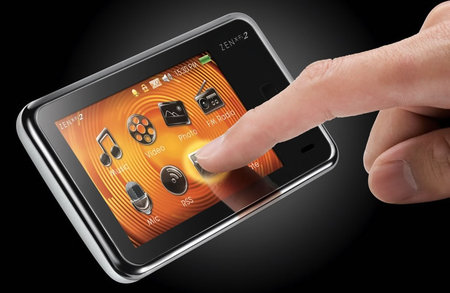 Looking for a feature-packed media player that isn't an iPod? Try the Creative Zen X-Fi 2! Creative Zen media players are one of the most seriously underrated gadgets in the market, and it's hard to see why – they're affordable, they're durable, and the audio quality is excellent. One of the first mp3 players I owned was from Creative – I can't remember the exact make or model but it lasted me through most of my college life. I even continued using the earphones after receiving an iPod for Christmas.
In any case, the Creative Zen X-Fi 2 comes with a 3-inch touchscreen and weighs only 6.4 ounces. The touchscreen is made of TFT LCD that can display up to 262,000 colors. Aside from supporting a number of audio formats (MP3, AAC, WMA, WMA-DRM9, WAV, Audible, FLAC (Lossless), the Creative Zen X-Fi 2 also supports a number of video formats (WMV9, MPEG 1/2/4-SP (Simple Profile), MJPEG, Photo: JPEG, BMP, TIFF, GIF, and PNG (conversion to jpeg by s/w)). And if you don't feel like using the EP-630 earphones that come with the gadget, you can listen to your music or movie using the built-in speakers, which are equipped with Creative's award-winning X-Fi Xtreme Fidelity Audio technology. This technology restores the quality of compressed audio, making it seem as though you are using a pair of high-end speakers rather than just built-in speakers.
The Creative Zen X-Fi 2 has 8 GB of built-in memory, but you can always insert a card into the microSD slot to expand it. Available on Amazon for only $89.99!