Maybe it's because my ears are shaped funny, but I never could stand using normal earphones because they keep slipping out of my ear every five seconds. The way normal earphones are shaped made it such a pain in the ass to bring my iPod around with me – that is, until someone invented the in-ear headphones. These are basically earphones that come with a soft silicone tip that not only allows for a comfortable fit inside your ear; it also cancels out a significant amount of noise from the outside world. Perfect for when you want to tune out to jeepney rock when commuting.
My first pair of in-ear earphones were by A4Tech, and for a while I was really happy with them because the sound quality was fantastic and they only cost about Php 400. Unfortunately, they don't have a very long life span – mine only lasted me a grand total of two months. Actually, the first pair I got died in five days; I was able to get it replaced for free at the shop where I bought it, but the second pair conked out in two months. It's such a shame that the worksmanship of the product is so poor because up until they died, I was very happy with how my A4Tech earphones worked.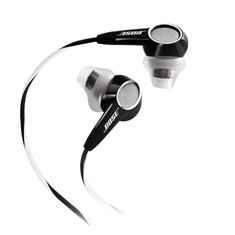 I've heard a lot about Bose in-ear earphones and how they're probably the best in the market. Maybe it has a lot to do with how Bose was pretty much the pioneer of headphone technology and active noise cancellation. I wanted to buy a pair but changed my mind when I saw that the cheapest model cost at least Php 3,000.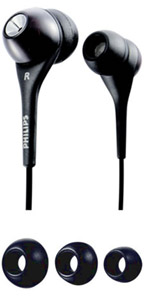 In the end, I decided to get a pair of in-ear headphones from Philips instead. The one I got was the newest model, the SHE 9551/97, which has an acoustics vent to deliver deep clean bass, an angled design that provides noise isolation, and an ergonomic fit for comfortable wearing. The moment I tested out the sample unit I liked it immediately; the silicone cups felt great in my ear and the sound quality was thick and rich. This pair cost me about Php 1,699 which I think is a reasonable price for good quality in-ear headphones. And I think this will last me longer than my A4Tech ones.