Friends often point to my Flip Video Ultra whenever I am at blog events. "what's that?" It looks like a cellphone but not quite.
I simply say, it's The Flip. I know, it's really cute and a head turner in this age of hi-tech gadgets and what not. The Flip is a tiny little digital camcorder that resembles a cellphone and is about the size of the first iPod – four inches tall, 1.25 inches thick, 2.25 inches wide, and 4.9 oz heavy. Mine is black but there are other colors like pink , green and white.
I first heard of the Flip Video Camera when my sister, Lorna took a video shoot of my daughter as she dressed up for Halloween (View video here). I didn't think much of it until last month when Lauren surprised me with a birthday gift, "The Flip" as it is commonly called. I mean, I know how to edit videos in my macbook using the imovie but then when I used the Flip, my editing task seemed so much easier and faster.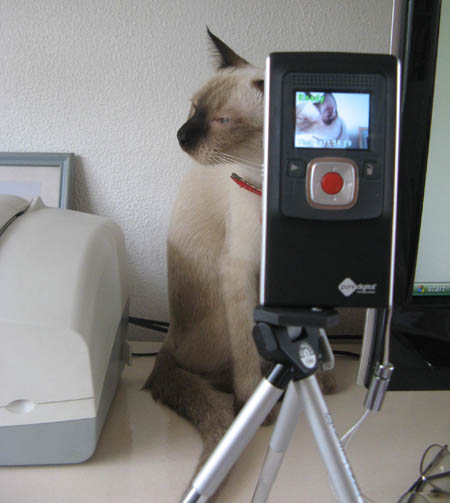 What's not to like about The Flip?

1. I like the simple plug-and-play video camera that features a hideaway USB connector
2. I like the sharp video quality though it tends to blur at very close-up angles.
3. I like the ample recording time of 60 minutes. The 2 GB offers 60 minutes recording. I believe 60 minutes is adequate enough for blog entries as a 5 minute video is more interesting and engaging to watch than a 10 minute video recording.
4. The built-in software makes viewing and sharing your videos incredibly easy.
You simply select the clips you like, click a button, and a few minutes later, the software spits out a movie "mix," complete with transitions and special effects and even some background music (you can also choose to add your own background music). It works for macs as well as PC.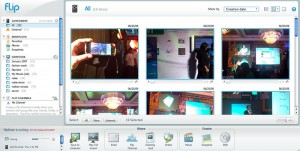 (enlarge to view)
5. You can share your videos via web or email where a link is given. An example of this is a "Happy Birthday" Flip video Greeting Card I sent to my brother for his birthday.
When sharing via e-mail, instead of attaching a large file (even short 20-second clips can result in a 12-13MB file), recipients are sent a link to your compressed video which is uploaded theflip.com server. It looks worse than your raw video footage, but it doesn't look that bad.
Now you ask, is it easy to create movies? Sure, even a technophobe can do it. Let me show you.
1. To get started, you flip out the USB connector and plug it into the USB port on your Windows PC (Windows 2000/XP or later)–a link to the camera's integrated software quickly pops up. On a Mac (OS X or later), the camera appears as another drive on your desktop, and you must install the software the first time you use it.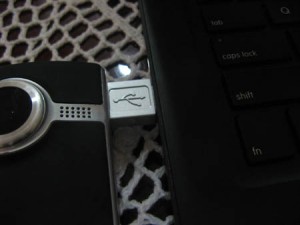 2. Your videos are located at the camcorder directory at the very top. This is the window you see once you install the software (You might have to upgrade the software)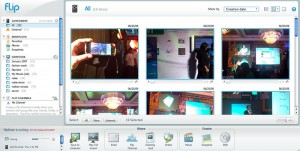 (enlarge to view)
I usually move the files to my folder and save them there. Each video can be edited. See that "scissor" image below.

All you need to do click that scissor graphic and a new window pops up.. Just drag the start button located to the left to indicate your "start time", then the end button to the right indicates the end of your edited video. Just drag these buttons to the desired video clip then save the edited file. I save it by filenames "1", "2". "3" and so on.
Remember, you can also pull a single frame (still photo) out of the video and add it to your movie
3. Now you are ready to create movies.
Just click "Create Movie" at the bottom navigation bar. Drag the clips or still frame to the pop-up window and arrange by sequence.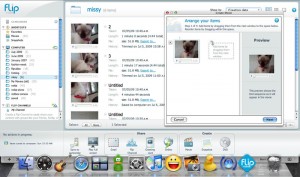 (click to enlarge)
4. The software spits out a movie "mix," complete with transitions and special effects and even some background music (you can also choose to add your own background music).
You now have the clips in sequence.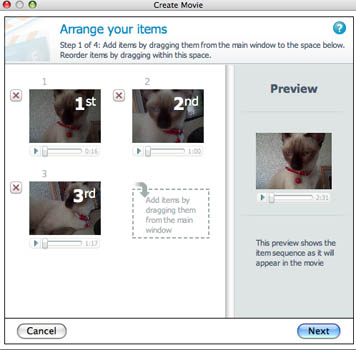 Add title and credits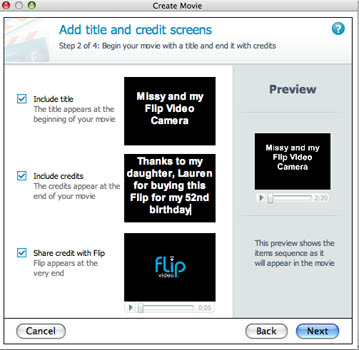 Include background music.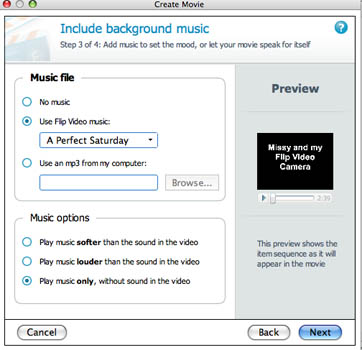 Then the software creates the movie. It is indicated at the left hand corner of the software window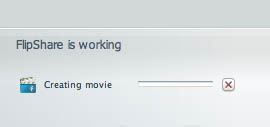 5. You are now ready to share your video.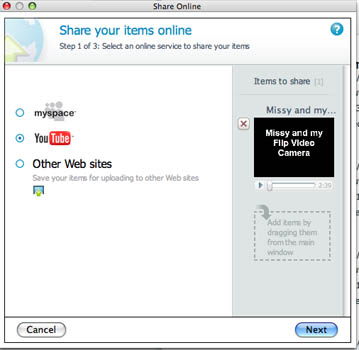 It can take several minutes for your video file to be "processed," depending on the size of your file. But sharing a file is very simple. Click on the Share Video button in the software interface and you're taken to a screen that asks you to select a video clip and choose to share it via e-mail, share a greeting (send a private video card), or share it online.
Since I already had a youtube account, I just added in my user details. The next time you upload, the login details are saved.
See, it is so easy.
Despite its wonderful features, there are some limitations of the Flip:
1. Limited storage or no removable memory card. If I take my Flip on extended vacations, I might not have time to download videos to my macbook. If you shoot videos over a week–or even a few days–60 minutes gets used up really fast.
2. There is no optical zoom. Just digital zoom to 2x which means that you have to move really close to your subject. It isn't also wise to shoot too closely as it tends to blur. See my cat video above.
In summary, the pros are
1. Convenient and portable design
2. simple, fast, and elegant user interface.
3. nice viewfinder screen
4. software installers built into the unit itself
5. supports Mac OS X in addition to Windows
6. includes TV-out cable
7. very high quality video with high frame rate.
I still think that The Flip Ultra Camcorder still has a lot to offer than plain cellphone video recorder. The Flip Video Ultra doesn't offer all the features or quality of a professional video camera, but it actually comes a lot closer than you might expect. In short, if convenience is one of your highest priorities in a digital video camera, the Ultra is a wise and effective choice. Its superior video quality make the Flip Ultra the current leader in the budget digital camcorder niche. Too bad it is not sold yet in the Philippines. You can buy through a relative in the USA though.
Check out the video quality of my other videos using the Flip Video Ultra: ( I am still learning how to edit and make it interesting so excuse the clutter)
Tips on Eating Hotdogs in a Competitive Eating Contest

No to Con-ass

ilumina LCD Interactive Television (iTV)

There are other Flip Products. Price ranges from $149.99 (for Flip Ultra) , $199.99 (Flip Ultra HD), Flip Mino ($179.99), Flip Mino HD ($229/00)