HD camcorders were said to be everywhere during CES 2010, and JVC had some of the hottest models to show off. The Everio line features hybrid, hard disk camcorders that allows you to shoot great videos no matter what the conditions are. This year, JVC unveiled nine new Everio models at CES. Each new camera in the Everio line is equipped with an Advanced Image Stabilizer that promises a stable image even if you're walking beside your subject. Selected models are equipped with a Back-Illuminated CMOS sensor for superior sensitivity in low light conditions. It's also got time-lapse recording and auto recording.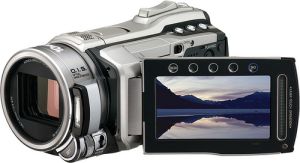 The flagship model GZ-HM1 can shoot a full ull 1080p HD video, 10MP stills, and has a 10.62 megapixel back-illuminated CMOS sensor. This is also one of the cameras equipped to function optimally during low light conditions. It can do high speed recording and time lapse recorder for as much as 600 FPS. These fancy features don't come cheap, because the JVC GZ-HM1 will cost around $1,199.99 when it becomes available in March.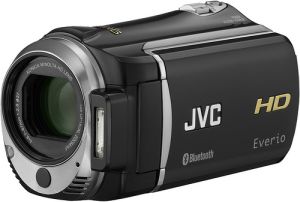 The JVC GZ-HM550 also has a 10.6MP CMOS sensor for full HD recording, time lapse, and auto recording. It comes with 32GB of internal flash memory, an SD/SDHC card, Bluetooth technology, and can handle geo-tagging if you hook it up with a smartphone through GPS. Available in February for $799.99.