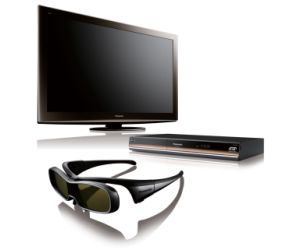 CES 2010 is big on the 3D HDTV sets, and Panasonic unveiled a real showstopper today. They did a live demo of their new 152″ HD3D Plasma TV, which features a plasma display panel illuminated by its new efficient quadruple luminous efficiency technology. This self-illumnating plasma panel provides better response to moving images with a full movition picture resolution, perfect for 3D imagery. The new ultra high-speed 3D drive technology also has one fourth the speed of regular Full HD panels and enables high-quality Full HD3D on the ultra-large 152-inch screen. If I had a TV that huge, I wouldn't need to go to the movies anymore!
But not everyone can afford to throw away thousands and thousands of dollars on a big-ass TV. For the average consumer, Panasonic unveiled a line of smaller 3D HDTVs. The TC-P50VT20 and TC-P50VT25 have a 50″ class screen. The TC-P54VT25 has a 54″ screen, while the TC-P58VT25 is a 58″ model. The largest of all TV is the TC-P65VT25, which is about 65″ wide. All of them come with one pair of Panasonic 3D glasses, which are said to be fairly well-built.
Expect the 3D HDTVs to hit stores by spring.