A couple of weeks ago, I deleted my Friendster account because I got annoyed at all the email updates I kept on receiving. Even though Friendster was the pioneer of social networking sites, I eventually disliked using it because of the confusing user interface, the slew of advertisements that greeted me as I browsed, and the messy dashboard. Besides, one social networking site is enough; what am I going to do with two? Then last week, Friendster just relaunched a cleaner website and a whole new social networking experience that got me interested in reviving my account. The new Friendster is targeted towards the Asian youth market and centered around their core interest, which is enjoying themselves with their friends. The first visible change you'll observe is an invigorating new logo, the Friendster wordmark housed inside a green cloud. The cloud represents communication within the community (think word cloud), which is further emphasized by the new tagline and Friendster's new brand promise, Connecting Smiles.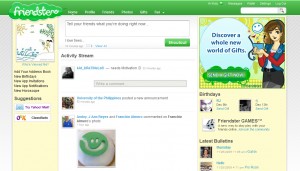 More important than the new logo is a website interface that places emphasis on features that are favored by the Friendster community—like shoutouts, profile personalization, photo sharing, games, finding friends, and messaging. Every user's logged-in homepage includes a redesigned network activity Stream and Shoutout publishing box, making it easier to keep track of everything friends are doing, what content is being shared, what new photos have been uploaded and more. Each user also has a new Shoutout history page called the Shoutout Stream, where Shoutouts are aggregated, allowing users and their friends to view historical Shoutouts, especially the ones they missed when they were gone.
There are also some exciting new products in store for Friendster users:
• The Friendster Wallet is a new micro-payments platform that allows users to purchase products and services on Friendster such as virtual gifts, and to send and receive money to one another. The Friendster Wallet enables users to store account balances and supports a variety of payment methods including pre-paid cards, mobile payments, online payments and credit card payments. Moving forward, Friendster will enable users to make purchases surrounding online games and other offerings. The Friendster Wallet is powered via a partnership with MOL AccessPortal Berhad (MOL)*, a leading payments provider leveraging a network of over 500,000 physical and virtual paymentchannels worldwide. If this takes off, then Friendster might be the new Multiply, in terms of being an informal ecommerce hub where people buy and sell goods.
• The Friendster Gift Shop enables the Friendster community to send virtual gifts to one another, quickly and conveniently. Friendster Gifts are used to send personal gestures of kindness, celebrate significant accomplishments, and recognize friends and family on special days, like birthdays, or just for fun. A variety of gift themes are supported and more will be added over time. Currently, users can choose from virtual birthday gifts, collectible gifts, greeting gifts, premium gifts, romance gifts, seasonal gifts, thank you gifts and more.
• Friendster Games is an online games destination, which will offer Friendster users a wide variety of fun, entertaining games and applications to play online with their friends. Building on the games already available on the site (through the 'Fun' menu on the Navbar), users will be able to easily search and bookmark the games they like to play. Game developers will be able to incorporate The Friendster Wallet into their games, allowing them to participate in the Friendster micro-payments ecosystem.
So what are you waiting for? It's time to dust the cobwebs off your old Friendster account and check out the new features! And for those of you who don't know where it is, it's at www.friendster.com.