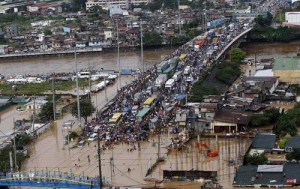 The National Disaster Coordinating Council was swamped with calls during the height of Tropical Storm Ondoy last weekend. Dozens of people were stuck in homes or trapped on their rooftops as flash floods turned streets into rivers. Rescue from the authorities seemed very unlikely, because if there's anything we Filipinos know about our government, it's the fact that they're completely unreliable.
So we took it upon ourselves to help our neighbors using social networking sites. On Facebook, friends removed their Mafia Wars updates in order to give way to emergency numbers to call for rescue, the names and addresses of missing loved ones, alternate routes that were not flooded, and drop-off sites for donations. The same volume of information was passed on via Twitter and Plurk. A Tumblr page documented the photos of the destruction left by Ondoy, as personal accounts of people who survived the flood, and missing persons alert. Videos of flooded streets were uploaded onto YouTube before the evening news. Every single person who could log onto the internet over the weekend was aware of the damage caused by Ondoy, and those who seemed insensitive to the plight of the displaced and the dead were swiftly subjected to Internet vigilanteism.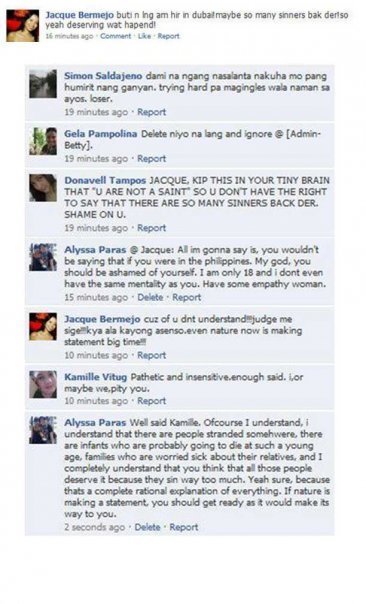 Although information obtained through social networking sites were definitely more helpful than damaging, it would be wise to take some of the rumors with a grain of salt. News like the Marikina dam opening turned out to be false, but it caused needless worry among those affected by the flood before it was disproved. And then there's the OFW Jacque Bermejo, who quickly became an Internet meme for an insensitive, troll-like comment someone left on her hacked Facebook account. I guess what I'm trying to say is that just because it's published on the internet, doesn't mean it's true. And sure, some people will be indifferent to the damage caused by Ondoy, and they will make their opinions known. But try to be a little bit more discerning before dispensing Internet justice. And instead of wasting your time joining hate groups for people who are insensitive about the tragedy, focus on doing your part to help the displaced families.
That being said, there are plenty of ways where you can help the victims of Ondoy. OndoyManila contains Google documents on donation drop-off points and authorized bank accounts where you can deposit your donation. You can also send donations via Paypal to PhilippineAid at donations at philippineaid dot com. In the span of two days, PhilippineAid has been able to raise over $2,000+ – almost half of the $5,000 targeted amount. All your donations to PhilippineAid will be given to the Red Cross for the victims of Ondoy.