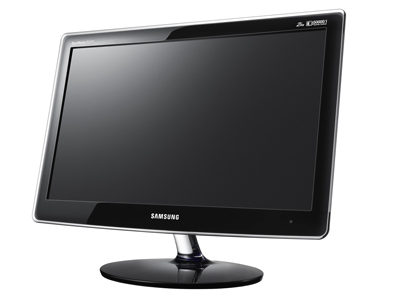 Last Christmas's Samsung E1080 giveaway is continuing well into this year! For every purchase of a featured Samsung LCD Monitor, you get entitled to a free Samsung E1080 mobile phone. This phone is known for its slim size, ergonomic design and comes with a host of unique features like an SOS emergency message that you can send with just one click of a button. So not only will you enjoy the exquisite design and crystal clear display of a Samsung LCD monitor; you get an awesome phone too! Look under the jump for the Samsung LCD monitors included in the promo:
EcoFit P2270G and P2370G: Made with the environment in mind, the Samsung EcoFit monitor is built without the use of lead and volatile compounds which can harm the environment. Plus, it even uses up to 33% less energy that traditional computer monitors. And, the best part is, the image resolution is extremely clear and vivid with a dynamic contrast ratio of 50,000:1 and a response time of only 2milliseconds.
LapFit LD190G and LD220G: With today's need to multi-task, having one screen on your laptop just won't cut it. Samsung has a developed the perfect mate for your laptop with the LapFit. It easily extends your workspace by easily connecting this additional monitor via USB. The LapFit is even designed to mimic the angle, height and brightness of your laptop screen so your virtual workspace looks seamless.
P2050 and P2250: Designed with poetry in mind, the P2050 and P2250 LCD monitors were made to resemble a piece of art. With its flawless fine lines, delicate sunset bezel and slim neck, these monitors are sure to beautify any home office. But, they're not only appealing to look at, the P2050 and P2250 also provide the best viewing experience with a 16:9 wide screen and a 50,000:1 contrast ratio.
2333HD, T240HD and T260HD: Not content with watching DVDs or streaming videos on your LCD monitor? Why not watch your favorite TV shows as well? With these multi-function monitors, you not only get an LCD monitor, you even get an LCD TV. Built with their own TV tuners, the 2333HD, T240HD and T260HD monitors allow you to plug in your cable connection for the ultimate balance of work and leisure.
Promo starts February 1 and ends March 31, 2010. Grab your Samsung LCD monitor now!