If you want to own the latest gadgets but think you can't afford it, Smart Communications make it easier with its introduction of the Smart Bro Gadget Plus Plan. This is a whole new line of postpaid plans that bundle tablets and laptops with internet connectivity in an affordable package.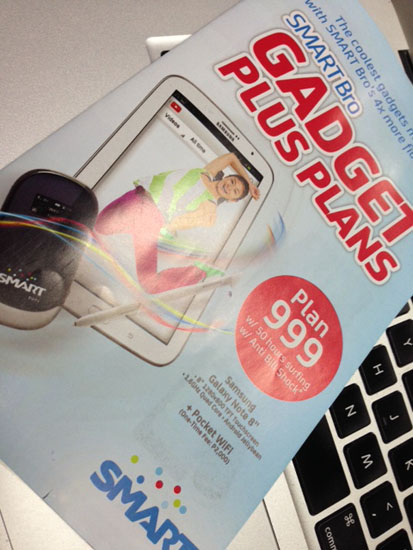 The Smart Bro Gadget Plus Plans starts at 499 a month with the Acer Iconia B1 7 inch tablet plus a pocket wifi. It comes with 30 hours surfing and an anti-bill shock guarrantee.
The one I like is the Samsung Note 8 tablet and sure enough, Smart bundles it with its Gadget Plus Plan 999. It comes with 50 hours free high speed broadband internet every month and an anti-bill shock guarantee.
Other bundles are the Samsung Galaxy Tab 3 10.1 (WIFI only); the Apple ipad Mini 16GB and the Acer Aspire VP 122P Touch notebook and Samsung ATIV Book 2 laptop, both packaged with a Smart bro Plug-it.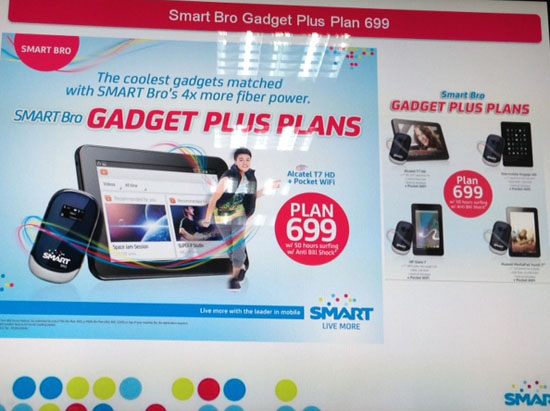 At Gadget plus 699 you can choose from 7-inch tablets: the Alcatel T7HD, the HP slate 7, the Starmobile Engage HD or the Huawei MediaPad Youth, that all come with 50 hours of free internet every month via the Pocket wifi and Anti-bill shock protection.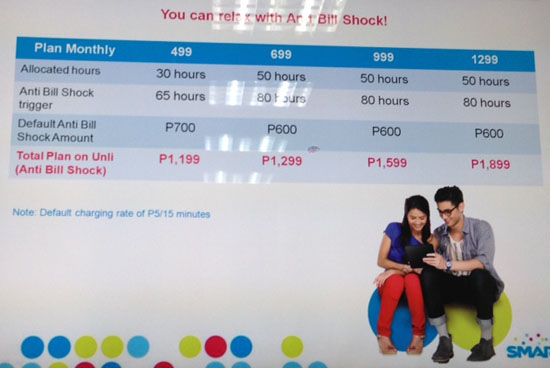 Not only are tablets part of the Gadget plus plans, they also have laptop bundles at Plan 1299. Students are so lucky these days as the budget is affordable. Parents can buy their students the Samsung Ativ book 2 and Samsung printer bundle which allows wireless printing via the the accompanying Smart Bro Pocket wifi.
There are gadget plans for the professionals with the Acer Aspire V5 122P touch notebook along with the Acer Iconia B1-A71 at Plan 1299 giving three gadgets in just one plan.
There is a special offer of the Samsung Ativ Book 2 + wifi Printer + pocket wifi with Plan 1299 which includes 50 hours surfing with anti-bill shock. It is exclusive with Smart Jump Center until October 12 but you can also get this offer in other Smart stores.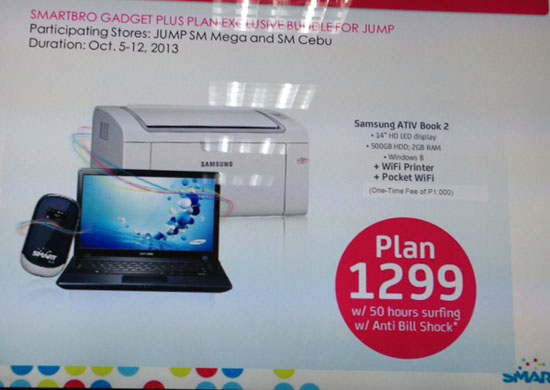 To apply for these Gadget Plus plans from Smart, just proceed to selected Smart stores nationwide or order from Smart Online stores (smart.com.ph/store) or contact 6727277 on their landline phones or dial *888 for existing Smart subscribers.