Almost everyone in the household relies on Internet access for business or schoolwork, which is why we have more than one ISP at home – can't risk missing deadlines because of technical problems. Just recently, I decided to get a router for our PDLT MyDSL as back-up because WiFi from our Globelines Broadband is not entirely stable. At Rsun My Technology Store, I asked for the best router brand and I was told that Linksys has the best reliable routers for home networks. I got our Linksys WRT54G2 wireless-G broadband router, for 2,550 pesos (Volume discount) which I christened "Zombie".
The Linksys WRT54G2 has a reputation for being a good, solid home router and it's easy to see why. Even if you've never handled a router before, set-up and installation is done in a cinch. From the time the box was opened it took us about ten minutes to get the wireless network up and running. What made the set up particularly idiot-proof was the illustrated Quick Start guide that came with the WRT54G2. And even if you have problems getting it up and running, all you have to do is go to the Linksys website and download their auto setup tool. Don't you just love it when technology actually makes things simpler?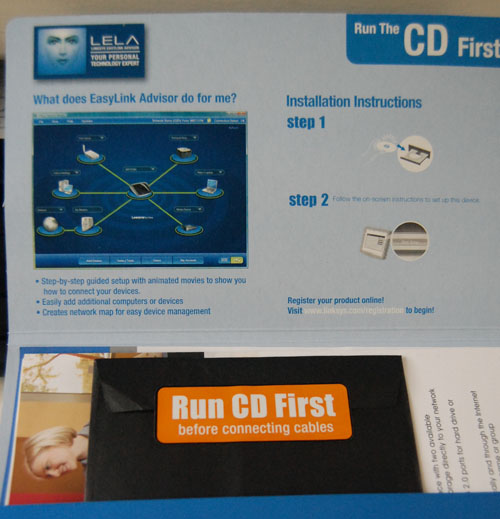 Besides the easy set-up, the Linksys WRT54G2 gives great connection speeds at almost every point in the house, even though there are usually at least two computers using the network. It also has a host of security features and encryption settings. Options such as the access-control policy that allows Internet access to specific computers at specific times of the day helps you maintain a tight, secure network. I find the sleek design so appealing. Instead of an external antenna sticking out, there are two internal antennas.
All in all, the Linksys WRT54G2 has everything you need in a router – easy set-up, strong signal, good range, and overall fantastic performance. It's no big surprise that computer shops recommend Linksys for home use.