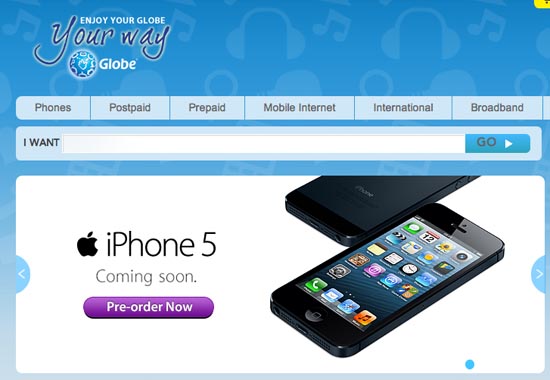 iPhone 5 is coming to Globe on December 14.
For the first 3000 existing subscribers who order get these freebies with their iPhone 5.
-MOST AFFORDABLE plans with unlimited surfing
-FREE 4 months of insurance under Globe Gadget Care worth P1,596
-FREE 1-year subscription to the GCASH American Express Virtual Card
-0% Interest up to 24 months installment with major credit cards1
-FREE and exclusive downloads of new Globe Mobile Apps
-$5 Shipping Coupon or P150 GCash for iTunes purchase2
– Up to 50% off on iPhone 5 accessories vouchers
The Offers are valid until December 31, 2012
You can also get the iPhone 5 through 0% installment at 3, 6, 12 and 24 months offered to Allied Bank, BDO, BPI, Citibank, East West Bank, HSBC, Metrobank/PS Bank, RCBC/Bankard, Security Bank/Diners Club, and Union Bank credit cardholders.
When I submitted my form, it took a while to get my confirmation. When it refused to submit, I logged into my globe account using another browser, and finally got a confirmation. I also received an email "Globe iPhone 5 Update: Registration Successful!" with the following message
Thank you for your interest. We have received your registration details and are now processing your request.

Your Reference ID is ******

You will be asked to input your User ID and Reference ID when you log back to Globe's iPhone 5 webpage. Your User ID is the mobile number you've provided when you registered. Please save these as they will be used throughout your iPhone 5 reservation process.

For example:

User ID:*******

Referen! ce ID:********
For Smart, pre-order here
What about you? Have you pre-ordered? Well, I ordered a white iPhone 5 with 16GB .