Have you always wanted to watch TV shows with vivid, crystal clear pictures? An LCD or LED TV is utterly useless with just analog signals. Good news awaits those of you who have always wanted to subscribe to high definition cable reception.
There is a four day sale from June 29 to July 2, brought to you by Cignal. For four days only. So take note of the malls:
Alabang Town Center
Shangri-La Mall
Ayala Center Cebu
Gaisano Davao, and
Robinson's Bacolod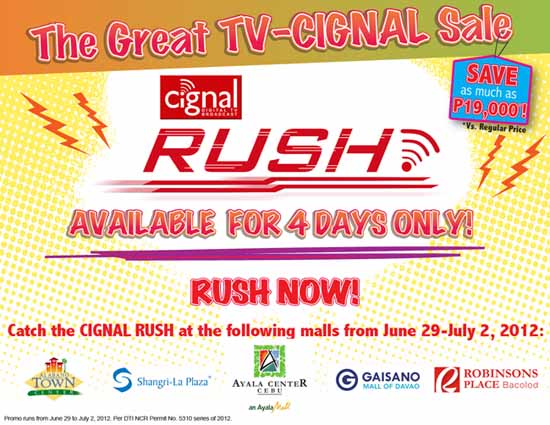 This is where you can get amazing deals on Postpaid HD subscriptions with discounted TV bundles on Devant, Samsung and Sony TV packages, discounted installation fees, and other freebies.
Because Cignal uses digital state of the art satellite technology, Cignal's broadcast reaches every part of the Philippines without compromising picture or sound quality. You can take Cignal to non-cabled areas, coastal waters, mountainous regions and virtually anywhere in the Philippines' 7,107 islands, and get the same 100% digital, 100% clear TV viewing experience that Cignal promises. There is even cable reception in the Spratly islands and as far as Zamboanga city.
Since its launch in 2009, this blog has been receiving over 33,000 hits with comments asking about customer service and billing problems. Cignal assured me that customer service has improved remarkably through a call center and their social media network. They now have a facebook account at https://www.facebook.com/CignalDigitalTv and in twitter. @cignaltv
Take advantage of the great TV-Cignal sale for the ultimate TV viewing experience.
Does not include establishments with existing exclusive agreements with other pay tv providers.

Here are the plans


Contact information
Please check http://cignal.com.ph/ or call 02- 244-6251 (Metro Manila) and 1-800-10-244-6251 (outside Metro Manila) or text 391-800-8000