I would like to commend Globe for partnering with the Philippine Eagle Foundation (PEF). Globe released the following information about this partnership.
Globe Busines partnership will come to fruition with the release of a highly-endangered national symbol to its natural habitat on June 12, 2015.
Heightening the spirit of national pride and environmental consciousness on Independence Day, the enterprise ICT arm of Globe Telecom and the PEF will reintroduce Pamana, a rehabilitated Philippine eagle, at the Mt. Hamiguitan Range in Davao Oriental. The event will be a celebration of a successful tie-up between a business entity and a non-government organization working together for the protection and conservation of the country's natural resources.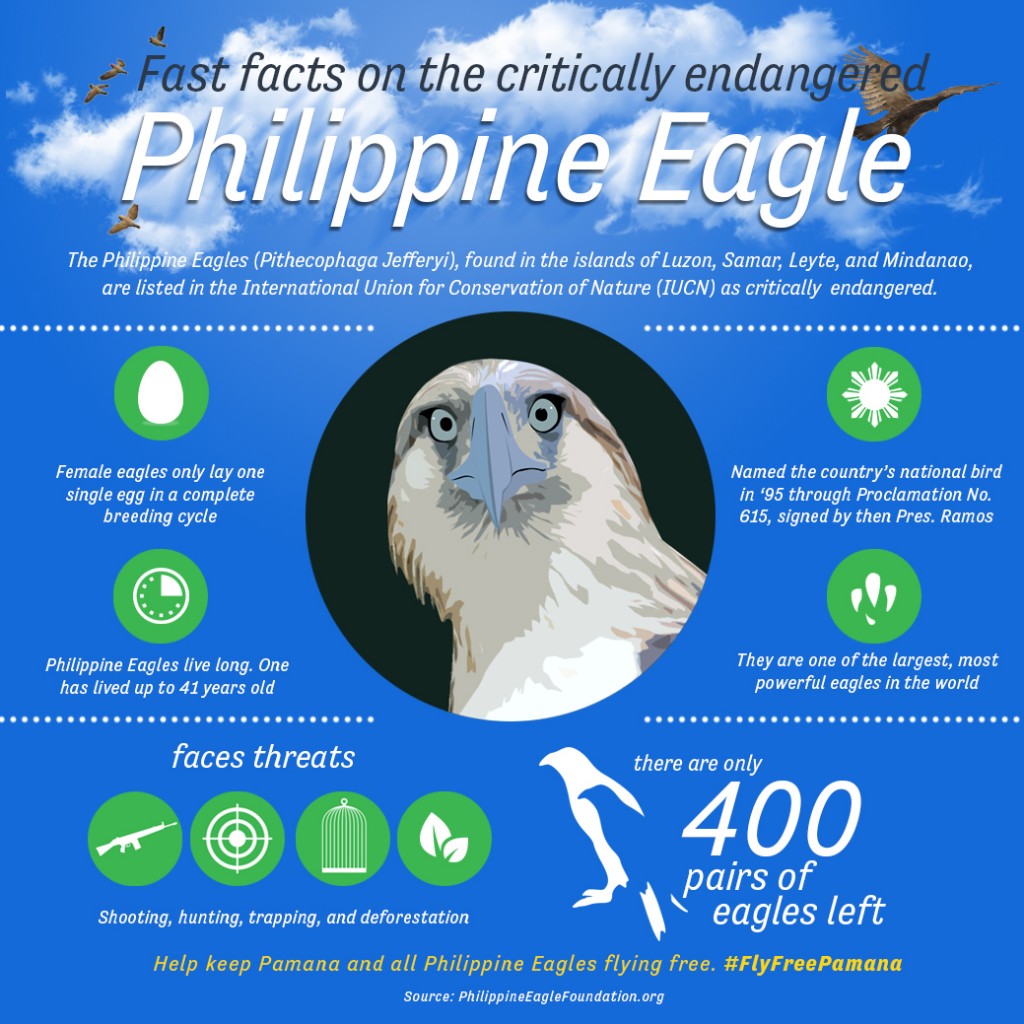 "As an ecologically-responsible company, we take pride in finding opportunities to show our genuine care for the Philippine environment as well as the creatures which thrive within them, such as our collaboration with the PEF. As Pamana takes flight on the most important day of our nationhood, we also hope to fire up the spirit of pride and environmental consciousness among Filipinos as individuals, as well as being the sentinels of Mother Nature within the industries they work for," said Globe Senior Vice President for the Enterprise Group Nikko Acosta.
On the other hand, PEF Director Dennis Salvador acknowledged that, "We are very glad to have partnered with Globe Business in protecting the environment this side of the country. Taking care of Pamana as well as our environs in Mindanao together for three years is proof to everyone that it is possible to have a synergy between the private sector and groups such as the PEF for the higher good of our environment."
According to the PEF, the Philippine Eagle (Pithecophaga jefferyi) is listed in the International Union for Conservation of Nature as "critically endangered," or facing severe habitat loss, an extreme fluctuating population, and the possibility of future generations not seeing them in the wild. With a conservative estimate of only about 1,000 individual eagles remaining, the Philippine Eagle faces continued threats of shooting, hunting, trapping, and deforestation that further threaten its dwindling population.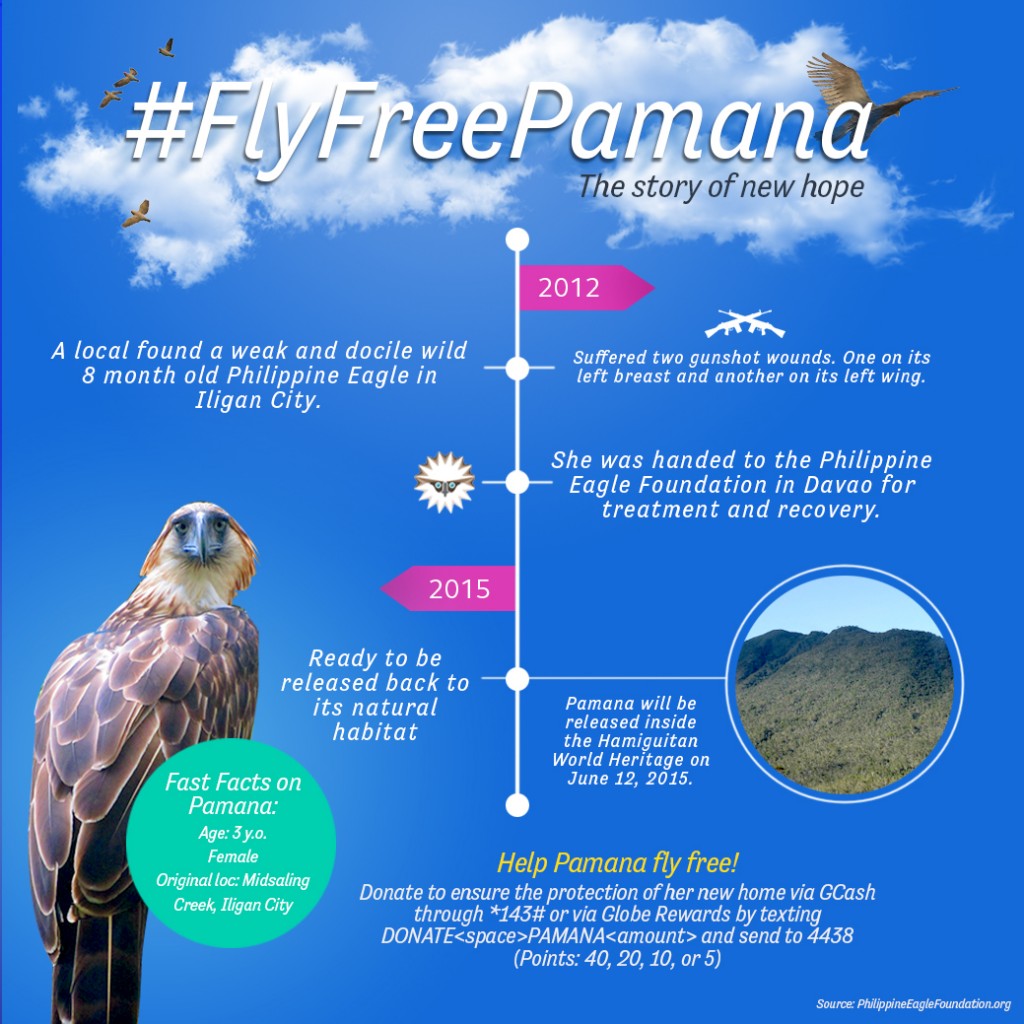 In 2012, Pamana was retrieved in Iligan City and turned over to the PEF after suffering two gunshot wounds: one on its left breast and another on its left wing. It was immediately brought to the Phil. Eagle Center in Davao City where it was treated until full recovery three years after. The eagle was deemed to have been a target for possible poaching, as its severed talons may fetch up to US$200 a pair. Its other parts, including the feathers, wings and head, are also valuable items sold in the black market, where a whole body of the raptor may sell for US$1,000, according to various websites.
"For an endangered species like the Philippine eagle, every individual counts. Thus, the ultimate goal of our rescue and rehabilitation is to eventually release them back in the wild where they belong. These released raptors will help augment wild populations by replacing old and dying individuals. Pamana's reintroduction to the area will hopefully contribute to increasing and improving its population once it finds its mate and breeds," Salvador pointed out.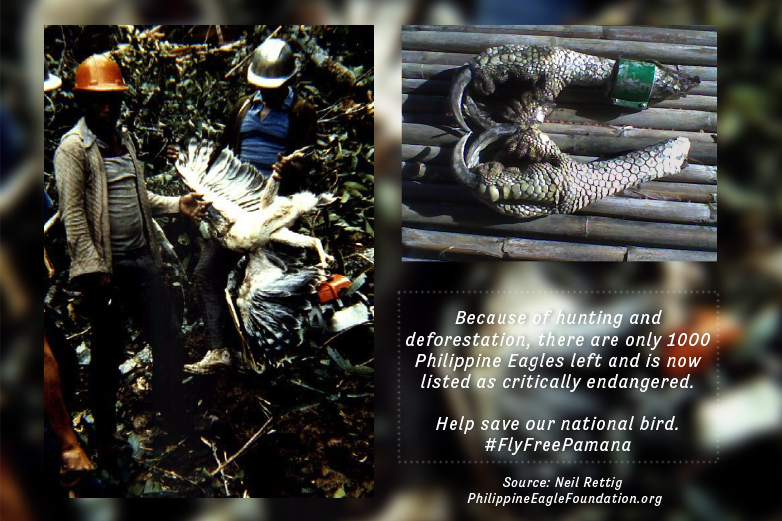 Meanwhile, Acosta confirmed that this year, Globe Business will continue its support PEF through an additional P500,000 grant in the aforementioned areas of work to ensure that more Philippine eagles like Pamana can be cared for and eventually set free in the wild. In their three-year partnership, total funding by Globe Business to PEF has reached about P1.2 million. The Head of Globe Business also noted that engaging Philippine corporations to similar causes for the environment can create a greater scale and impact for conservation programs.
Donations may be coursed through Globe Rewards points of 40, 20, 10 and 5 by texting DONATE PAMANA and send to 4438, while GCash account holders may follow the steps after dialing *143# and choosing "GCash" in the menu.