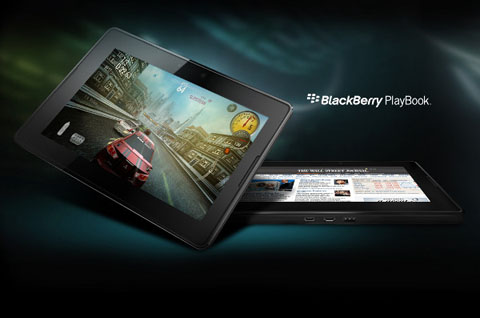 RIM just launched the new BlackBerry PlayBook Tablet SDK (software development kit) for Adobe Air at the Adobe MAX conference in Los Angeles. The SDK allows developers to access Adobe's industry-leading devleopment tools to create high-performing Adobe Air applications for the Blackberry PlayBook.
For those not familiar with this sleek-looking device, the BlackBerry Playbook is RIM's answer to the touchscreen tablet trend. It's powered by a dual-core and multi-processing OS, and supports Adobe AIR 2.5 and Adobe Flash® Player 10.1 at its core. This new SDK provides the Adobe and BlackBerry development communities with support for:
• Hardware-accelerated playback of video and graphics-intensive content, both in the browser and within AIR applications, enabling a smooth, high fidelity viewing experience on the BlackBerry PlayBook, even with up to 1080p HD content
• Web View to enable AIR apps to display HTML and Flash content and to leverage the BlackBerry PlayBook's WebKit browser
• UI components that have been built specifically for the touch screen experience on a tablet device, including support for multi-touch and gestures
• Powerful APIs to advanced features such as the front and rear facing cameras, accelerometer, geo-location, in-app payments and more
• Application notifications, which allow developers to bring events generated by AIR applications immediately to the user's attention, even if the application is running in the background
• Seamless communication between AIR apps on the BlackBerry PlayBook, allowing the creation of "Super App" experiences
• Extending Adobe AIR applications to use native C++ extensions, providing developers with the ability to write part of their application in the BlackBerry Tablet OS's native code (subject to availability of the upcoming BlackBerry Tablet OS native SDK)
• Porting existing Adobe AIR applications quickly and easily to the BlackBerry PlayBook
Adobe AIR developers can start building their applications for BlackBerry PlayBook today and will be able to submit their AIR applications for BlackBerry PlayBook to BlackBerry App World™ later this year. The BlackBerry Tablet OS SDK for Adobe AIR and the BlackBerry PlayBook simulator are both currently available in beta and can be downloaded for free from www.blackberry.com/developers/tabletos.