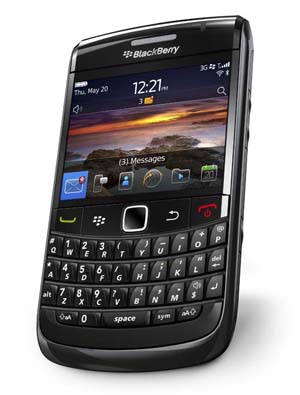 Today, RIM introduced the newest member of the BlackBerry Bold family – the BlackBerry Bold 9780, which also happens to be first BlackBerry smartphone to come with the new BlackBerry 6 operating system.
The BlackBerry Bold 9780 delivers a wide range of enhancements and a compelling blend of features. It has support for 3G networks around the world, includes Wi-Fi® with support for carrier supported Wi-Fi calling (UMA where available) as well as GPS for geo-tagging and other location-based applications. At the back is a 5 MP camera with a lot of features you wouldn't find in your average smartphone, such as autofocus, image stabilization, and scene modes. The camera also has a flash and supports video recording. You can store your photos, videos, and other data in the the BlackBerry Bold 9780's 512 MB Flash memory, which you can expand up to 32GB via a memory card slot.
As for its new operating system, you can expect expanded messaging capabilities from the BlackBerry 6. Managing your RSS feeds and social networking is a lot easier with integrated access to BlackBerry Messenger, Twitter, Facebook, and other IM applications. There's a dedicated YouTube app, as well as redesigned Music and Pictures applications. What users will probably enjoy is the new universal search feature that allows users to more effectively search for content on the smartphone as well as extend their search to the Internet or to discover applications on BlackBerry® App World™.
The BlackBerry Bold 9780 will be available from various carriers around the world beginning in November. For more information, check out www.blackberry.com/bold.