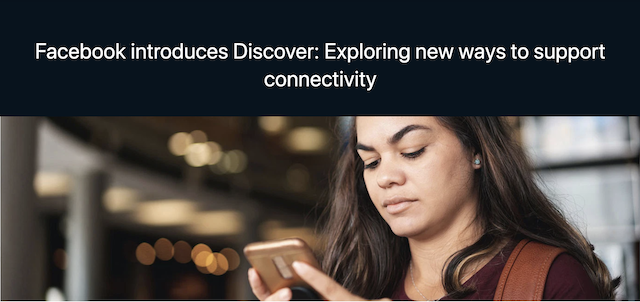 Facebook  launched a trial of Discover – a new product that builds on Facebook's Free Basics initiative  in the Philippines with Globe and Smart.  World Wide Web Foundation (WWWF) is supportive of  Discover. According to WWWF, initiatives to bring more people online and support those with limited connectivity are vital, but they should always provide access to the entire web — not just a limited selection of sites. "Discover represents an important first step in that direction and shows Facebook making progress on its commitment under the Contract for the Web to make the internet affordable and accessible to everyone. "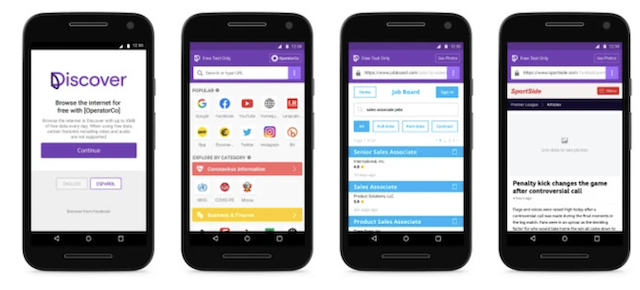 Discover is a mobile web and Android app that can be used to browse any website using a daily balance of free data from participating mobile operators. In order to offer a sustainable program with Globe and Smart, Discover only supports low-bandwidth traffic when using free data. Video, audio, and certain other types of data intensive traffic are not supported when using free data. All websites are treated equally.
How Discover works
Discover provides low-bandwidth browsing, enabling people to browse text on any website using free daily data. It is available via both the mobile web and an Android app. Each day, people will get a balance of free data from their participating mobile operator. People will be notified when free data is available and can always choose to view other content on the internet, such as videos, by using data purchased from their mobile operator.
With Discover, Facebook is exploring ways to help people stay on the internet more consistently. Many internet users around the world remain underconnected, regularly dropping off the internet for some period of time when they exhaust their data balance. Discover is designed to help bridge these gaps and keep people connected until they can purchase data again.