Remember SafePass? This COVID incident mitigation management solution now has a free version. Let me share the good news.

SafePass, a digital incident mitigation management solution developed to address COVID-19 safety protocols, is now available to all organizations in the Philippines for free.
Following the announcement of the Modified Enhanced Community Quarantine (MECQ) in Metro Manila and other nearby provinces last August 3, the Department of Trade and Industry (DTI) urged all business establishments to implement a contact-tracing platform within their locations. SafePass has free digital contact-tracing and health declaration features for organizations of all sizes, and lets them register and begin using the platform in as fast as five minutes.
"The core mission of SafePass is to make every physical establishment in the Philippines as safe and as stress-free as possible, which is why we decided to offer free plans that any organization or location can begin using right away," said Winston Damarillo, CEO of Talino Venture Labs and Executive Chairman of Amihan Global Strategies, two of the companies behind SafePass. "Organizations already have a lot on their plate as they continue to weather the effects of the pandemic, so SafePass aims to help them with health and safety protocols so that they can focus on their operations."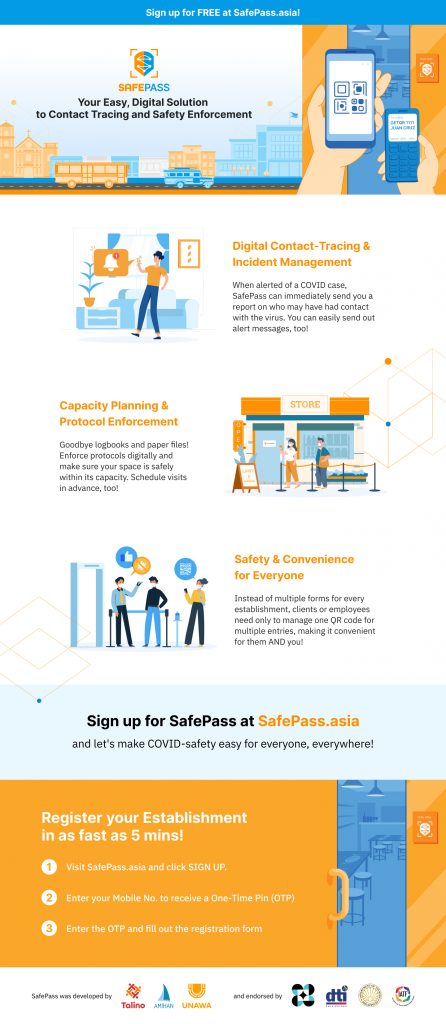 Health Protocols Made Simple and Easy
Once they sign up at the official SafePass website, location managers will have the tools they need to offer a safe and stress-free experience for their visitors. Packaged under SafePass Base, these features include:
An efficient digital contact tracing solution
A digital health questionnaire that visitors can accomplish on their phones
The ability to monitor entry and exit points, through entry requests done via web and free Facebook Messenger
Online reports that establishment owners can refer to in case of an incident
These features also simplify safety protocols for the visitors themselves, as all of the necessary safety procedures can be accomplished through their mobile phones— even without a data plan. And in case of a COVID-19 incident in a SafePass-protected location,  location managers will have access to a digital list that lets them efficiently reach persons at risk—without the need for logbooks, paper forms, or hours of CCTV footage.
"We believe that health and safety protocols do not have to be complicated, so we built a simple, easy-to-use platform for organizations to implement these protocols without hassle," explained Damarillo. "Setting up SafePass should be as easy as registering for a food delivery app."
Special Deal for Public Sector Establishments
SafePass is also offering its SafePass Express plan to all government offices for free.
On top of all the features in SafePass Base, SafePass Express also includes the following tools:
Free software for two (2) mobile scanners (scanning phones to be acquired separately)
Digital capacity planning to help organizations set their location's maximum limit for employees and guests
Employee scheduling platform to manage shifts and rotations
"We encourage our government offices, especially those with skeletal work forces that need to report to work, to use SafePass Express to keep their locations safe as they continue to attend to the needs of our countrymen during this critical time," urged Damarillo. "We understand the strain that this pandemic has caused on our healthcare system, and we'd like to contribute to the country's COVID-19 response by offering this solution for free to the public sector."
Free tutorial webinars will be offered by the SafePass team to help organizations set up their SafePass accounts. For more information, visit www.safepass.asia or follow the SafePass Facebook page at www.facebook.com/safepass.asia.