Digital solutions launched to help businesses reopen and operate safely after lockdowns
How does one know one is safe when entering buildings or offices. I know many big companies have protocols in place but what about the small and medium enterprises? I am glad to know that a Regtech startup UNAWA launched SafePass and SafeForm, two digital solutions to help businesses operate more safely in the "new normal"
As Philippine businesses are preparing to reopen their doors after more than 60 days under enhanced community quarantine (ECQ) in many areas, rising regtech startup UNAWA unveiled on May 22 two technology solutions that will help both SMEs and large enterprises ensure the safety of their physical locations and their digital data.
The first solution, called SafePass, is an all-digital, contact-free authorizing, scheduling and contact tracing platform that helps companies manage their offices, stores, and other physical locations once these start reopening. It allows business owners and building administrators to control the number of people in their premises and to easily contact trace and notify their patrons/customers should an incident arise from their location.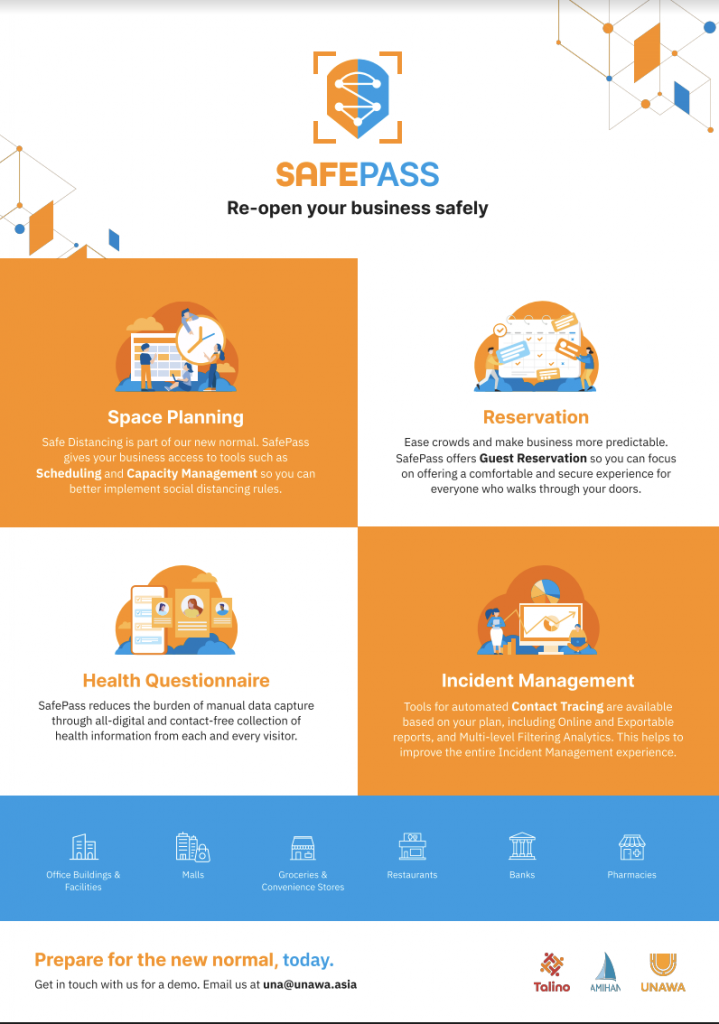 SafePass was developed by Amihan Global Strategies, a leader in the digital transformation industry, and Talino Venture Labs, an inclusiontech venture builder accelerating growth in Southeast Asia, which is one of primary investors/partners in UNAWA.
SafeFormTM, meanwhile, helps Filipino companies to take that crucial next steps to digitally transform quickly and securely with a convenient and easy-to-use solution. It enables business owners to create digital forms or convert their printed or analog forms to digital platforms. It allows for securing company data and contact-free transactions and processes within their operations.
SafeFormTM is the maiden product of UNAWA, and was designed with the Filipino SME in mind.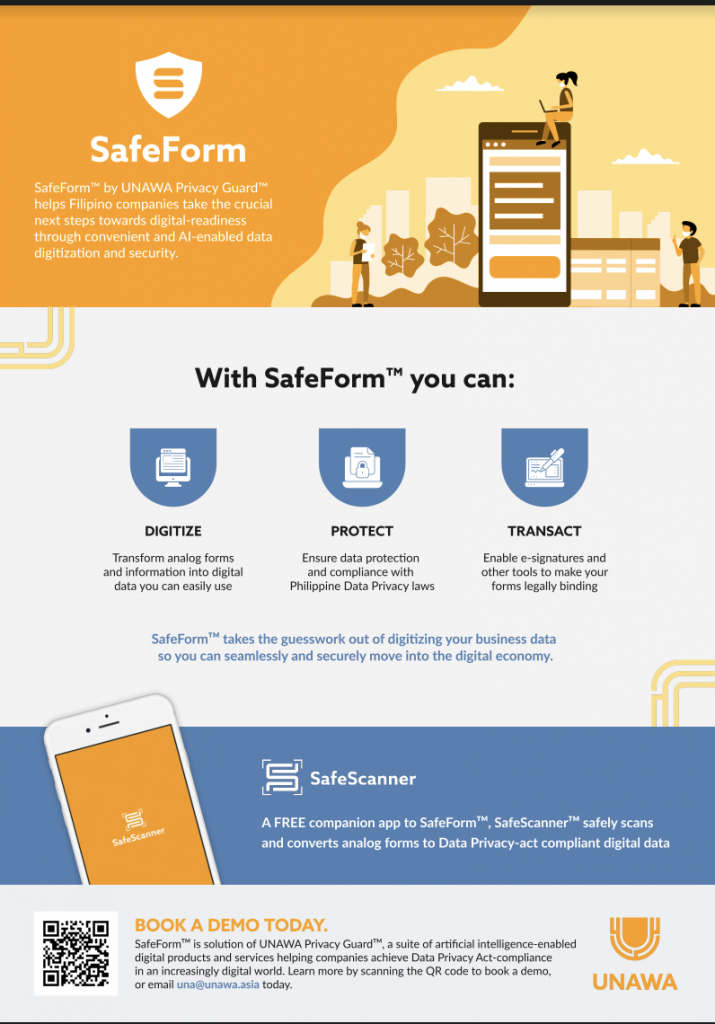 Both solutions recognize the realities brought about by health concerns, mobility restrictions, and the abrupt but necessary shift to the digital economy and aim to enable entrepreneurs quickly and cost-efficiently operate in the new normal.
Speaking to guests from the public, private, and media sectors, Winston Damarillo, Chief Strategy Officer of UNAWA and said, "There are two things that resonate every time we talk about SafePass: courage and confidence. Gusto nating bigyan ng lakas ng loob ang ating mga negosyo para magbukas, at gusto nating bigyan ng tiwala ang ating mga consumers at pumunta at [tangkilikin ang] ating mga businesses. (We want to give our entrepreneurs the courage to reopen, and we want to give our consumers the confidence to go and patronize these businesses. " Damarillo is also the Executive Chairman of Amihan Global Strategies and CEO of Talino Venture Labs, which developed the product.
Meanwhile, UNAWA CEO, Atty. Monalisa Dimalanta, shared this about SafeForm: "The three services that SafeForm can offer to you is that it can digitize, protect, and allow you to transact [in] your business. We like to think of ourselves in UNAWA as digital enablers, and [SafeForm] is definitely one way for you to not only grow but scale your business."
Insights from the private and public sectors
Aside from Damarillo and Dimalanta, the invitation-only virtual event was also attended by industry leaders from the SME, corporate, and government sectors, as well as members of the media.
In opening the event, Reese Fernandez-Ruiz, president of social enterprise fashion Rags2Riches and Strategic CFO of Talino Venture Labs and UNAWA, spoke of the many challenges that businesses face at present, including "adjusting to the new normal… which nobody really fully understands, but [which we need to] prepare for." She also shared, "In UNAWA, we believe in the power of enterprises. And this is why we are here today… to launch SafePass and SafeForm, two solutions that are designed to enable businesses to stay safe, relevant, and keep being agents of positive change in our country."
Although he mentioned that this was not an official endorsement of the solutions,, Assistant Secretary Emmanuel Rey Caintic of the Department of Information and Communicatons Technology (DICT) said, "SafePass is a very good effort because the private sector companies will definitely need something to ensure the safety of their people. We need the economy to run again, so huwag nating i-sacrifice 'yung safety ng mga tao (Let us not sacrifice the safety of our people). For SafeForm, I want to see how it pans out for private sector and even for the government."
Finally, to close the event, Department of Science and Technology (DOST) Secretary Fortunato dela Pen?a, expressed, "I'm happy that there are companies like UNAWA that are now playing an important part in this move towards digitalization… We in the DOST are not endorsing any kind of business, but we are endorsing the need for the system that has been brought up particularly by the crisis that we have faced and with the call for competitiveness."
As a startup working to accelerate ease of doing business for SMEs in the digital economy, UNAWA acknowledges that the launch of SafePass and SafeFormTM is only the beginning of its mission to serve more Filipino businesses.
Atty. Dimalanta pointed out, "As we go more digital, as more transactions get closed online, we will work to be ready for more transactions to be done online–from online sales forms to more complex contracts. These solutions are already present in other jurisdictions, and I am confident that it will be only a matter of time that we offer it ourselves to Filipinos and adapt to our own commercial and legal environment."
As a digital enabler, UNAWA will continue to ensure that its fellow SMEs will rise above the crisis and transition to the "next normal" as quickly, as conveniently, and as painlessly as possible.