A Globe Streamwatch Roku Powered is a stick-form device that is simply plugged into an HDMI-ready television. Price: P999 one-time cashout or P50 per month for 24 months added to a Globe At Home plan. Get it here https://shop.globe.com.ph/streaming-device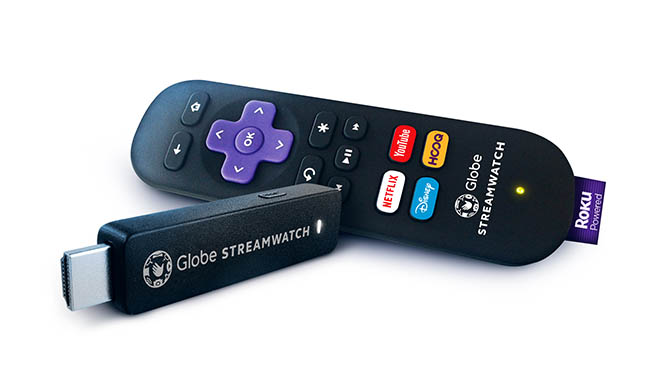 Wouldn't you want your own private theater?  I now have a Globe Streamwatch Roku Powered , which is a stick-form device that is simply plugged into my HDMI-ready , 6 year old television. With my 1899 Globe broadband plan (500 GB plus 100 GB YouTube ) , I can stream without buffering. Streamwatch allows me to access 97 free channels with many shows in different categories including food, sports, lifestyle, travel, and more.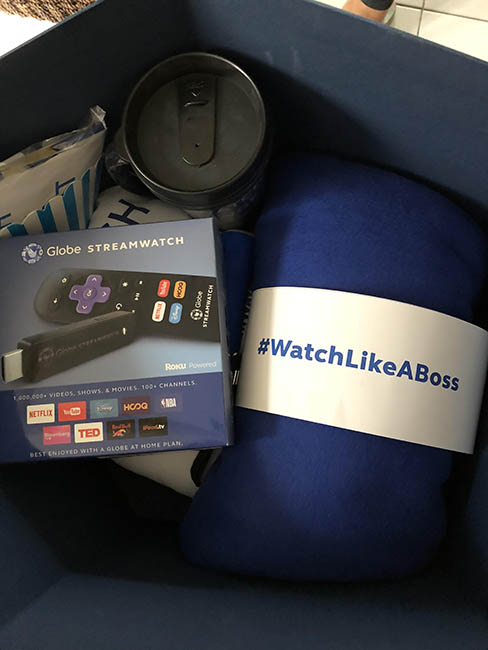 For movie buffs, one can binge watch from a selection of over 1M+ videos and shows on Netflix, FOX+, Disney Channel, YouTube, and HOOQ . I normally watch Netflix through Chromecast but with the Streamwatch, there are less buttons or clicks to watch movies. My Cable provider recently disconnected my services because of billing issues (they refused to refund the  NBA channel which was not available since April 2017). I have been without cable TV since September last year.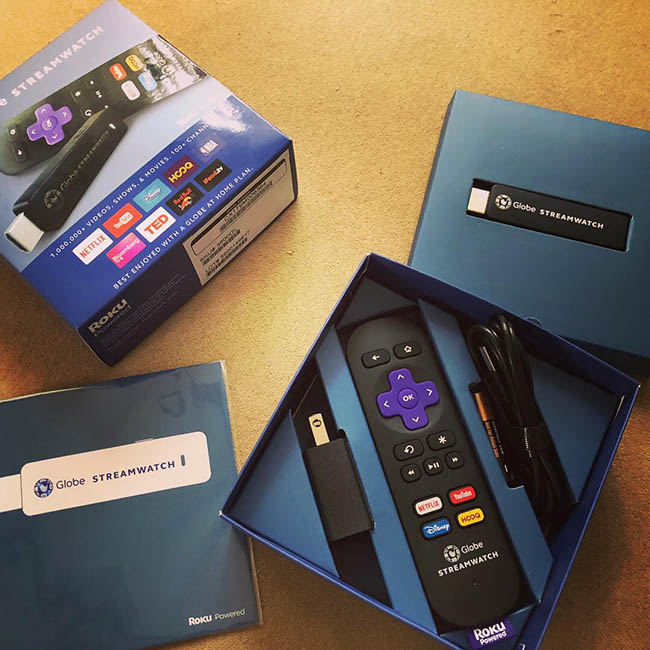 Anyway, It is easy to set up the Streamwatch.  I just plugged the USB into a vacant HDMI behind the TV. And changed the source in my TV remote. Then pointed the remote towards the TV. Just Press OK on the remote to activate the Streamwatch.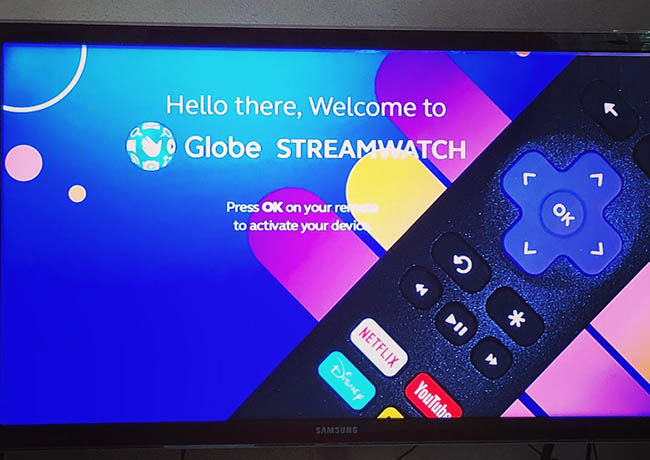 The next step was connecting to my wifi.  I actually type the password on the remote keyboard.  The software needed to be updated.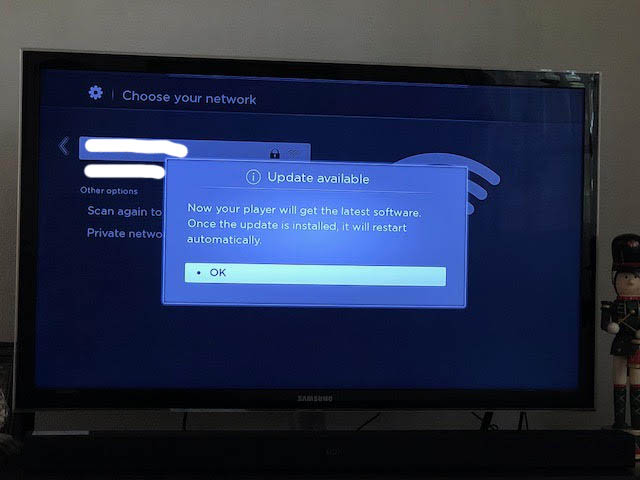 The next few screens are pretty much straightforward like setting the display type.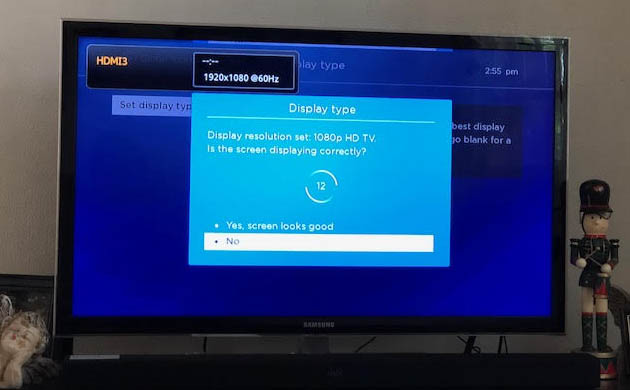 And accepting the end user license agreement.
Then you are ready. Your Globe Streamwatch is now activated . You can download the "Streamwatch" app in iOS or playstore.
I downloaded the app and added my IP Address which you can find at the Settings > Network.
 Now you have two remotes for your Streamwatch.
Right now there are 97 channels but there was one time, I saw 100 + channels. A Globe Subscriber can avail of three months free FOX Plus.  I rearranged the tiles of the various channels by just highlighting the channel then pressing * to show the options  like move channel.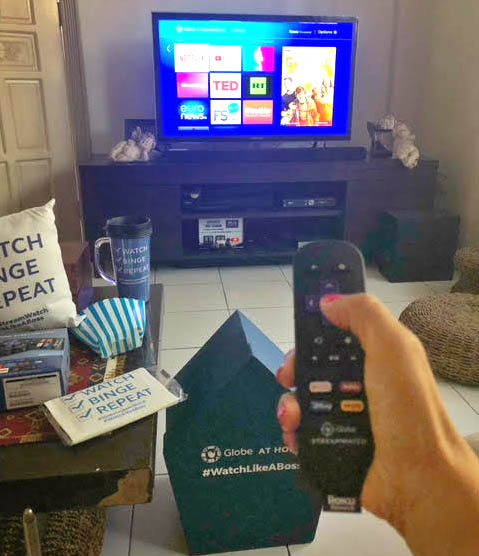 Aside from Netflix, my favorite channels are Euronews, TED and Bloomberg.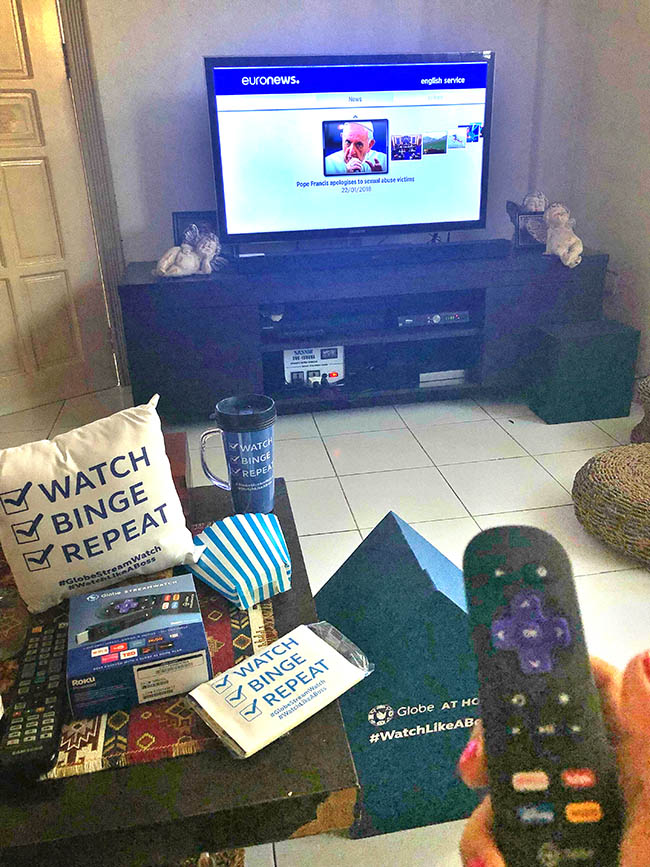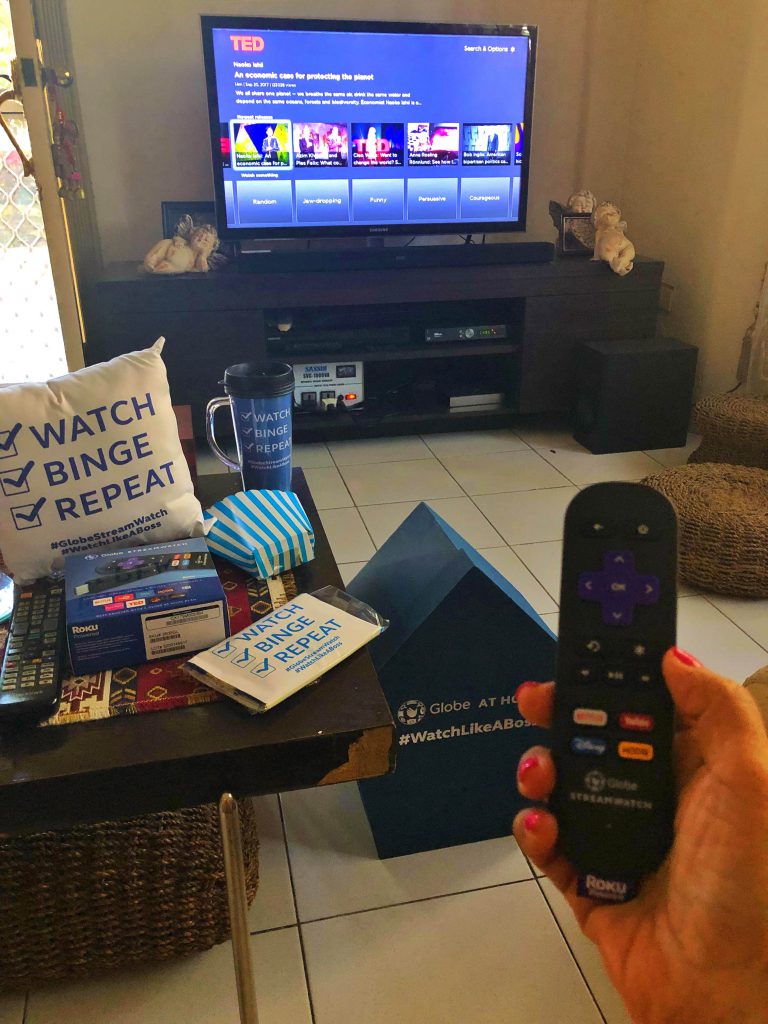 Like I said earlier, there are 97 channels but I wish they had more news channels. The only ones available are freespeech.org and Bloomberg. There are 17 channels for kids and family like the Disney Channel Asia , Cartoon Station, Weelicious , Craft Smart and more. The Lifestyle channels include the Relax channel, Design Network, Budget Living and Cool guys. If you are into travel, there are channels for the budget travel, TripSmart.tv, Trip Asia and Roadtrip. Channels are categorized as follows:
Most Popular
New
Apps
Comedy
Educational
Fitness
Food
Games
International
Kids & Family
Lifestyle
Movies & TV
Music
News & Weather
Personal Media
Photo Apps
Relihious
Science & Tech
Special Interenst
Sports
Travel
Web Video
There will come a time when there will be a blogger category then we can add our favorite bloggers' channel. Won't that be cool? I visualized such a portal a few years back. I am sure it will happen soon but first a blogger might want to set up a VLog.