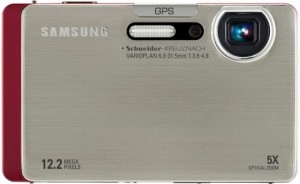 "Not another point-and-shoot camera!" you're probably thinking. But the Samsung CL65 is different from all the rest. This 12.2-megapixel camera has a 3.5-inch touchscreen LCD display with a 1,152k resolution and a 35mm Schneider-Kreuznach lens with 5x optical zoom. It's als capable of recording 720p HD video at 30fps. But what makes this device really stand out is that it has WiFi connectivity and Bluetooth 2.0. They're both DNLA compliant, which means you can upload images and videos directly onto HDTVs and networked media players. The WiFi connection also lets you upload images and video to YouTube, Facebook, Picasa, and other websites, but at a low 2-megapixel resolution. You can also e-mail photos and video right from the touchscreen.
Other features include built-in geotagging, HDMI connectivity, and an embedded PC photo editing software.
The Samsumg CL65 is coming out on September 200 for $399.99. I haven't had personal experience using a Samsung point and shoot yet, but Samsung's known to produce fairly reliable gadgets.