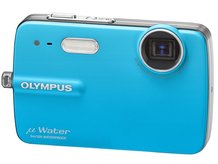 At CES 2009, Olympus gave in to a feature that consumers wanted in digital cameras: weatherproofing. And so the new 10-megapixel STYLUS 550WP digital camera was unveiled. Olympus describes this blue baby a "dunk and shoot camera" – it lets consumers shoot pictures underwater or in the rain without having to worry about it falling apart or paying for other features they won't need. Because the 550WP is sealed by interior O-rings and rubber gaskets, you can take it up to 10 feet underwater.
Other fun features include an Intelligent Auto Mode, which lets the camera identify what scene is being photographed (portrait, night + portrait, landscape, macro, or sports) and automatically adjust the settings for best results. The Face Detection software can track up to three people, and the Digital Image Stabilization has fast shutter speeds and high ISO sensitivity. Perfect Fix also has in-camera editing options like Red-Eye Fix, Shadow Adjustment Edit, image cropping and resizing.
Watch out for the Olympus 550 WP this February, at a retail price of $199.99.