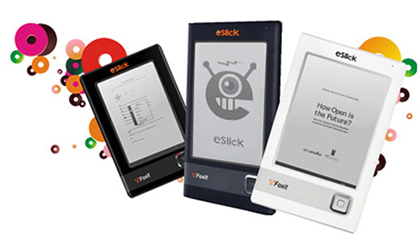 If you were hoping to find an Amazon Kindle waiting for you under the tree but failed to get one this Christmas, don't be too disappointed. There is an eBook reader that's just as good as the Kindle. In fact, it might be even better simply because you can actually buy it now instead of waiting til next year to get it.
The eSlick is the latest gadget to come out from Foxit Software, the same guys who created the first lightweight PDF reader. Just like the Kindle, the eSlick can play mp3s,and connects via USB. Unlike the Kindle, it can also open and create PDF files using a Foxit software, and comes with a free 2GB SD card if its 128 MB internal memory is not enough – and it probably won't be. (The Kindle only has 256MB of internal memory) But perhaps the best difference between the Kindle and the eSlick is that the eSlick only costs $299.99 – that's $100 less than the Kindle!
Of course the biggest downside to the eSlick is that it doesn't have access to Amazon's online library, nor does it have wireless connectivity through Whispernet. But if Amazon ends up giving support to the eSlick, then this eBook reader will sell like crazy, mostly because you get more features than the Kindle for a hundred dollars less.
Foxit will be taking pre-orders for the eSlick soon, with a special initial price of just $230. Check out the eSlick website for more information.