Remember the Samsung 22-inch LCD monitor I got as an early Christmas present last month? Apparently, if you purchase a T190 or T220 Samsung LCD monitor, you get an SPF-71E Samsung digital photo frame (worth P4990) for free!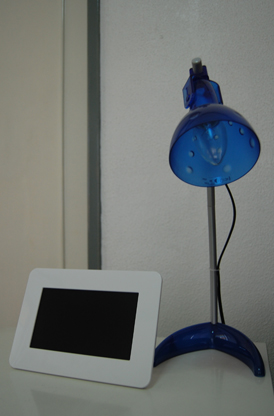 I haven't gotten around to loading photos onto my digital photo frame yet, but I'm really excited about it. The frame is 7 inches wide and has 120MB of built-in memory. Assuming that all the photos I load onto it are 500 bytes small, that means I can put in about 60 photos that can be displayed on their own or as a slideshow. There's also an auto-resize function so that you can make the most out of the 120MB. And if that's still not enough, there's also a hidden microSD slot for more memory. The digital photo frame can also work as a clock, as digital time superimposed on the photo (just like 90s-era film cameras) or as a retro-style analog clock – which is exactly what I need on my bedside table.
Check out the poster under the cut for more details on the Samsung digital photo frame promo.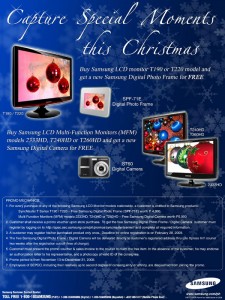 All you have to do is register your SAMSUNG T-Series and/or Multi-Function Monitor and Samsung will send your digital photo frame or equivalent promo for free. Make sure you have the promo voucher & Sales Invoice when you purchase the Samsung LCD monitor. The Samsung Delivery requires you to present these upon delivery.
A customer may register his/her purchased product only once. Deadline for online registration is on February 28, 2009.
And just because my desktop looked so boring when I took the first photos of my Samsung LCD monitor, lookit how awesome it looks now!