I have a new toy, the Huawei E585, a mobile Wi-fi that comes with an OLED screen, which displays the connection/3G signal, amount of data used, number of WI-FI connections (up to 5) and the battery life.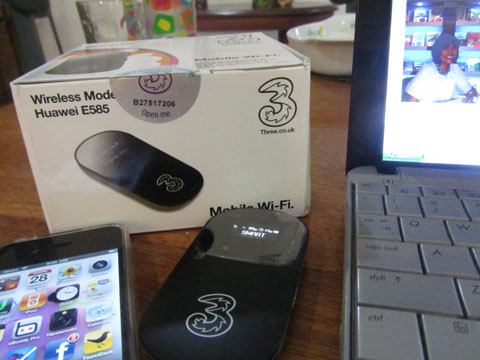 I first saw this nifty gadget from techie friend, Art Samaniego when we were en route to Boracay for a SONY Event. It gave me an internet connection at the departure lounge. I knew this was one gadget I wanted to own. Imagine sharing WIFI connection among friends and better yet , among your gadgets especially since I have my iPhone 4, iPad, laptop with me. Family members can also share when we are out together. Globe offers Globe MyFi ( branded version of the Huawei E5830 3G router) , an older model at a very low price of 4,000 pesos for prepaid accounts .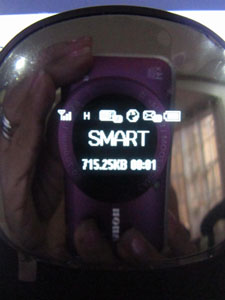 My problem with this offer is that I will be locked to Globe and I can't use other SIM Cards. Thanks to Longbeard, I was able to purchase the Huawei E585, a more updated version of the old model that Globe uses.
I had difficulties at first because the web-based dashboard was in Chinese. The unit came with a password which I wanted to change and so with the username and dashboard password. The problem was solved when I restarted the portable router. Then it was a breeze from thereon. The device seemed to identify the SMART's APN automatically. I can even view text messages on the dashboard, send and receive SMS. The OLED display shows if a text message arrive which I then check on the dashboard. It also shows on the right hand side, the data speed connection, number of WIFI connections and data usage. More configuration can be done under advanced settings.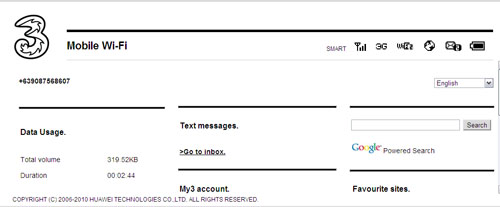 I finally got to test it out in Makati yesterday where my iPad and iPhone got connected. Speed is not too fast. I can browse, read emails, write posts but not much on uploading photos.
On the OLED display, you will see the following:
– Signal bars
– 3G or H for HSDPA (network connection type)
– WiFi (number of WiFi connections)
– World Symbol (shows internet access)
– SMS message symbol (received text messages)
– Battery power remaining ( self explanatory)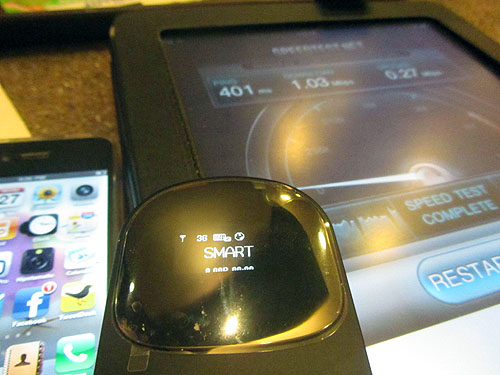 I find it really cool to use because when Globe 3G is down , I can just shift to the SMART 3G connection with the portable router tucked neatly in my purse. I used it for 3 hours yesterday for my iPad and iPhone and the battery life was at 50%
Some observations:
1. Turn off the power to save on battery.
2. When you power it back on, it will take 45 seconds to get connected to the data connection.
3. The connection is strong within 10 meters from the router. Beyond that, it has difficulty connecting.
4. Buy the micro-sim adaptor if you need to use the micro-sim
5. I will monitor the speed. Although I am using it right now to blog this entry, the speed is not that fast. Speed Test from a SMART server says it is 1 MBps . Other server tests say it is 200 kbps or less. All I can say it is better than nothing especially if one needs to work outside of home or the broadband connection is down.
I will update as I get to use this portable router more often.
This post shows a comparison of the Huwaei E5830 and the Huwaei 585
Where to buy the Huawei E585
I bought mine from Longbeard. Check his site at http://longbeard.info