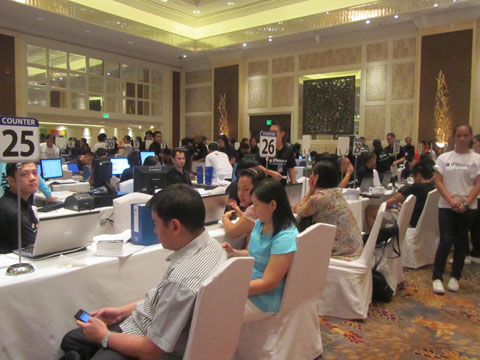 Me at counter 26 at the Makati Shangrila Hotel claiming my iPhone 4 after 3 hours in queue
The long wait is over. Globe hosted an exclusive launch event today September 26 at the Makati Shangri-la and New World Hotel for the first customers who registered at the website and reserved a unit. Globe unveiled the iPhone 4 to corporate subscribers on September 24, just 2 days before this exclusive launch. "A total of 450 Globe personnel were deployed to man 150 stations/booths for claiming and activating the handsets."
It was just a week ago when I got an email that the iPhone 4 was definitely arriving on September 26. A phone call on Tuesday from Globe made sure I was committed to getting a unit under their Globe Loyalty Rewards system and recontracting subscription.
It looked like they were quite organized this time. Another email arrived three days before giving me my time slot on Sunday.
Good news! The new iPhone 4 is YOURS.

We have reserved 1 unit/s for you. Claim it at Shangri-la Hotel, Makati on Sept. 26, 2010. Your timeslot is 1:00 PM – 2:00 PM.

Please present this email at the venue. Missing your timeslot may not guarantee availability of your iPhone 4 on the date indicated. If this timeslot is inconvenient for you, you may choose another time between 10am-8pm and email it to [email protected] on or before Sept. 24, 2010.

If you cannot make it, please let us know by sending an email to [email protected] We strongly encourage you to send an authorized representative to pick up your iPhone at the event bringing the required documents as seen in the reminders link below.
Unfortunately, I already had a previous commitment on Sunday at that time slot. The email stated that they could not guarantee that the iphone 4 will still be available. Fortunately, they allowed a representative.
My daughter was there promptly at the Makati Shangrila at 1:00 PM. She waited two hours in queue when I finally arrived at 3:00 PM to take her place. She gets my old iPhone 3GS as her prize for falling in line. The waiting was not too bad. Globe made sure that food, drinks and coffee were plentiful. There was a lot of staff attending to the customers. In Makati Shangrila, there were 80 counters attending to the customers. It was quite organized that it made waiting a pleasant experience. Abe Olandres "estimates (based on the initial rate of activations), there could be somewhere around 1500 – 2000 people claiming their iPhone 4s today (9am to 9pm)."
After three hours, I finally got my iPhone 4. Accessories were being sold at 25% discount so I got a case and protective sheet.
This is my third iPhone unit. My first, the iPhone 3G is with Marielle. Three out of four family members now own an iPhone. Apple makes sure we change a new model every year. Good thing my iPhone is not just a gadget but a blogger's tool. The old models are not wasted because they are all handed down to my daughters who will gladly accept it.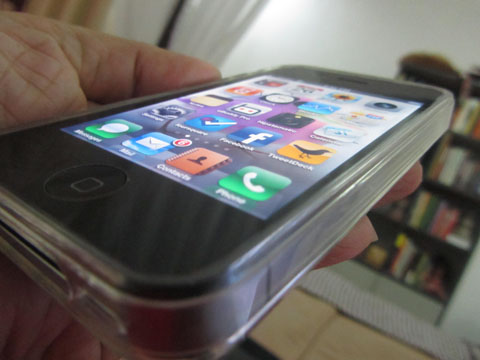 I will blog more about iPhone 4 experience in the coming days.
More photos at the Makati Shangrila Hotel which included the activation of the micro-sim and syncing of the old SIM card to the new one.