CES 2009, the world's biggest consumer electronic trade show, begins today and I'm going crazy with all the amazing gadgets I've been seeing from the lucky bloggers who get to cover the event. I'll be posting my favorites new gadgets today, and maybe a couple more tomorrow if I see anything that strikes my gadget lust – and I'm pretty sure I will.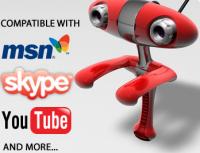 Maintaining a long-distance relationship requires constant communication, and doing video chat on Skype or iChat is a great substitute for the other's physical absence. I would love to get my hands on the world's first 3D webcam by a Japanese company called Novo. That cute, robot-like toy above is the Minoru 3D webcam and those two eyes are actually two cameras spaced the same distance as human eyes. Apparently, Novo's designers discovered that an anthropomorphic-looking webcam lets the users look into the eyes of the camera as they talk, giving a more realistic video feedback. The Minoru has an adjustable multi-position stand, so you can make your robot-webcam sit, stand or perch on a monitor or desk. The camera is compatible with Skype, Windows Live Messenger, and AOL messenger, and can also be used to take still pictures or record videos. You can also use it as a normal 2D webcam.
Grab one for $89 at the Minoru website.