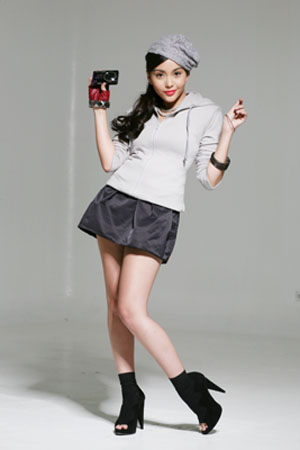 Every revolutionary change starts with an idea pushed by the imagination. Our goals and passions are awakened and fed by how we imagine our futures to be like and the changes we'd like to see happen. The youth in particular have a lot of ideals on how they want this country to be a better place. As the much-loved brand circles-in on the Filipino youth, Samsung invites everyone to take a look back at the inspirations behind each passion. Brimming with energy, full of fresh ideas and outpouring with spirited courage, the youth of today is the epitome of a bright and promising future—a shared vision that Samsung wants to help realize.
Samsung's "I Imagine" Campaign zeroes in on the young generation's passions, concerns and outlooks. Encouraging the Filipino youth to speak-up and voice-out their opinions, thoughts, feeling and ideas, the leading innovator in digital electronics media creates a dynamic force that just brims with sheer ingenuity. Logging in on www.samsung.com/ph directs you to world filled with bright promises!
Metro Manila college students, currently enrolled this school year, can register and create their own I Imagine slogan by completing the statement: "I Imagine…". Aside from being your own shout-out creator, you can also vote for other "I Imagine" shout-outs posted on the site. The shout-outs, whether in English or Filipino, must fall under one of three categories: Talk, for shout-outs that express emotions, ideas, thoughts, dreams, hopes and ambitions; Play, for shout-outs that express how life is experienced through love of music, sports, fashion and the arts; and, Love, for shout-outs that express how bonds are formed with family and friends through shared interests and passions. Only one slogan can be accepted for each category. Submissions will be accepted until November 30, 2009.
Samsung amplifies the Filipino youths' voice as the winning statements will be printed on Folded & Hung exclusively designed Samsung "I Imagine" hoodies available at participating Folded & Hung stores in the Metro. Individual winners (one per category) will take home exciting prizes such as P30,000 cash, the Samsung Corby mobile phone, Samsung ST500 Dual LCD Camera, Samsung CLP-315 printer, Samsung LapFit LD190G monitor, 5 Samsung "I Imagine" hoodies to keep or giveaway, and P10,000 worth of gift certificates from Folded & Hung. Likewise, the schools of the respective winners will each receive a Samsung LCD monitor.
Criteria for judging will be based on the following: Relevance to the Chosen Category (40%), Creativity (40%) and the Total number of online votes (20%)..
What's more, all who register to the campaign, whether to upload their own shout-out or simply vote for posted shout-outs will entitle them to a chance to win cool Samsung gadgets. Each registration is equivalent to one raffle entry which will be drawn on December 15, 2009. Up to 500 Samsung I Imagine hoodies, 20 Samsung phones and 20 Samsung DVD players are also up for grabs.
So, get ready to share what's in your mind and in your heart as Samsung tours the different colleges and universities in the metro: November 11 at UP Diliman, November 12 in San Sebastian College, November 13 in Ateneo de Manila University, November 16 in San Beda College, November 17 in Miriam College, November 18 in De LaSalle University, November 19 in University of Sto. Tomas and November 20 in Far Eastern University.
Be heard and make a difference. With Samsung, making your imagination our passion!