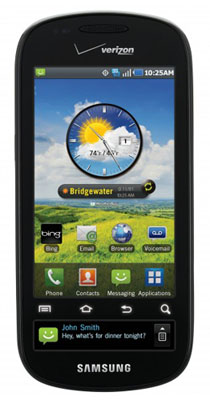 Yesterday, Samsung and Verizon unveiled the latest addition to the Galaxy family of smartphones – the Continuum Galaxy S, which was proudly presented as the first dual screen smartphone. The Continuum has two integrated though separate displays: a 3.4-inch touchscreen super AMOLED main display, and a dedicated 1.8-inch AMOLED ticker display that streams customized information in real time. The ticker display can provide you with anything you want to know, from up-to-the-minute news to updates from your social networking sites.
Other features include a 5-megapixel camera with 720p HD camcorder, 3G Mobile hotspot capabilities, and an 8GB microSD card you can expand up to 32 GB. For some reason though, the Continuum runs on Android 2.1 (Eclair). This is kind of a dealbreaker because apps like Google Search or Google map can't be downloaded onto the device unless there's a way to upgrade it to Eclair.
In any case, the Samsung Continuum will cost $199.99 and is available for pre-order starting November 11. Shipping date is on November 18. No news as to when this will reach the Philippines yet, though.
View the rest of the specs at i4u.