Are you traveling abroad? The first concern in my mind after my hotel bookings and air fare are done is connectivity. I usually ask my telco which service provider is affiliated with their data roaming services. The mobile data roaming charges are pretty expensive so I end up buying the local SIM. However, when I land in the airport, I want to get connected right away . Sometimes the queue at the local SIM stall is long so it makes sense to bring a back up mobile data connectivity.
If you are traveling with Philippine Airlines, they recently launched a service innovation called the myPAL Roam, your global WiFi hotspot that requires no SIM, and keeps smartphone, tablet, and laptop connected up to eight (8) hours. You can unlock your greatest adventures across 87 countries worldwide for just P490 a day.
You can rent the wifi device for 490 pesos a day through the PAL boutique located in the PAL ticket office lobby, PNB Financial Center in Pasay City. Other rental channels are the NAIA Terminal 2 Departure area and roam.philippineairlines.com. The device may be returned through the PAL boutique, NAIA Terminal 2 arrival area, Home pick-up and onboard return service.
And yes, you can enjoy internet access using the myPAL Roam in over 80 countries. his is the coverage:

The Americas
Argentina, Brazil, Canada, Chile, Colombia, Costa Rica, El Salvador, Guam, Guatemala, Honduras, Jamaica, Mexico, Nicaragua, Panama, Peru, Puerto Rico, Saipan, Uruguay, Venezuela, United States
Europe
Albania, Austria, Belarus, Belgium, Bosnia-Herzegovina, Bulgaria, Croatia, Cyprus, Czech Republic, Denmark, Estonia, Finland, France, Germany, Greece, Hungary, Iceland, Ireland, Italy, Latvia, Liechtenstein, Lithuania, Luxembourg, Malta, Monaco, Netherlands, Norway, Poland, Portugal, Romania, Russia, San Marino, Slovakia, Slovenia, Spain, Sweden, Switzerland, Ukraine, United Kingdom, Vatican
Asia
Cambodia, China, Hong Kong, India, Indonesia, Japan, South Korea, Kazakhstan, Laos, Macau, Malaysia, Maldives, Philippines, Singapore, Sri Lanka, Taiwan, Tajikistan, Thailand, Uzbekistan, Vietnam
South Pacific
Australia, Christmas Island, New Zealand, Fiji
Afica
Egypt, Ghana, Kenya, Mauritius, South Africa
Middle East
Israel, Qatar, Turkey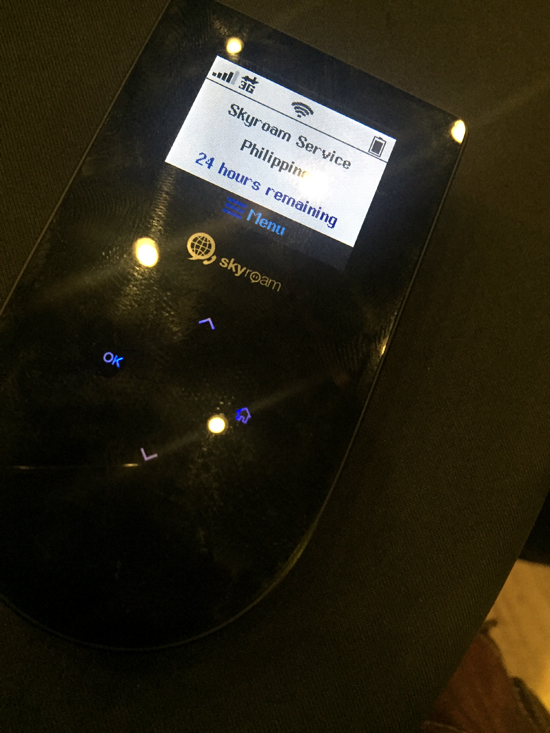 Technical Specifications
1.SIM Card – No SIM required
2. Size – 4.2 in (106mm) x 59mm(2.3 in) (59mm) x 0.51 in (13mm)
3. Wireless Data Connection – Maximum download speed: 42 Mbps; Maximum upload speed: 21 Mbps
4. Power -8 hours usage time; 12 hours standby time
5. Micro-USB charger- Included in box, myPAL Roam device, USB charging cable, User Manual Terms and Conditions
How It Works from myPAL Roam on Vimeo.