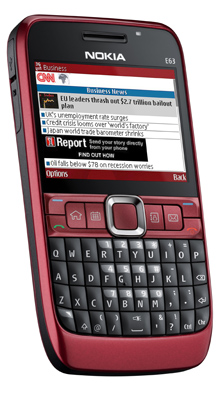 Finally, a Nokia QWERTY phone that's not completely business centered! Built upon the success of the Nokia E71, the Nokia E63 is designed for people who want a device that can manage both their business and personal lives – which not a lot of mobile phones can do. With a design that feels great in the hand and two colors to choose from, the Nokia E63 is still very much a standard E-series phone: it has WiFi connectivity, easy access to Yahoo mail, Gmail, ISP mail accounts, and hot keys for calendar, contacts, and email. Even though it handles both the personal and the professional, this phone allows you to separate them so you can enjoy your social networks without being bothered by work-related messages. The Nokia E63 lets you switch modes with a single button, from a view of your corporate e-mails and appointments, to another window where you can access your personal e-mail, photos, and shortcuts to your favorite blogs. The Nokia E63 also comes with a 12-month subscription to Ovi, a service that allows people to access their frequently used files or important data even if their PC is offline or powered down. A phone that lets users enjoy the social aspect of the Internet and work on business-related tasks is bound to be a favorite among Manila's yuppies.
Besides these handy features, the Nokia E63 also works as a portable media player. Use it to take photos or videos, listen to internet radio stations, and connect it to high-fidelity earphones or speakers for a full multimedia experience. You can also customize the device by installing applications and S60 games through the Nokia Download folder.
The Nokia E63, is now available at all Nokia stores and authorized Nokia retailers for a suggest price of Php 14,200. Choose between ruby red and ultramarine blue.