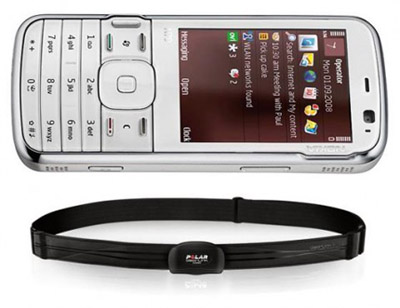 Finnish mobile phone manufacturer Nokia is now making their mobile phones compatible with serious fitness monitoring equipment, beginning with the soon-to-be-released Nokia N79. The new Nokia N79 Active set features the N79 handset and a Polar Bluetooth WearLink heart rate belt. Using the new Nokia Sports Tracker application, you can now monitor your performance, map out your exercise, and share these details online.
The Active Set also includes a pair of sports headphones, an armband for you to put the phone in when you work out, as well as the ability to use the N79 as an mp3 player. The N79 monitors and records your exercise route through its AGPS; you can even geotag photos taken with its built-in 5-megapixel camera.
The Nokia N79 active set will be available for about $495, and the Nokia Sports Tracker will be available for download as soon as the Active sets gets shipped out. No news about whether you can use the software and the WearLink belt with other Nokia handsets, but I'm guessing that the N-series phones and other Nokia phones with Bluetooth shouldn't have a problem supporting the belt.