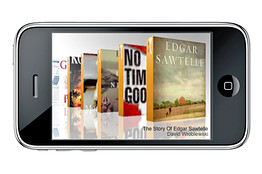 Devices like Amazon's Kindle and other eBook readers makes downloading and accessing fresh titles a lot easier to readers. It's still more portable than carrying loads of books with you, but it can be pretty annoying to carry different gadgets that serve different purposes when you can just have one gadget that will take care of all your needs. For instance, you can use your iPhone or iPod touch to read eBooks. But unlike the Kindle, most of the eBooks available on iPhone eBook apps are older, out-of-copyright titles; the selection of newer, popular titles is incredibly thin.
All of this is about to change though. Two companies are launching eBook applications that will bring current titles from major publishers to the iPhone and iPod Touch. The first company is called Shortcovers from a major Canadian bookseller called Indigo Books and Music. The Shortcovers app functions as a portal to buying and reading eBooks, and even provides samplers of new books fresh from the press, which are called "shortcovers". Shortcovers is due to show up at the Apple Store over the next couple of weeks The second company is called Iceberg from iPhone app developer ScrollMotion. What makes it different from Shortcovers is that each eBook is packaged as a stand-alone app with rich navigational features.
Between the two, Shortcovers seems to be the more interactive eBook reader. Its goal is to expose readers to new titles, whether they're older, public domain texts or new releases. It has community features such as tagging, rating, sharing, and even allows users to create "mixes" of their favorite works or upload their own. Iceberg has a more handsome user interface but because each book is its own app, you'll risk cluttering your iPhone with all these icons.
The iPhone is definitely no eBook reader, but I love how these two applications completely added a whole new dimension to its use.